Introduction



Almost all makers of PC hardware and software are united in one belief. They see their future prosperity being dependent on the world and its dog buying large numbers of home computers with sophisticated and exciting multi-media capabilities of the sort that make the term 'digital home' so widely bandied about today.



However, if we do all buy into the idea, what we may find difficult is deciding which specific PC best meets our needs. There are many varied digital-home tasks that we'll want to carry out, including the playback - and around-the-house streaming - of video at varying resolutions right up to high-def.

Intel is one of the big backers of the whole digital-home idea and has come to believe that system builders and professional reviewers require ways of carrying out whole-body testing of PC systems that accurately assess their overall and differing multi-media/digital-home capabilities.

This has led the company to develop the Intel Digital Home Capabilities Assessment Tool (IDHCAT) – the benchmarking suite that this preview is considering.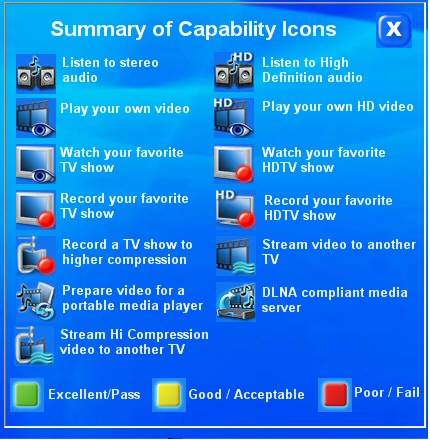 Elements that the IDHCAT tests


Note, however, that our testing of the V1.0 Evaluation release of the suite was somewhat hamstrung by the fact that Intel had designed it primarily for use in the USA and appeared to have forgotten that this would prevent the thorough testing of PCs made for other markets, including the UK. D'oh!

At a recent briefing by the company, its representatives met with much cynicism about the IDHCAT. Not least was the accusation that an Intel-created testing program might have a bias against PCs built around CPUs from other makers. The obvious target are CPUs from AMD - Intel's biggest rival (though still a tiddler in comparison). Significantly, in recent times, AMD CPUs have consistently outperformed Intel's in most tests, including those concerning multi-media capabilities.

Acknowledging this concern, Intel said that although this was an understandable fear, it was actually without foundation. Even so, we were told, the company's aim wasn't so much to create the definitive tool for benchmarking digital-home PC's but to show how seriously it took the need for such tools. This very act of creation, it expects, will help catalyse the development of comparable – and quite possibly better – testing programs by independent firms that make benchmarking software for a living.