Introduction
Memory specialist G.Skill has carved out a solid reputation as a provider of a wide range of memory specifically tailored towards the enthusiast. Often at the vanguard of new speeds and feeds, G.Skill memory is often used to set multiple world records.
Yet it's not all about bleeding-edge performance. The bulk of the revenue comes from using the halo effect to promote sales of regular kits. Understanding that per-module capacity is steadily increasing allows G.Skill to offer more than ever before.
A case in point is memory optimised for dual-channel operation found on the mainstream Intel Skylake and more value AMD platforms. It's now possible to throw 32GB into a system - two sticks of 16GB each - without incurring a hefty price premium over using double the modules.
The popular Ripjaws V line is home to no fewer than 20 such kits, differentiated by voltage, frequency and latency. Sitting somewhere in the middle is a kit rated at 3,000MHz, equipped with 14-14-14-34-2T timings, and available for £160 or so, which is consistent with a four-module pack.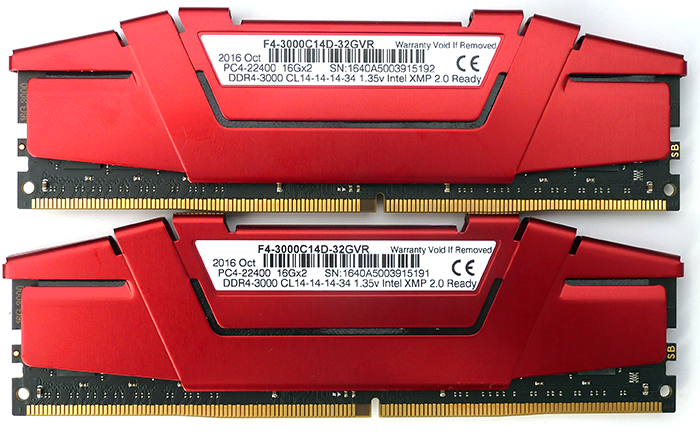 Ripjaws V, available in kits up to 128GB (8x16GB), prioritises function over form. There are no flashy LEDs, fancy heatspreaders or any other superfluous extras. What you get is a well-made module that stands at 42mm tall and has baked-in support for the latest Intel XMP profile.
Also available in jet black should the signature red clash with your build, there is a faster set, rated at 3,200MHz, which uses the same relatively tight timings for DDR4. Ensuring compatibility with a wide range of motherboards means the voltage is increased from the standard 1.20V to 1.35V, though the heatspreaders and underlying black PCB barely gets warm to the touch under load.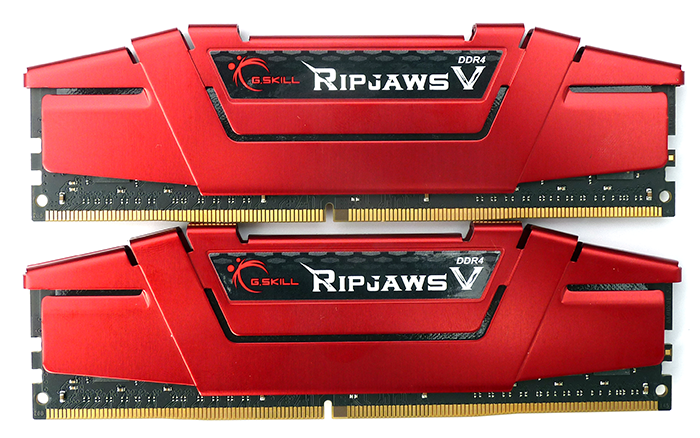 A lack of sharp edges ensures you won't cut yourself when pushing the modules into a board - it happens, believe us - and the tapered design means it is easy to use both hands when installing or removing. On first boot, Jedec ratings of 2,133MHz and 1.20V are applied, though getting to the correct speed is literally at the press of a couple of buttons.
Backed by a limited lifetime warranty, the current price of DDR4 is at a recent high, so it pays good sense to really narrow down what you want. Appreciating the very small premium over a quad-channel pack, should you want 32GB, this G.Skill set, on first glance, makes good sense. Let's now see what happens when we run it against that quad-channel pack in a range of benchmarks.