Introduction
Intel has a firm grasp on the high-end desktop performance scene and has now bolstered its position with the launch of four new HEDT processors based on the Broadwell-E architecture. Many manufacturers' fortunes remain closely linked to the chip giant's success, and when there's a new processor in town, the industry is abuzz with activity as partners look to ride the Intel wave.
The arrival of the benchmark(wallet?)-busting Core i7-6950X has had that familiar effect, and we've already seen motherboard manufacturers stake their claim with a range of revamped X99 motherboards. Memory vendors will also be wanting to get in on the action, and the team at G.Skill has sent in a 32GB Trident Z kit for our perusal.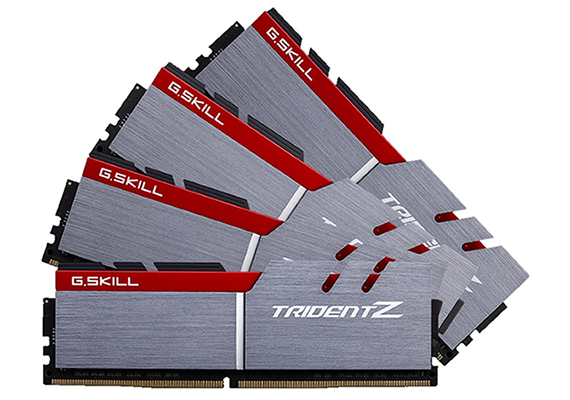 The quad-channel (4x8GB) pack, designated as model F4-3200C14Q-32GTZ, is specified at 3,200MHz with keen 14-14-14-34-2T timings at 1.35V. A well-rounded set with more aggressive latencies than we're accustomed to seeing, and G.Skill's ability to produce such modules is testament to better yields and much wider availability.
It wasn't long ago that DDR4 memory came accompanied by a hefty early adopter's tax, but time has done a good job of eroding that premium and the 32GB Trident Z kit is today available for around £200. Same-capacity packs at slower speeds with looser latencies do offer a further saving, yet G.Skill's pricing is competitive for a top-tier Trident Z solution armed with specially screened Samsung ICs. And if it's enthusiast build quality you're after, it's worth noting that a Trident Z module was recently used to smash the 5GHz barrier.

We've seen Trident Z before, of course, but G.Skill has extended the series' appeal by introducing a range of colour choices. Superficial to some, sure, yet if you're determined to have your rig booted and suited, it's handy to have a selection of styles to choose from as the original black/silver with red isn't for everyone. Pictured above, from left to right, the 32GB DDR4-3200 kit is also being made available in silver/black, silver/white, black/white, black/yellow and black/orange.
G.Skill has sent us the silver/white combination and it makes for a striking module that's a near-perfect match for certain Asus Deluxe motherboards. Standing 44mm tall but easily able to fit alongside our large Noctua NH-D15 cooler, the modules look the part and have a robust feel throughout. The angular accents at the top look particularly neat, though do be careful when pushing them in as the edges are sharp enough to scratch.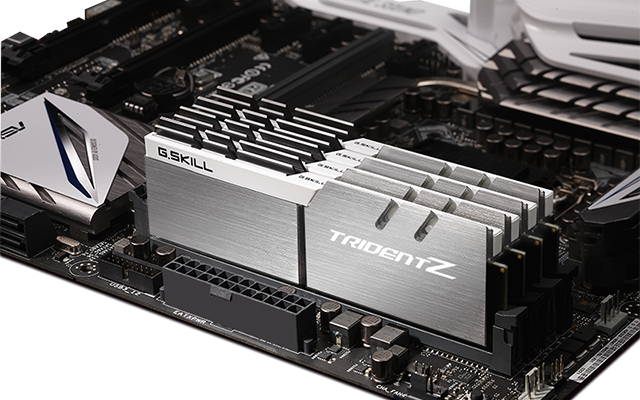 Built-in XMP 2.0 support takes away any guesswork in applying the rated 3,200MHz speed and associated timings, while the compatibility issues that once existed between DDR4 memory and supporting motherboards seem to have disappeared completely. We had the G.Skill kit up and running in a matter of seconds, and if you're eyeing up a kit as a long-term investment, you'll be pleased to hear that Trident Z is backed by a limited lifetime warranty.
This is, for all intents and purposes, a lovely-looking quad-channel kit with decent speed, relatively tight latency and at a reasonable £200 price point. But with today's latest CPUs carrying so much high-speed cache, does 32GB make sense on an up-to-date X99 platform? Let's run some benchmarks and see.