Introduction
We sometimes write about the early-adopter tax that is inevitably present when you purchase cutting-edge technology as soon as it is released to the market. This tax tends to be small where CPUs and GPUs are concerned, unless they're in huge constraint, but is rather more problematic for all types of memory. The capacity-to-price ratio of solid-state drives in 2013 is unrecognisable today. The same is true of desktop memory. Those jumping on the Intel X99 platform, the first to use DDR4 memory, faced a real premium: a 16GB (4x4GB) kit retailed for a cool £250.
Fast forward 18 months or so and DDR4 is now the de facto memory for the mainstream Intel Skylake platform. This means much larger uptake, better yields and mass-market penetration. The upshot is that, now, a 32GB DDR4 kit is available for half that outlay, £125 or so, offering 4x the overall value. So is it high time you considered more system memory for that upgrade or new build?
Crucial certainly hopes so. Moving a step up from the generic RAM laid on a green PCB, the Ballistix line, further split into Elite, Tactical and Sport categories, has something for everyone. Capacities range from 4GB to 64GB while speeds top out at a conservative 2,666MHz.
The Ballistix Sport line, according to Crucial, is 'Designed for performance enthusiasts, gamers, and anyone who simply wants to get more out of their system.' That sounds like our readers.
Ballistix LT is the newest member of this particular family and it brings with it a range of memory clad in either grey or white heatspreaders. Here's how the sets, which are identical in terms of specification, stack up.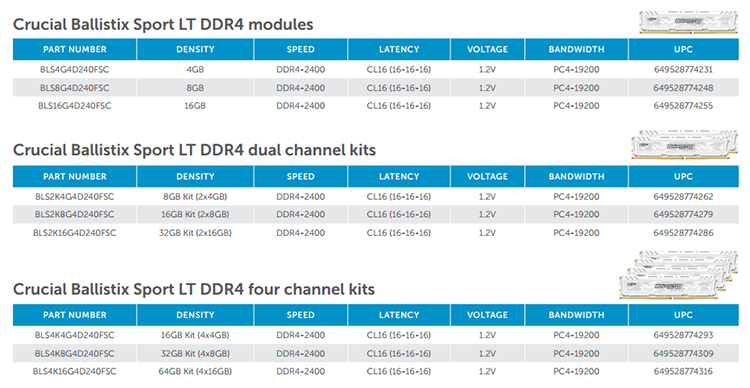 There's Hobson's choice with respect to speed - 2,400MHz is your lot. The latencies are a reasonable, if not spectacular, 16-16-16, and operating voltage is a Jedec-approved 1.20V.
What's better is the range of capacities. The kits are designed for either dual-channel (Skylake) or quad-channel (Haswell-E) operation, and we like the fact that 16GB modules are readily available for each. The 32GB (4x8GB) pack, for example, retails for about £150, or 20 per cent more than the cheapest, most generic kits you can find.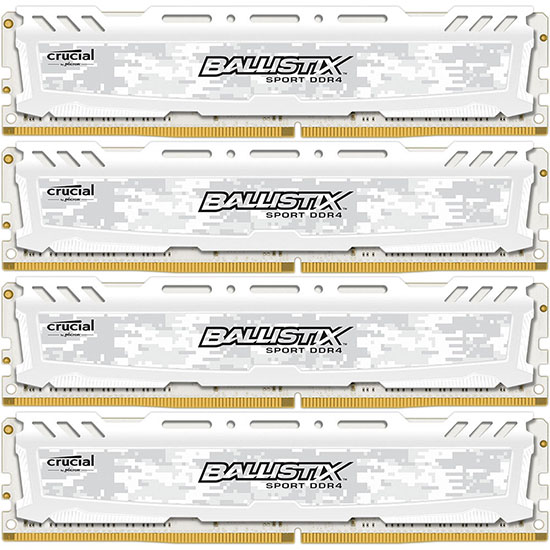 It's the colour that's the most obvious departure from the standard Crucial sticks. The heatspreader is white but the PCB is more akin to enamel. Build quality is reasonable, while at 42mm high, they fit in easily under large coolers such as the Noctua NH-D15. A pity is that most motherboards have eschewed lots of white and opted for a two-tone finish based on strong colours such as red or blue. Having said that, these modules do look a treat on certain Asus Deluxe boards.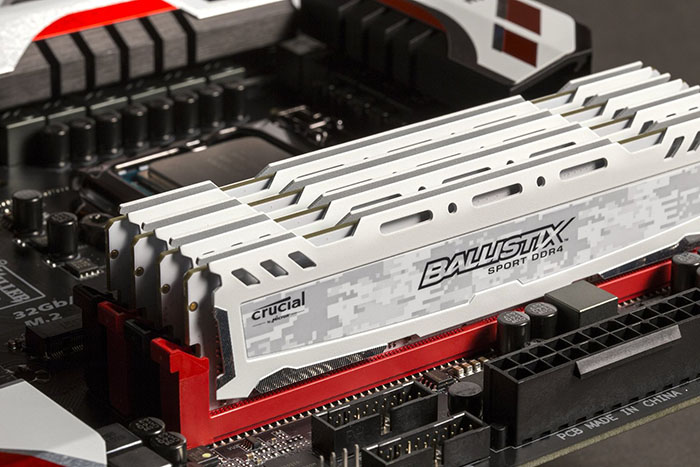 Plenty of mini-flared sections lead to the assumed belief that heat is an issue. This is not the case when running at the stock 1.2V; the heatspreaders barely get warm to the touch. The top sections and corners are a tad sharp and you'll notice this if you need to force the modules into the DIMM slots.
As usual, auto-configuration XMP 2.0 SPD timings are built-in, and we had zero problems in getting the modules up to their rated speeds within an Asus Z170-K or Gigabyte Z170XP-SLI motherboard.
Various Jedec speeds exist though we tested with the 16-16-16 timings that were applied on first boot. Backed by the usual limited lifetime warranty, let's see how they perform.