Introduction
2015 is the year that desktop DDR4 memory will transition from being niche to more mainstream. The niche aspect refers to the very limited DDR4 applicability right now, where Intel's premier X99 is the sole platform to take advantage of it. Further into 2015 should see more widespread appeal from the next-generation Intel Skylake platform.
We've previously demonstrated that faster DDR4 memory has negligible performance impact on the X99 platform, and the reason for this is simple: the trio of Core i7 processors are so rich in cache that speedier external memory does little to improve benchmark scores. This situation should change as the integrated graphics component of upcoming Skylake taps into the faster frequencies.
The sensible advice for anyone considering DDR4 is to look at a mid-frequency, value-conscious pack of memory from a reputable manufacturer. Crucial has that covered with the Ballistix Sport range, but is now bringing the tastier Elite to market. First announced in June 2014, Crucial is offering the Elite in 4GB, 8GB and 16GB flavours.
So how is Ballistix Elite different from the regular Sport, you might ask? Well, it arrives with chunkier heatspreaders, faster frequency support - 2,666MHz vs. 2,400MHz - and has an integrated temperature sensor on each module that can be read by the company's M.O.D software. Unfortunately, at present, it does not work on the Asus X99 Deluxe we use for memory testing. Intel's auto-setting XMP 2.0 profiles work just fine, however.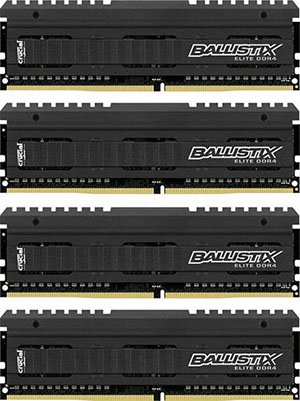 Most of what the Ballistix Elite offers sounds great in practice, but there's a catch. These extras push the price of a 16GB (4x4GB) kit up from the usual £200 for a 2,400MHz set to, in this instance, just north of £265. And while it can be argued that price is less of a concern for readers contemplating the X99 platform, one that is inherently expensive, a 30 per cent-plus premium is hard to stomach, especially as, historically speaking, performance hasn't matched the financial hike.
The modules themselves have a larger, more industrial heatspreader than the Sport. During our chats at CES 2015 we learnt that the so-called menacing look is inspired by the AR-15 rifle barrel, and the design similarities are obvious. A screwed-on top section can be removed if the modules' 40mm height fouls large coolers, and doing so brings the height down to 32mm, or roughly the same as the smaller Sport.
Crucial specifies the four sticks at 16-17-17-2T timings at 2,666MHz, representing what we'd consider fairly loose latencies in the grand DDR4 scheme of things. Voltage is kept to a JEDEC standard 1.2V.
Getting up and going is straightforward enough. Install the modules - which, thankfully, are free of annoying LEDs - run into the BIOS and click on XMP, and then boot into the operating system. The latest XMP profiles and BIOSes take the guesswork out of configuring memory.
We know this 16GB pack ships with a rather unattractive premium over a 2,400MHz set. Running the benchmarks will show whether such extra outlay can be justified.