Introduction
As we approach the end of 2014, the Intel X99 chipset remains the solitary consumer platform to use DDR4 memory. And while it's certainly arguable that the X99 platform represents a very small proportion of the total PC market, DDR4 will become far more mainstream in less than a year's time, particularly when Intel starts using it on upcoming Skylake processors in mid-2015.
The DDR4 premium tax stands at about 50 per cent when compared to widely available DDR3. £180 buys you 16GB (4x4GB) of DDR4-2,133 memory while a 16GB (2x8GB) of the same speed DDR3 costs around £125.
Looking to keep costs low for entry-level DDR4 is Taiwanese manufacturer G.Skill. It's now debuting a 16GB quad-channel DDR4-2,400 CL15 kit for £185, undercutting much of the competition by a handy degree. News of falling DDR4 prices may make users reconsider the X99 platform for their next build, particularly with the sub-£300 Core i7-5820K processor at the helm, so let's take a closer look at G.Skill's Ripjaws 4 budget offering.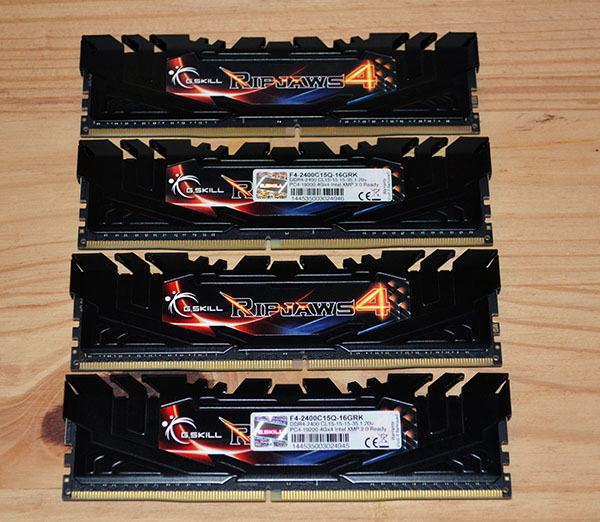 Available in red, blue, and black heatspreaders, the wonderfully named F4-2400C15Q-16GRK (black) ships with 15-15-15-35-2T latencies at a JEDEC standard 1.2V. Capacities range from 16GB (4x4GB), 32GB (4x8GB) to 64GB (8x8GB), though we imagine the 16GB kit will prove to be the most popular.
The set is compatible with Intel's XMP 2.0 specification meaning that motherboards should pick up on the exact settings and voltages at the touch of a button in the BIOS. If this fails, for whatever reason, G.Skill's default SPD speed drops down to a JEDEC-approved 2,133MHz.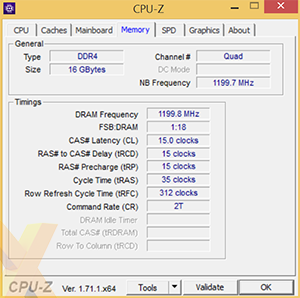 These aren't the fastest G.Skill modules at this particular frequency, mind, as a 16GB pack of four sticks ships with 14-14-14-34-2T timings. Going by historical testing the very slight drop in latency generally isn't worth the additional expense on an Intel X99 platform.
Build quality is good, if not outstanding, and standing at 40mm tall the modules fit comfortably below a large Noctua NH-D15 heatsink mounted in a sideways orientation on an Asus X99-Deluxe motherboard.
They remain cool-ish to the touch after prolonged use, indicating that the heatspreaders are more for aesthetics than meaningful purpose. Getting them up and running is as easy as it sounds; install into a motherboard, click on the XMP setting, reboot into Windows, and you're good to go.
Offering mid-pack frequency and latencies, the G.Skill's key feature is the relatively low street price of £185 for 16GB of quad-channel DDR4 memory.