Aggressive pricing, high potential
Hot on the heels of the Intel X99 platform announcement comes news of DDR4 support from a wide range of vendors. Most had pre-announced their kits, much like G.Skill, but now we can take a closer look and examine performance of the new memory standard.
More details can be found here, and G.Skill comes armed to the DDR4 party with numerous kits encompassing 2,133MHz to 3,200MHz speeds. All are available from today, we're informed.

All Ripjaws 4 kits include at least four modules to take advantage of X99's quad-channel memory architecture. Everything up to 3,000MHz is presented in three capacities - 16GB, 32GB and 64GB - while the fastest memory, at 3,200MHz, ships in a 16GB (4x4GB) pack.
G.Skill knows that running much above 2,800MHz requires the voltage to be bumped from the default, JEDEC-approved 1.20V to 1.35V. The vagaries of the X99 chipset and associated CPUs mean that operating at higher frequencies requires XMP settings that change the base clock from the default 100MHz to either 125MHz or 167MHz. We'll explain more on the following page.

Our 16GB (4x4GB) set of 3,000MHz-rated DDR4 memory looks the same size as DDR3 but has 48 more pins - 288 vs. 240. Standing at the same 40mm height as previous Ripjaws modules, the DDR4 variant uses a new heatspreader design that, the company says, increases surface area for better heat dispersal. We can't imagine modules running at a maximum 1.35V will become too warm.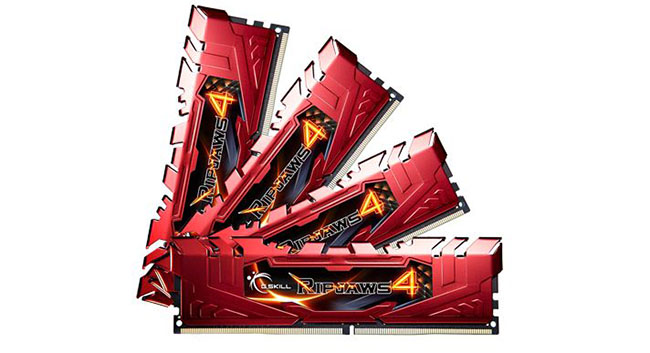 Ripjaws 4 is available with red, blue or black heatspreaders. We'd suggest G.Skill also contemplate a white-coloured version, ostensibly to match the new raft of Asus X99 boards.
It's normal for companies to charge huge premiums for the fastest implementations of new technology. A generic 16GB (4x4GB) kit of DDR4 2,133 memory retails for £170. G.Skill's 3,000MHz set is priced at £230, which is much lower than competing kits of the same specification that typically list on the wrong side of £300.
G.Skill is tempting users away from generic DDR4 memory with attractive pricing. The question remains whether 3,000MHz memory makes sense on a platform that uses a quad-channel architecture connecting to CPUs laden with 15-20MB of cache.