High-density RAM
DDR3 memory now accounts for the lion's share of the desktop PC market. Computers purchased in the last year or so will be outfitted with DDR3 sticks of various sizes and speeds. The least we'd recommend is 4GB of dual-channel memory, usually presented in packs of two modules, and you'll pay some £20 for a 2x2GB kit. We'd urge readers to push up to 8GB, if possible, as 2x4GB DDR3-1,600MHz modules, costing under £40, offer the best trade-off between smooth-as-silk PC usability and price.
DDR3-1,600MHz memory works just fine on modern Intel and AMD chipset-based motherboards, but our industry being what it is, manufacturers have been in competition with one another to release ever-faster modules. The current high-end is characterised by DDR3 memory operating at comfortably over 2,400MHz, usually on an Intel Ivy Bridge (third-generation Core) platform.
ADATA, one of the industry's largest memory manufacturers, is getting serious about catering for the whims and needs of the gaming enthusiast. It has released a specific brand of memory called XPG that looks and performs better than the generic modules it shifts by the proverbial bucketload. XPG is further sub-divided into three themes: Gaming, Plus, and Xtreme. We requested ADATA send us some of its finest memory; we received this in the post.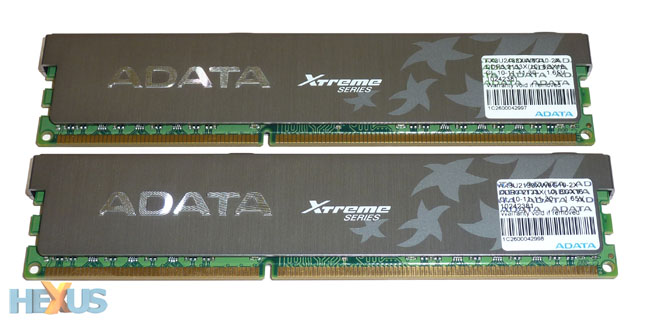 These two sticks make up the XPG Xtreme's best pack, comprising of 16GB (2x8GB) of DDR3-2,133 modules with 10-11-11-30 latencies. The standout feature here is the 8GB-per-module capacity, double what we usually see, enabling 32GB of super-fast RAM - four modules - to be installed into most modern machines. Timings are good, too, and a CAS latency of 10 clocks is relatively uncommon at this speed.
A downside of using semi-aggressive timings and high frequency is the need to jack up the operating voltage from the standard 1.50V to 1.65V. This 10 per cent rise in juice is sure to tickle the long-term stability of the CPU's memory-controller, and it's the highest we'd recommend using on the latest Intel Core and AMD FX/A-series chips. As is the norm, the modules have built-in XMP timings for automatic configuration on Intel-based motherboards.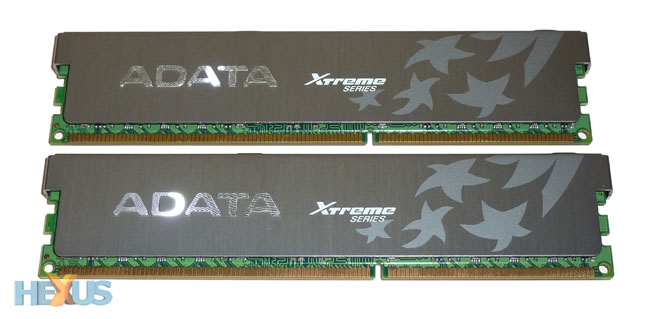 The modules look and feel solid enough, but, for a personal viewpoint and purely aesthetic purposes, we'd prefer the underlying PCB to be black; the standard green doesn't contrast nicely against the premium visage of the heatspreaders. But hey, you're unlikely to take a second look at them once they're ensconced within confines of the PC. XPG Xtreme are of regular height, meaning they'll fit into any standard setup.
8GB sticks, as in evidence here, carry a generous premium over ubiquitous 4GB modules; it is cheaper, considerably so, to purchase 16GB in 4x4GB packs than with 2x8GB, though, of course, 8GB modules pave the way for more capacity. Putting it another way, you should have a pressing need to run >16GB in a system to consider these. With those caveats out of the way, this premier XPG Xtreme 16GB pack is currently available for £180, or about £11-per-GB, while the same capacity/speed can be reached with a quad-module pack for £100 or so.
HEXUS has repeatedly demonstrated that the memory controller on the latest Intel Core chips is an efficient beastie; it has enough prefetching and bandwidth-hiding nous to not care too much about module speed. DDR3-1,600 memory is only a few per cent slower than DDR3-2,133 memory in most tasks, for example, and the generous premium for cutting-edge RAM cannot be justified for most readers.
We're going to make this review a little more interesting by adding a twist. We'll first test this dual-module pack against four other sets and dole out humdrum analysis that reaffirms the lack of performance differentiation between different-frequency RAM sticks. Secondly, we'll remove one 8GB stick, leaving single-channel (8GB) memory, and see just how well Intel's Core i7-3770K CPU's controller is able to compensate for the bandwidth shortfall. This praxis doesn't have much real-world relevance, mind, because you shouldn't be running single-channel memory for optimum performance, but it provides geeks like us with opportunity for somewhat colourful commentary.