New heatspreader
PC memory has been forced to take a backseat of late, relegated into relative obscurity by the explosion in interest generated by that other memory component in systems, the solid-state drive (SSD). SSDs make headline news due to their ability to supercharge a system and their almost-daily price reductions. We've said it before and shan't tire of saying it again: go try an SSD and you won't look back.
But, as obvious as is sounds, all consumer PCs need to be supported by decent RAM. The flavour for the past couple of years for both Intel and AMD systems has been DDR3 memory, usually sold in either dual- or quad-channel packs. Over-zealous production means that pricing remains depressed, which is good news for the consumer, because big-name manufacturers are now retailing 8GB (2x4GB) DDR3-1,600 kits from £35.
Patriot understands that it's semi-pointless in trying to compete against the likes of Crucial and Kingston in the pricing stakes. Rather, it's going after the more premium end of the market by promoting special-edition modules running at 2,133MHz. To this end, we looked at the Viper 3 a short while back.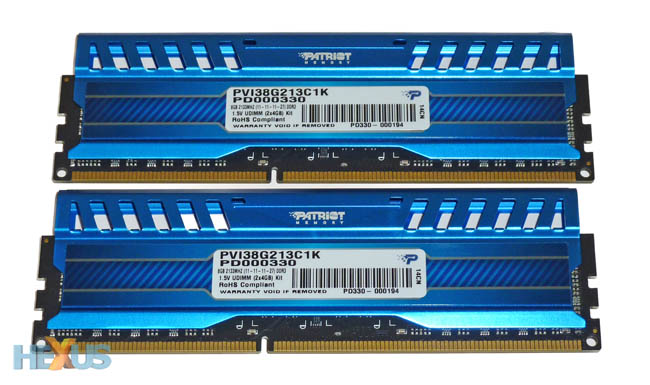 Patriot has also sided with Intel and launched the same Viper 3 kits with the chip giant's colour scheme, to coincide with Extreme Masters gaming tournaments. Available in 1,600MHz, 1,866MHz and 2,133MHz speeds in 8GB, 16GB and 32GB dual- and quad-channel kits, the only meaningful difference between these and standard Viper 3 modules, as far as we can tell, is the colour of the heatspreader.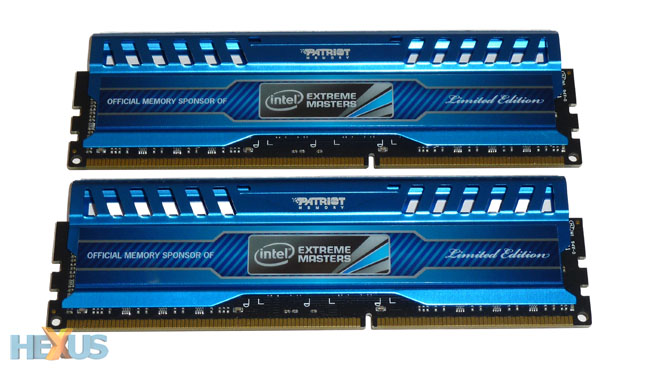 Our review pair comprises of a dual-channel pack of DDR3-2,133MHz memory, rated at 1.5V and with 11-11-11-27-2T timings. We consider these attributes to be fairly generic for memory of this speed. As expected, the modules have an in-built XMP profile for easy setup in the BIOS: the modules force the motherboard to implement the settings without troubling the end-user.

Strip away one of the natty heatsinks and, confirming familial suspicions, the Intel Extreme Masters variant uses the same Hynix H5TQ2G83CFR memory as the regular Viper 3 modules. Patriot says this kit is to be made available for £47.99, including VAT, representing pricing that is consistent against the best of the competitions' modules of the same speed and capacity.