The moduies
The last five years has borne witness to DRAM manufacturers diversifying into a huge range of PC products. Patriot Memory has followed this strategy by retailing SSDs, media players and storage devices. But memory is what the company is literally named after, so it's no surprise to see it offer all manner of DDR3 modules.
Latest in a long line of enthusiast/gaming kits is the Viper 3 range, available in 1,600MHz, 1,866MHz and 2,133MHz speeds in kits comprising of either two or four modules and going up to 32GB for those deep of pocket. We like the fact that they all operate at 1.50V, meaning there's little voltage stress on the integrated memory controllers for modern chips.
Patriot says the kits are compatible with the latest AMD and Intel platforms, though with an obvious doffing of the cap towards the blue team, every Viper 3 pack is hand-tested and validated on an Intel machine.
We've previously demonstrated that having high-speed DDR3 memory doesn't make a whole heap of performance difference when sat in an Intel Ivy Bridge-powered PC; the chip's Smart Cache relegates the necessity of having super-fast, low-latency RAM, but this hasn't stopped manufacturers from trying to convince users of the need for 2GHz-plus modules.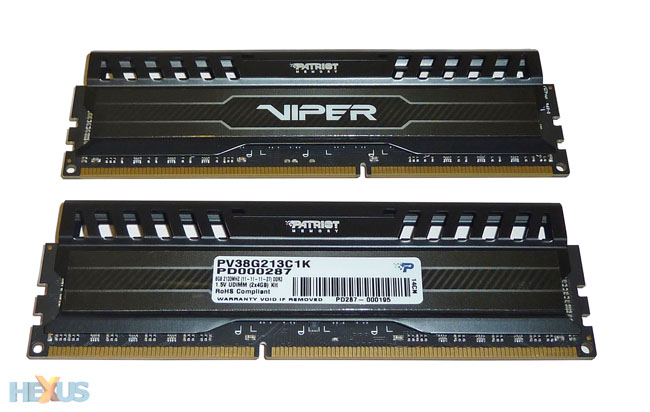 We have an 8GB pack (2 x 4GB modules) of the 2,133MHz memory in for review. Also available as 8GB sticks - the 32GB pack uses four such modules - and equipped with the latest auto-configuration settings, XMP v1.3, every 2,133MHz-rated kit shares 11-11-11-30-2T timings. Reduce the frequency by opting for 1,866MHz or 1,600MHz memory and the timings are improved, right down to an industry-standard 9-9-9-24-2T at the slowest speed.
Outfitted with stylish aluminium heatspreaders that envelops the ICs underneath, Viper 3 kits are available in 'Mamba' black alone for now. We reckon it makes sense to follow other manufacturers' lead by offering different colour heatspreaders. Enthusiasts are fickle enough to opt for a particular brand based on aesthetics alone. Patriot says it will be adding other colours shortly.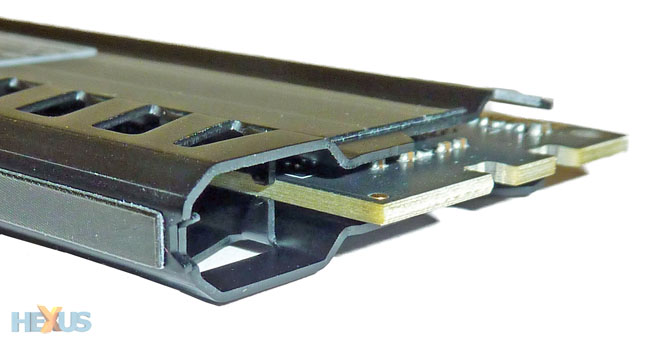 The two-piece heatspreader overlaps at the top. Build quality is good enough to make it seem like unibody design. Memory running at 1.50V rarely, if ever, becomes overly warm, so the heatspreader is there more for aesthetics than all-out cooling.

The heatspreader, attached via thin layer of thermal tape, can be prised away easily enough, though you risk voiding the warranty if doing so. Take a peek inside and Hynix produces the chips. Identified as H5TQ2G83CFR and with 16 2Gbit devices - totalling 4GB - on the PCB, the chips can run at a variety of speeds and timings. Patriot's choice of 2,133MHz and CL11 pushes this particular Hynix variant to the limit.
Set to retail for £47.99 from today onwards, Patriot's Viper 3 series has all of the basic tickboxes covered.