Low-latency goodness
We're often asked just which components should make their way into a new PC build. We say that readers should invest in a solid-state drive, however small, because the performance benefits from running creamy-smooth apps are manifestly obvious with an SSD in the system. Then we often say that, given the low price of DDR3 memory, every system should have at least 4GB of system RAM, if not 8GB or 16GB.
Go to the premium end of the PC market and there are plenty of reasons to consider 16GB of DDR3. Available from £70 for a quad-module pack of 1,600MHz-rated memory, genuine power users will be keen to fill their boots while pricing is at low levels. Going hand in hand with a premium build is the Intel X79 chipset, home to the performance-orientated Core i7 3000-series chips. The chipset uses a quad-channel memory interface for bags of bandwidth, so deciding to run with 16GB is not only sensible, it's logical, too.
And now that Intel is committed to releasing a £250 Core i7-3820 CPU for the platform, readers may well be pricing up a new build. Patriot hopes its 16GB Division 4 Viper Xtreme will be the memory of choice; let's take a closer look.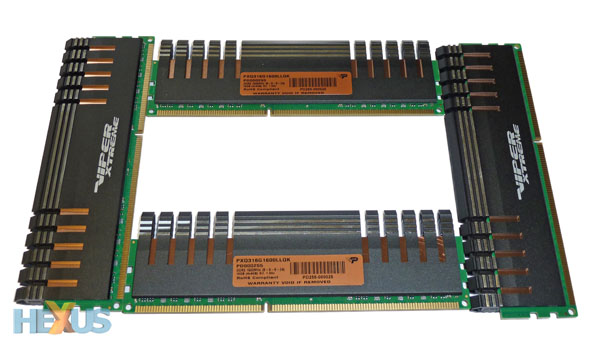 The Viper Xtreme family is the best of seven DDR3 offerings from Patriot. Designed specifically for the Intel X79 platform and available in Division 4 form as four-module kits, they run at DDR3-1,600 speeds with 8-9-8-24 timings. Most garden-variety X79 kits operate at more relaxed 9-9-9-24 timings - Patriot has such kits in its arsenal - but trimming the timings down and boosting performance means the pack requires additional voltage; 1.65V, up from 1.50V on most other sets.
Adding voltage is a necessary evil in reducing latencies, according to Patriot, and we'd certainly not run any higher juice for long-term use - you risk upsetting the integrated memory-controller on the CPU with higher-than-default Vmem. Adhering to the latest v1.3 of Intel's XMP setting, for easy-as-pie configuration in most motherboards, Patriot look to woo the enthusiast with what can be considered low-latency timings on an X79 platform.
The modules are well-built and feature a copper heatspreader that's in direct contact with the chips underneath. This is further cooled by a larger aluminium heatspreader that increases the surface area. We reckon it actually makes sense to use a heatspreader on modules run at 1.65V, especially as enthusiasts are likely to push the frequencies/voltages further.
Aesthetically speaking, the extruded aluminium heatspreader, largely black, has three lines going across the top portion. These are reflective and, depending upon the lighting in your case, provide nice contrast against the bottom portion: you can see how the ambient light is reflected on the left-hand portion of both pictures, above. Going down this aesthetic route, a black PCB would have been nice.
Made up from existing Patriot Viper Xtreme modules and packaged up as the Division 4, the question is whether low latencies offer a tangible benefit over a generic 9-9-9-24 set. From what we can gather from our sources, this pack should retail for around £100, or £30 more than a run-of-the-mill set.