High speeds, low voltages
Manufacturers of memory (RAM) for PCs have been having a hard time of late. Quotidian fluctuations in spot pricing indicate it's dangerous to hold large inventory levels - you need to sell it as soon as it's manufactured, ideally. Couple this with low-ish retail figures, where an 8GB DDR3-1,600 kit can be purchased for £50, and any manufacturer wanting to turn a profit needs to be savvy on all fronts.
Peruse said retailers' listings and you'll probably notice that fewer players are in the market than, say, five years ago. Taiwanese outfit G.Skill remains standing, and one look at its DDR3 product line-up, encompassing 14 speed-grades, shows it literally means business.
Promoting its high-end wares through the RipjawsX name, we recently took a look at an 8GB kit of DDR3-1,600 RAM with super-tight 7-8-7-24 timings enabled via a moderate 1.6V operating juice.
Though ostensibly aimed at Intel's second-generation Core chips, G.Skill has cottoned-on to the fact that AMD's Llano platform is partial to the use of faster RAM, as both the CPU and GPU parts of the processor grab their bandwidth requirement from a single source: system memory.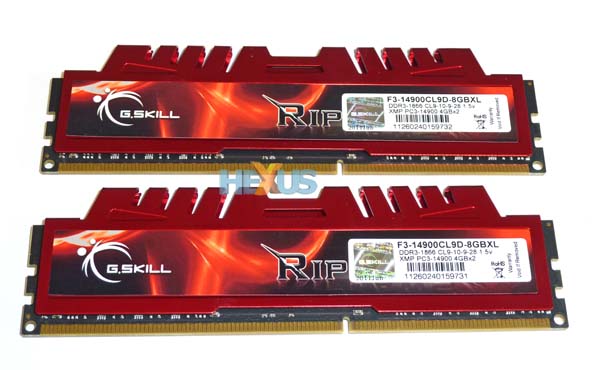 The aluminium heatspreaders cut a nice profile
What you're looking at is one of 10 dual-channel DDR3 kits that operate at 1,866MHz. Six of the ten ship with 8GB capacities, split into two modules each containing 4GB. This particular kit, wonderfully named F3-14900CL9D-8GBXL, offers fairly loose 9-10-9-28-2T latencies, even at this high speed, but does so with a JEDEC-standard 1.5V of juice.
G.Skill has the same-speed/capacity memory with tighter latencies, most notably 8-9-8-24-2T, yet these require 1.6V. We could talk ad nauseam about the compromise between latencies/timings and voltages, but all you need to know is that this RipjawsX kit is decent from a specification point of view.
Set to arrive at retail with an estimated £70, according to G.Skill, representing a minor premium over the cheapest DDR3-1,866 memory we could find, this 8GB kit has been qualified on a number of Intel P67 and Z68 motherboards, though there is no obvious, compelling reason why it shouldn't work on an AMD platform that can use high-speed DDR3 memory, albeit without the auto-configuration (Intel) XMP settings pre-programmed into the modules.
What we need to determine in this review is whether it's worth investing in DDR3-1,866 memory, and we'll do this by testing it on both Intel and AMD platforms.