Introduction
What to do if you have already championed RGB memory and still want to stand out from the crowd? G.Skill has been pondering exactly this when updating its Trident Z RGB RAM.
The answer is memory that's part fashion statement and part premium computer hardware. Enter the Trident Z Royal.
This isn't some supremely limited edition that apes the gold iPhone and whatnot. Rather, it's mass-produced DDR4 available in speeds between 3,000MHz and 4,600MHz, with capacities from 16GB (2x8GB) to 128GB (8x16GB).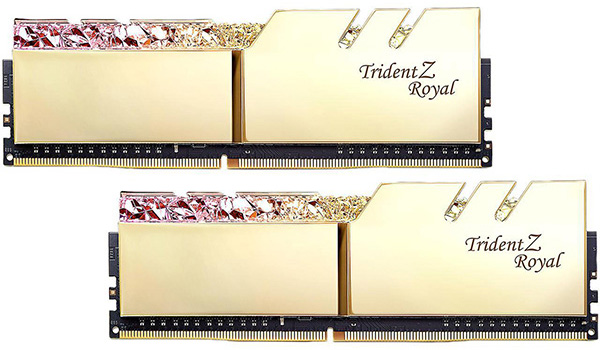 Frequencies and timings are suitably premium, available elsewhere from rivals, but what sets the Royal apart is its look.
The shape of the tri-fin heatspreader is the same as the incumbent Trident range, yet the use of highly polished aluminium heatspreaders - in either gold or silver - makes these modules feel and certainly look different. The reflective nature means they pick up fingerprints with aplomb, so G.Skill includes a small microfibre cloth to keep them looking new. Spoiling the aesthetic is the usual white sticker that denotes specification. This is one set of modules that could really do without that.
The highly-polished nature means the edges and tops of fins are not quite as sharp as our usual Trident set, which is good news when you come to push the memory into the slots: the regular Trident gets close to cutting your fingers. Being based on an existing design, the 44mm height ought not to foul any large CPU heatsinks.
However, the real talking point is the so-called 'crystalline light bar', underneath which reside eight-zone RGB LEDs.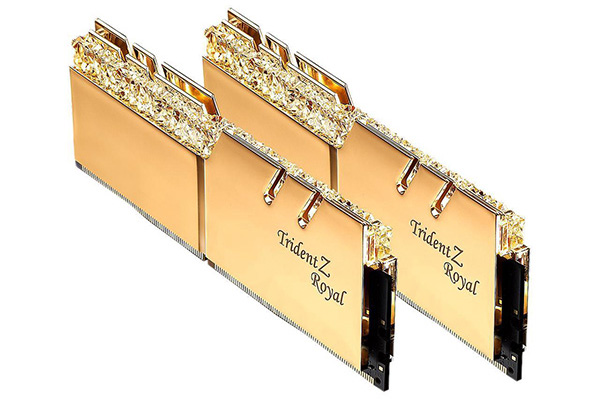 Running the full length of the module by having a flattened s-shaped section in the middle - regular Trident Z does this, but with plastic instead - the light bar is see-through, though you cannot see the RGB LEDs because they are contained lower down on the 10-layer PCB.
We'd imagine that G.Skill went through a number of prototype iterations before settling on this plastic bar, because displaying even, bright colours is harder than on a traditional diffuser.
The end result is lighting that does mimic the crystalline effect G.Skill is after. The glow is even from the RGB source emanating from the PCB, which spills out over each end, yet looks suitably refracted through the diffuser, creating a good proxy of how light would shine through real crystals.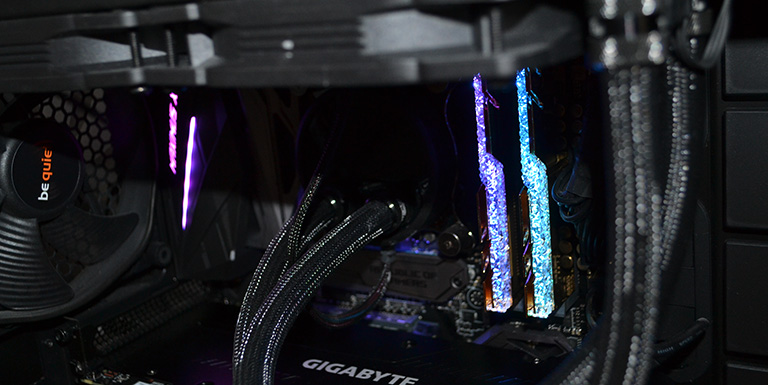 Capturing the full-on effect is difficult on camera. What we would say is that this approach leads to a unique style of lighting, though depending upon the amount of ambient light in your chassis, you may not see the polished heatspreaders at all.
It's kind of weird to have it in a platform because all other RGB looks different, plain even. It's certainly memory to engender conversation between enthusiasts.
Overall, build quality is sound. The Trident Z design has been in the market for some time now while the crystal light bar is firmly attached to the top. The gold reflective coating, too, is well applied across the heatspreaders.
Seeing it in action offers more insight into how it behaves in a system. The colour gradient changes are smooth, and as usual, the method of RGB delivery is controlled by all the popular apps available from leading motherboard manufacturers.
It's a Marmite sort of product, frankly, because it polarises opinion here in the office. Some think it looks fantastic; others reckon it's gaudy. Whatever the thought process, it certainly is different.
You may think that having an all-new PCB and heatspreader design, together with a never-before-seen light diffuser, would cause pricing to spiral. That's not the case as our gold review modules, constituting a 16GB (2x8GB) pack of DDR4-3,200 memory (F4-3200C16D-16GTRG) costs £200, or about par for the RGB course of this kind of memory.
We'd normally talk about the underlying ICs, but because the range is so broad with respect to speeds and latencies, and with G.Skill recruiting multi-source ICs, that is meaningless. We do know that this pack ships with standard 16-18-18-36-2T timings at that 3,200MHz speeds and 1.35V. There is, however, an option to go for the same-speed, same-capacity pack in the more favourable 14-14-14-34 timings. That kit, F4-3200C14D-16GTRG, costs an extra £70, mind.
What we can say is that a) these modules look unique b) the RGB light is even, bright, and, again, unique, and c) they are priced competitively against 'regular' RGB RAM.