Introduction
Corsair has a well-established number of power-supply units (PSUs) in its current arsenal. Some focus on all-out performance, others on excellent ripple suppression, while some that place value higher up the list of priorities. What most have in common, however, is that they're based on standard ATX form factor, give or take a few centimeters of depth.
Choosing the correct mainstream PSU is more about examining your list of requirements and matching accordingly, usually without much thought to the form factor. But what about those of you who want to build PCs in ever-smaller chassis without sacrificing on quality? You could opt for a reduced-length supply from a manufacturer, but the ideal scenario is one of running a dedicated small-form-factor supply equipped with high-quality innards.
This is precisely what Corsair has set out to do with updated SFF PSUs named, appropriately enough, the SF series and available in 450W and 600W capacities. Let's get the vital specifications out first.
Corsair attempts to distill a quality mainstream PSU into a smaller form factor. How small? The SF range measure 125mm by 100mm by 63mm, or approximately 40 per cent of the chassis volume and weight of, say, the standard-sized Corsair RM650i, and the dimensions are bang on the money for the SFX form factor. Yet there are more similarities than differences to the bigger PSU; the SF600, for example, matches the 80 PLUS Gold efficiency, fanless mode and fully-modular ports of the larger supply.
We're pleased to see Corsair keep a closer eye on overall noise by using a 92mm fan - identified as NR092L - instead of an 80mm spinner found on previous small-form-factor models. Understanding that space is always likely to cause some compromises, the fan turns on at 20 per cent load instead of 40 per cent load on the RM650i. What's more important is the 120W turn-on rating should mean that the SF600 makes no noise when a performance PC is in an idle state.
Build quality is good, the style understated, and the SF600 feels like a nice bit of kit. Testament to how Corsair sees the supply being used in premium SFF systems, the SF600 powers the upcoming Bulldog system encased in a unique chassis.
A reduced size also means reduced connectors, but this thinking makes sense as you're unlikely to power multiple graphics cards and six hard drives in a small system. All told, Corsair offers six cable runs, which can all be used concurrently, and they're of the preferred flat variety.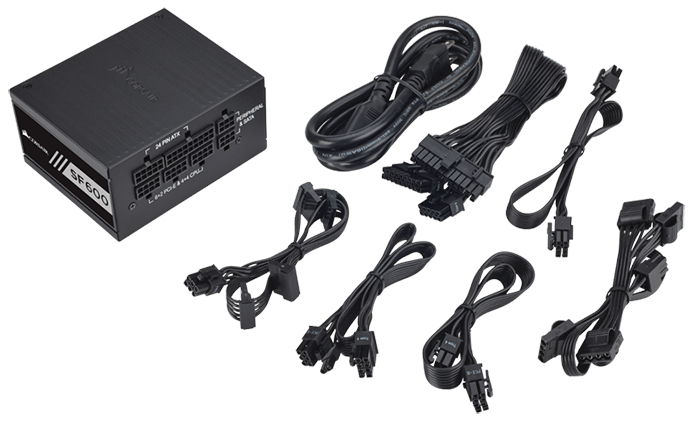 The cables are shortened for the intended chassis, so there's no point in plonking one of these into a regular case supporting an ATX motherboard, which you can do with an optional adapter plate. The main 24-pin is 300mm long and the 8-pin CPU 400mm. A couple of 8-pin PCIe (400mm) offers compatibility with almost all premium cards while four SATA (445mm-plus) and four Molex (445mm-plus) is enough for the intended purpose. We have no complaints on this front.
Amps/watts and voltage

3.3V

5V

12V1

-12V

-5VSB

Rail amps

20A

20A

50A

0.3A

2.5A

Maximum rating

120W

600W

3.6W

15W

Maximum rating continuous

600W @ 40°C ambient
A single 12V design is never a bad decision. If you didn't know any different, this would seem like a standard ATX offering.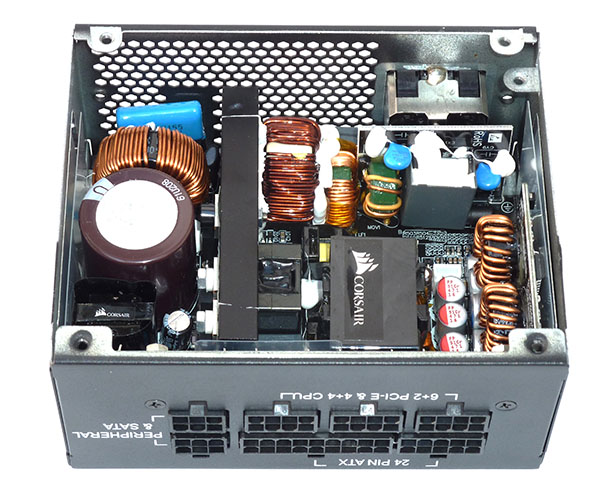 Peeking inside shows good soldering and a collection of high-quality capacitors from Nippon Chemi-con, rated at a toasty 105°C. The OEM behind the SF600 appears to be Chinese company Great Wall, who manufacturers a number of CS Series supplies, too. It's also good to know that the SF duo has a seven-year warranty.
Corsair clearly wants to grow this part of the business and has therefore priced the SF600 competitively, at £95, which isn't a great deal more than a high-quality ATX supply, and about the same price as the SilverStone SX600-G that offers the same certification but with a smaller fan. It just so happens that we have the benchmark numbers for that PSU, so let's head on over to which is better.