Introduction
It makes sense for huge computing etailers to invest resources for in-house brands. Following the lead by supermarkets, who retail their own-brand wares that are often an excellent alternative for the bigger names that need to invest in advertising and promotions, in-house products can be cheaper and just as good.
Just ask US retailing giant Newegg. The buying power from yearly revenues exceeding $2.5bn enables it to go straight to Chinese manufacturers who built thousands of products that come together under the Rosewill brand. Want a mouse, chassis, PSU, keyboard, fan, or even audio wire? Rosewill has you covered. We wouldn't be surprised if the proverbial kitchen sink was next.
Rosewill is now expanding outside of Newegg and into territories new, including the UK. Promising lots of value backed by solid engineering, we're today taking a look at the Rosewill Bronze 1,000W PSU, available this side of the pond for under £100.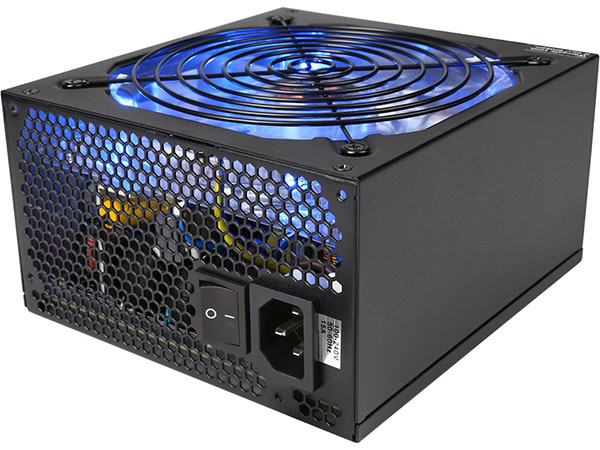 The main advances in recent PSUs revolve around improved efficiency, with 80 PLUS Gold the entry-level standard for most premium models. The knock-on effect of such an approach is a reduction in the cost of 80 PLUS Bronze supplies, which are still at least 85 per cent efficient at 50 per cent load. This is where the Rosewill Bronze comes in.
Available for a number of years now, the Bronze model remains a competent performer on the spec sheet. Full capacity is guaranteed at an ambient 40°C - rarely seen on an 80 PLUS Bronze supply - cables are semi-modular, while the 135mm fan lights up blue.
The capacity is encased in a regular chassis, too, measuring 160mm long, 150mm wide and 86mm high. Build quality is reasonable on what is a generic-looking supply.
We'd like all cabling to be fully modular, reducing chassis clutter, but understand why semi-modular cabling, which reduces manufacturing cost, remains popular on budget supplies.
Snaking off the supply are six cables - main ATX, 2x 4-pin CPU, 8-pin PCIe, 6-pin PCIe, and a run containing 4x SATA - though the primary power cable, at 500mm, is too short in our opinion.
Rosewill makes it very clear where the modular connectivity goes. Four PCIe connectors provide an additional quartet of graphics plugs - 2x 6-pin and 2x 8-pin - and it's handy that each cable has a single port on the end of it; there are no trailing wires often seen on other supplies.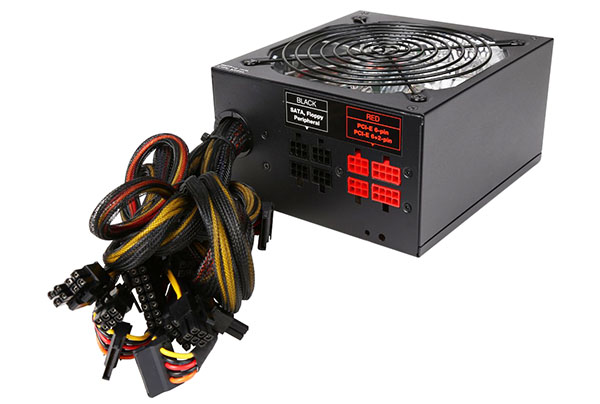 Four peripheral ports cover eight Molex (showing the age of the supply), two floppy and eight SATA. They're thin and malleable but not the preferred flat for super-easy routing through the chassis' cutouts. The yellow and black wiring is also conspicuous through the sheathing, so whilst perfectly acceptable in terms of performance, style aficionados may want to look elsewhere.
The recipe for delivering power is simple: shunt as much as you can down the 12V line. 80 PLUS Bronze-rated supplied need to provide additional at-wall power than the premium models we usually look at because they're not as efficient. This supply is approximately 80 per cent efficient at full load, meaning that a full 1,000W (DC) requires 1,250W at the wall (AC).
Amps/watts and voltage

3.3V

5V

12V1

-12V

-5VSB

Rail amps

23A

23A

83A

0.5A

3.0A

Maximum rating

160W

996W

6W

15W

Maximum rating continuous

1,000W @ 40°C ambient
The LED-backlit fan remains on at all times, mind, so this is very much a PSU for those that aren't interested in paying a premium for newer features found elsewhere today. And remember this is one powerful PSU; even an overclocked Intel X99 system featuring a couple of GeForce GTX Titan Black GPUs would struggle to get close to its rated capacity.
More to the point, high-capacity PSUs can run moderate loads with less strain than, say, 500W models, and this may well be a good reason to consider what would otherwise seem like an outlandish capacity. Rosewill back this supply with a standard three-year warranty, which is about right for this class of PSU but considerably lower than the 5-10 years offered on, you guessed it, premium supplies.