Introduction
Corsair has struck gold with PSUs. First coming to prominence with the HX range back in 2009, Corsair has now separated its offerings into six series, with further subdivisions in each. It could be argued that Corsair has too many supplies in its arsenal, confusing the user, but that hasn't deterred the company from releasing the all-new RMx range.
There's already the RM and RMi models, designed for super-quiet computing, though Corsair spies more opportunity within this sector. Enter the RMx.
The first question is why would Corsair do this? The answer, it seems, has to do with ensuring that it has cheaper units, at common capacities, which perform closely to the range-topping model.
Available in 550W, 650W, 750W, 850W and 1,000W capacities, Corsair says RMx will be up to $20 (£12) cheaper than the RMi across the board. It still maintains 80 PLUS Gold compatibility, full-modular cabling and the low noise associated with RMi but gives away a little in terms of features to hit a keener price point. This is good thinking if you're not worried about having every last feature under the sun.
It's no surprise that the outward appearance is similar to RMi. There are some cost-saving measures, as we have mentioned, so out goes Corsair Link compatibility and the fan-test button that convinced users a non-spinning fan during idle periods was in fact not a manufacturing fault. The end result is a cleaner appearance.
The fan is different, too, as Corsair employs a 135mm rifle-bearing spinner instead of a 140mm fluid-bearing found in the RMi. At retail these few differences add up to £15 for the 850W models, with the RMi coming in at £115 and the RMx at just under £100.
The bundle includes a decent array of flat, sleeved cabling, comprising of a single 24-pin ATX, two 4+4-pin ATX12V/EPS, six 6+2-pin PCIe, 10 SATA, eight Molex, and a Floppy. All are of sensible lengths, too, from a minimum 505mm (SATA) to 850mm. Like its brethren, on the 850W model in for review today, the fan doesn't switch on until load hits 340W. There's then a gradual increase until 600W and finally a more pronounced hike until full capacity is reached.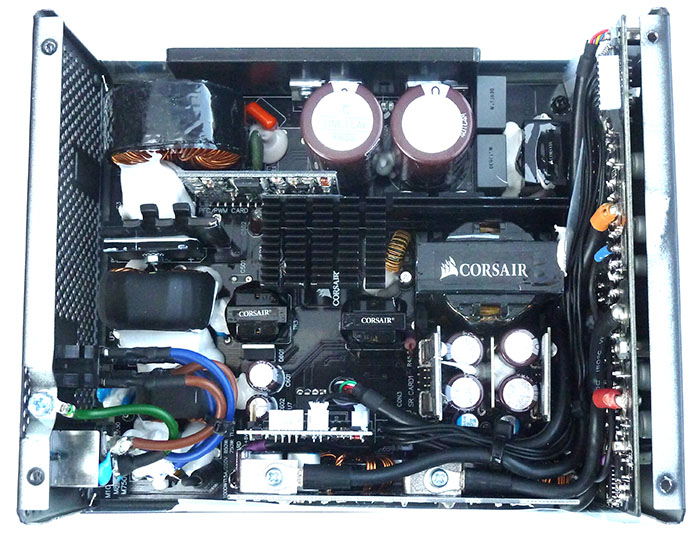 This RMx uses all-Japanese capacitors for both primary and secondary stages. We'd usually see large heatsinks in evidence everywhere inside a high-wattage PSU but this isn't the case here. Corsair clearly believes that CWT's platform is good enough to produce very little heat when running below 40 per cent capacity, hence the semi-passive nature of the supply.
Amps/watts and voltage

3.3V

5V

12V1

-12V

-5VSB

Rail amps

25A

25A

70.8A

0.8A

3A

Maximum rating

150W

850W

9.6W

15W

Maximum rating continuous

850W @ 50°C ambient
Unlike the RMi, which can be configured into multi-rail mode, the value RMx uses a single 12V topology for dishing out the wattage. The maximum rating is at a toasty 50°C ambient temperature, intimating good engineering. Really, this is an RMi supply without a couple of the bells and whistles. Both are backed by Corsair's seven-year warranty.