Introduction
German manufacturer be quiet! has been a big name in the PSU market for a number of years. Immaculately presented supplies with high-performance credentials have won over enthusiasts but the business is a fickle one - many new entrants jump on the back of established designs and dilute the market. Want a PSU? 20 companies will sell you one.
Leading power-supply designs of 2015 offer incremental improvements over their predecessors - a touch more efficiency here, better cabling there - and a good case in point is the be quiet! Dark Power Pro 11, released today in 850W, 1,000W and 1,200W capacities and touting 80 PLUS Platinum efficiency.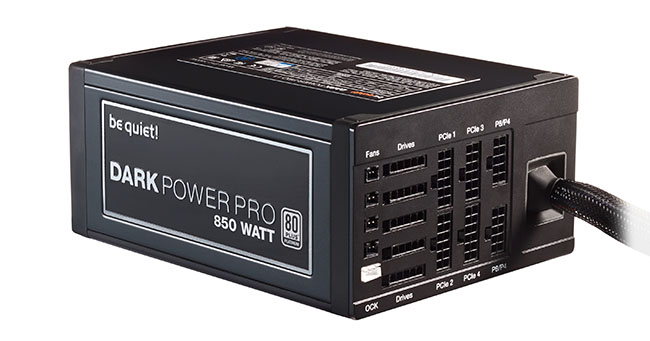 Successor to the popular, high-end Dark Power Pro 10, which we reviewed almost three years ago, be quiet! hasn't changed much on the outside. Presentation remains ultra-slick and, like its forebear, the 24-pin motherboard connector is sheathed and grommeted into the right-hand side of the chassis that's now 3mm longer. Overall dimensions of 193mm (l) x 150mm (w) x 86mm (h) for the 850W make it a mid-sized supply that should fit into most decent chassis.
Excellent build quality remains a hallmark of be quiet!'s premium supplies and the Dark Power Pro 11 is no different. Rubber bumpers line both sides and cover the screw holes. be quiet! has taken the opportunity of redesigning the various connectors on the front, now grouping the graphics-orientated PCIe in the same section as peripherals and fan control.
As usual, the supply has four fan-header ports that can be used in lieu of the motherboard's for controlling attached fans, while the OCK port, connecting to a supplied bracket, bonding the various 12V rails together, is now resident below fan control.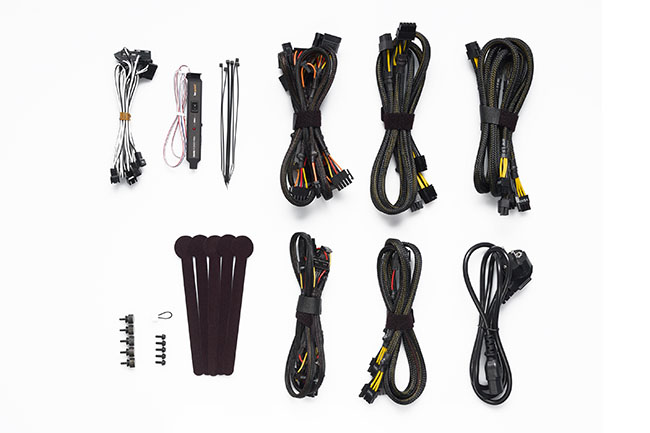 We know that only the main 24-pin cable is captive. be quiet!, in our opinion, continues to miss a trick by not supplying flat cables that make installation easier and PC builds look cleaner.
Previous DPP supplies go overboard on the number of cables and ports you can plug into the supply; the 11th variant continues this theme. There's a total of 8 SATA, 7 Molex, 2 Floppy and, most importantly of all, 7 PCIe (6+2-pin) connectors available, and they're split as follows for the 850W model.
Cables
Length, plugs
Main (24-pin)
60cm x1 (fixed)
ATX/EPS (8-pin)
70cm x1
PCIe (6+2-pin)
60cm x2
60cm x2
60cm x2
60cm x1
SATA
60-90cm x3
60-90cm x3
60-75cm x2
Molex

70-85cm x2 (on SATA cable)
60-90cm x3
60-75cm x2


Floppy
2x on SATA and Molex connectors
That's a heck of lot of wiring that should satisfy all builds. Length is good as there's a minimum 60cm on all cables. All told there are 19 cables in the box.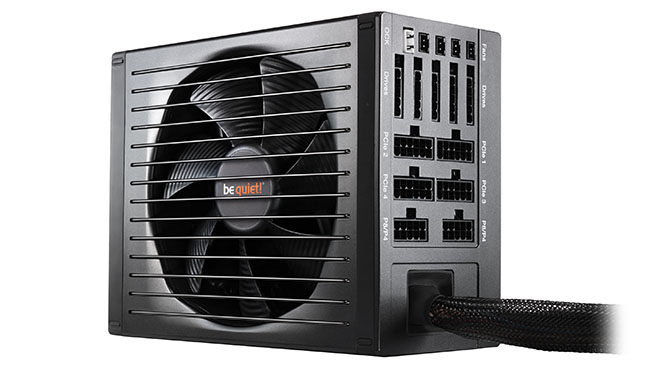 be quiet! considers the Dark Power Pro 11 an evolutionary upgrade over what's gone on before. The 135mm fan is now from the latest SilentWings 3 range - also found on the newest coolers - and uses fluid-dynamic bearings and a 6-pole motor for quieter operation. It doesn't switch off at low loads, like so many of the premium competition, but the company reckons it's practically inaudible at up to 50 per cent load, retuning a 10.4dB rating during in-house tests.
The supply uses a conventional four-rail supply to the 12V line but, as mentioned before, the PSU can be set to shunt all of its power down a single rail by using the overclocking key switch or by a supplied jumper that shorts the OCK port. Speaking of power, here's how the Dark Power Pro 11 shapes up.
Amps/watts and voltage

3.3V

5V

12V1

12V2

12V3

12V4

-12V

+5VSB

Rail amps

25A

25A

30A

30A

35A

35A

0.5A

3A

Maximum rating

150W

840W combined

6W

15W

Maximum continuous rating

850W @ 50°C ambient
The four 12V rails offer a combined 840W that will be enough for all but the craziest systems. High-quality performance means the supply can send out all of its power at a toasty ambient temperature of 50°C.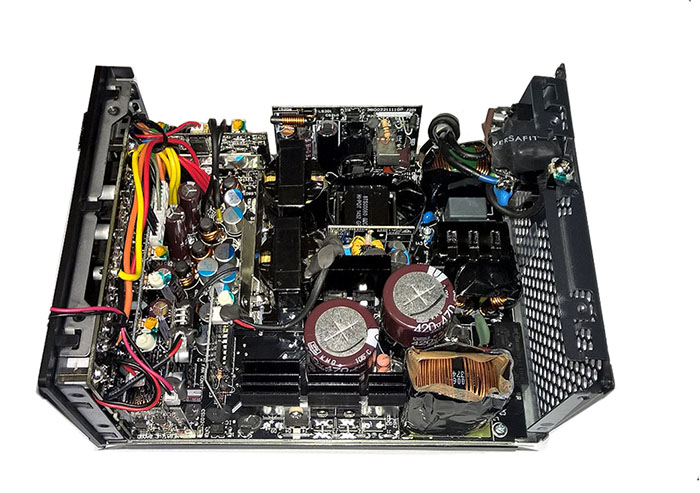 Inside, be quiet! does a good job at keeping everything clean and tidy on this FSP-derived design. First-phase filtering is good, the capacitors are all Japanese-made, the important ones are rated to 105°C, and there's enough confidence in the design to back it up with a five-year warranty.
The Dark Power Pro is also available in 1,200W and 1,000W flavours, with smaller wattages due to follow later on this year. Achieving 80 PLUS Platinum certification requires the supply be at least 94 per cent efficient at 50 per cent load from a 230V source, but attaining such a figure increases cost substantially. be quiet! says the 850W model will cost £160 or so, and such pricing puts it a little higher than the Corsair AX860i and the same level as the latest Seasonic units.