Almost Platinum-quality architecture
There's a good reason why a number of computing companies are investing in power-supply units (PSUs). They rarely go out of date, there's no finicky BIOSes to update, and there's really not much to go wrong.
Having new names in the industry is good for the consumer but undesirable for companies who specialise in PSUs. Enermax has a long-held reputation in producing high-quality supplies, usually with a slight price premium over newer entries, so let's examine if it's still worth paying for a well-credentialed PSU.
Enermax currently splits its PSU line-up into four categories: 'Royal' class, 'Gold' class, 'Athlete' class and 'Entry-level' class. At the top of the tree is the beefy Platimax, followed by MaxRevo and Revolution87+ supplies that grab hold of the same foundations but sacrifice a few features and some efficiency for a lower street price.
The Revolution87+ is the successor to the Modu87+ and the 80 PLUS Gold-rated supply is available in 550W, 650W, 750W, 850W, and 1,000W capacities; we like the fact that it's sold with mainstream wattages.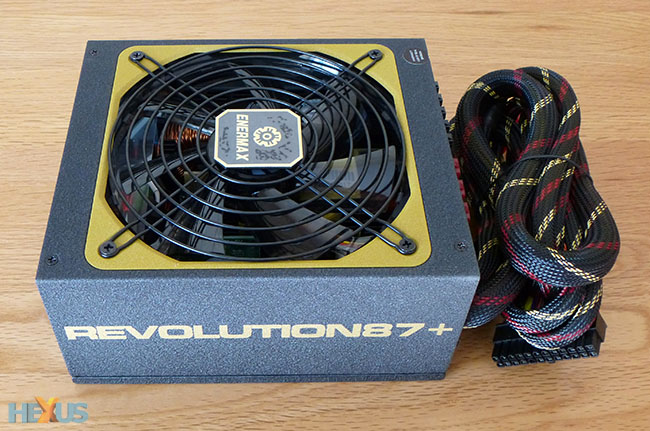 Here's the 850W model on show. It's a semi-modular supply that, Enermax says, is up to 93 per cent efficient. Perhaps more importantly, it doesn't drop below 87 per cent efficiency when evaluated over a 20-100 per cent load range.
Enermax builds its own PSUs - many competitors outsource production to OEM partners - and the Revolution87+ genuinely feels like a premium bit of kit. A scratch-resistant chassis and, subjectively speaking, a nice colour scheme work well.
The main 24-pin ATX, 4+4-pin ATX, 8-pin EPS, and 6+2-pin PCIe are hardwired to the chassis; all other connections are modular. Considering how few consumer boards use both the 4+4 and 8-pin CPU connectors we reckon it would make implicit sense to make the 8-pin EPS modular and, in its place, add some SATA. This would allow a basic modern system to be powered by the hardwired cables alone.
All Revolution87+ PSUs are 150mm wide and 86mm high - which is the standard form factor - though the 750/850/1,000W models, at 175mm, are 15mm deeper than the two lower-capacity supplies. We can foresee no problems in installing any of the range in regular chassis. Enermax's name on the sides remains the right way up no matter which way the PSU is installed. A 140mm temperature-controlled Twister fan keeps the unit humming along.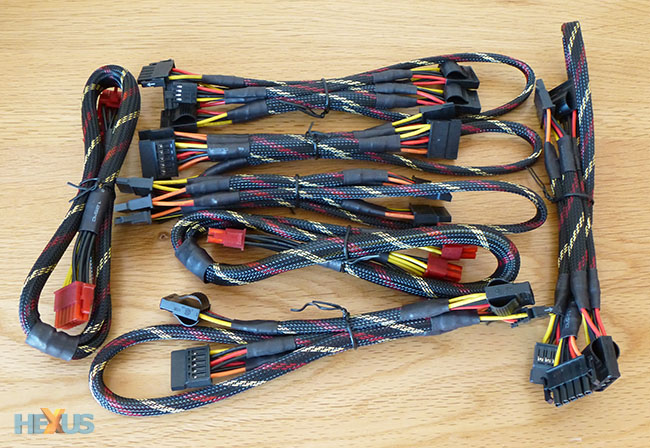 Enermax sensibly colour-codes and labels the various cables on the PSU itself, and you can see the purpose of each pin on each cable. Expansion-wise, red-coloured cables provide an extra four 6+2-pin connectors for graphics (500mm), while there are 12 SATA (up to 900mm), eight Molex (up to 900mm) and a floppy connector. There's enough cabling to power three GeForce GTX TITANs, 12 hard drives and a bunch of other peripherals: in short, the cables enable the supply to comfortably exceed the available capacity.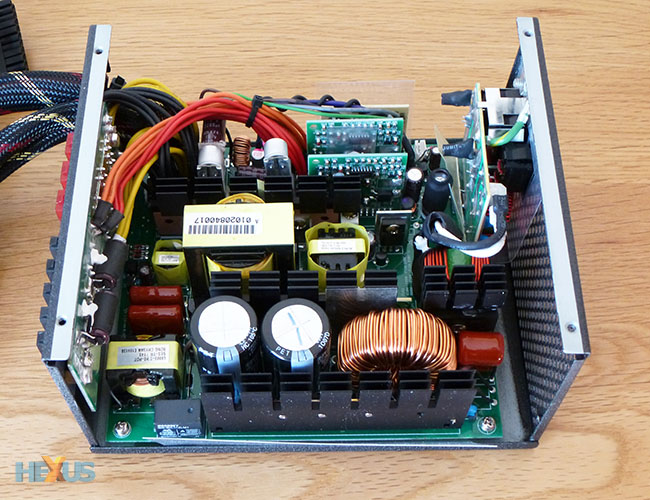 Peering inside, layout is neat on this second-rung model. Enermax adopts a multi-rail DC-to-DC design. This means the power-sucking 12V rail is split into four, with generous over-protection circuitry built-in, and the minor rails - 3.3V and 5V - are pulled from it using six VRMs.
Primary capacitors are made by Panasonic and the secondary side from Nippon Chemi-Con. Though the fan is not silent at any time, unlike the recent raft of hybrid-mode supplies, Enermax says that it spins down to as low as 300rpm when there's light load, rising to a maximum 1,200rpm. Enermax probably adopts a conservative fan-speed profile because the underlying unit is rated to perform to specifications at up to 50°C ambient temperature.
Intel has started spilling details on the ultra-low-power states of upcoming Haswell CPUs. These are known as C6 and C7 and, if applied, can drop amperage to just 0.05A for the processor. All of Enermax's premium designs outfitted with DC-to-DC topology are certified to deliver low amps at stable voltages.
Backed by a five-year warranty and currently retailing at £150, or near the top for Gold-rated supplies, the Revolution87+ is about the same price as fully-modular Platinum-rated supplies from other manufacturers. It needs to be very good in the performance stakes to warrant such a price, so let's give it a good going over.