Introduction
Cooler Master has been known for its fair share of innovation over the years. The huge Cosmos chassis - new and old - remains a formidable case for building a high-spec rig into, but the company is aware that it needs a strong presence in more than one PC segment for continued growth. What better place to invest than in the power-supply market.
The firm has a dizzying array of PSUs because it services the retail and bulk-volume OEM markets concurrently. Breaking down the supplies via their 80 PLUS rating - a rough and ready reckoner of performance - shows there is scope to further extend its new MasterWatt brand by replacing the G- and V-series supplies, and this is exactly what it is doing with today's release of four 80 PLUS Bronze models.
We're used to seeing companies pitch us their Platinum and Titanium models, to showcase that they can compete with the very best, with eye-watering prices to match. Cooler Master has those supplies, of course, so we're happy to see it focus on the mainstream market with this new range. Opening most sub-£1,000 pre-built PCs will likely show a basic, capable PSU inside much along the lines of the MasterWatt quartet.
Available in common capacities - 450W (£50), 550W (£55), 650W (£65) and 750W (£75) - Cooler Master is aiming for value-conscious solutions that also take in a bevy of advanced features.
Take the review 650W as a case in point. Measuring a compact 150mm wide, 140mm deep and 86mm tall, the supply has simple styling and is well built. There are no RGB bells or whistles, though we view that as a good thing.
Cooler Master scores marks for using an in-house, 120mm Silencio sealed loop dynamic bearing fan that switches on at 15 per cent load, or around 100W for this model. This is important insofar as it should remain off when your PC is idling, and it's a feature we like to see proliferate to a greater number of entry-level PSUs.
Semi-modular cabling is also nice at this price point. The main 24-pin (600mm) and the CPU 4+4-pin (650mm) cabling is captive, while the 650W and 750W models have an extra PCIe and peripheral port over the two lower-capacity models. This means Cooler Master supplies the MasterWatt 650W with two cables housing a total of eight SATA ports with another run holding a single SATA, three PATA and the inevitable floppy connector. A good choice for a modern build.
Two sets of decent-length PCIe cables each hold two connectors, meaning you can run a fairly decent specification PC from a graphics perspective. Cooler Master employs thicker-than-normal 16-gauge wiring for the pair, which is handy to see on a budget supply.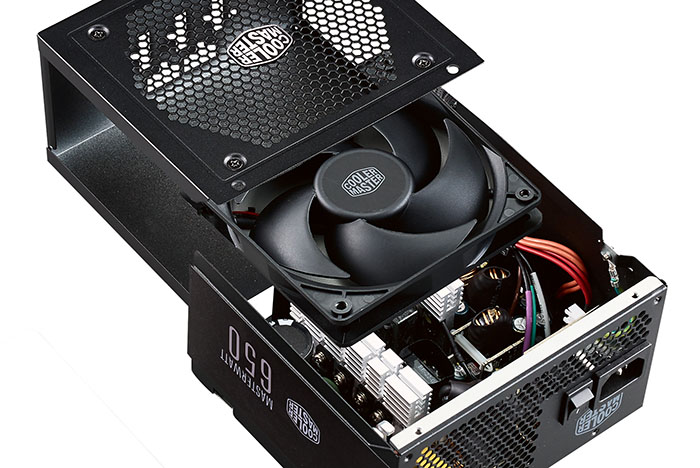 Inside, Cooler Master cooperates with PSU-maker HEC for the underlying platform. There's a mixture of Teapo and Elite capacitors, but given the price point, they are not all rated at the usual 100°C. No problem on a mainstream supply. The minor rails take their voltage cue from the 12V, so for those who care, it's a DC-to-DC supply.
Amps/watts and voltage

3.3V

5V

12V1

-12V

-5VSB

Rail amps

22A

22A

54.1A

0.3A

3A

Maximum rating

120W

650W

3.6W

15W

Maximum rating continuous

650W
A single 12V rail is sensible, and appreciating the DC-to-DC topology, the entire power can be shifted down the line should you need it when pushing CPUs or graphics cards.
Backed by a five-year warranty, we'd summarise the MasterWatt as a no-nonsense PSU whose main aim is to offer a sensible feature set at a keen price.