Introduction
We have taken a good look at a fair share of premium PSUs this year. They usually come from a band of established vendors such as Corsair, be quiet! and EVGA, yet there's always a new name trying to break into this lucrative market.
This is why Taiwanese cooling and chassis specialist Aerocool sent word that it has a new range of power supplies that are comfortably on a par with anything else out there, matching the 80 PLUS Platinum supplies from the guys we already know about.
That Aerocool PSU line is the Project 7, available in 650W, 750W and 850W capacities. We have the mid-capacity model, costing £130, in for review today.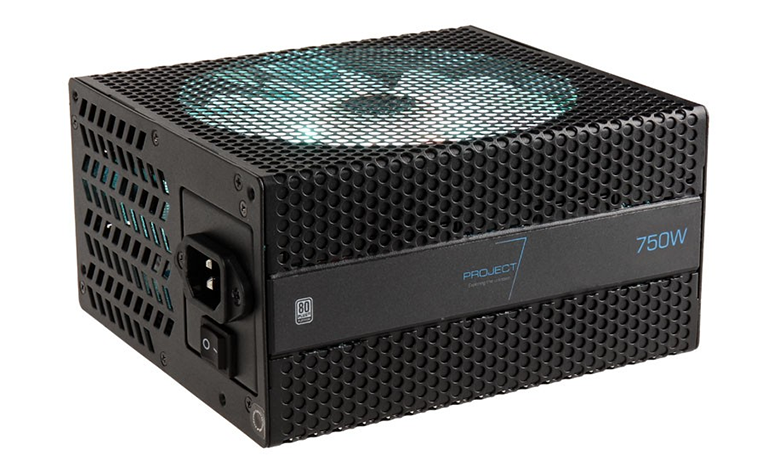 It's one of the better-looking PSUs out there, subjectively speaking, with a well-built metal chassis featuring a honeycombed pattern on the sides and top. The cut-outs on the near side are bigger than usual, however, but there's little chance of ingress when in a case. Measuring 160mm deep, 150mm wide and 86mm high it will fit in most chassis easily.
The 140mm fan takes up most of the top and stands out because it has, wait for it, RGB LEDs, though they need to be connected to either an RGB fan header - available on many premium boards in 2017 - or via an optional P7 Hub controller. If you don't have either, then it's the plain white, but if you do, a software utility enables you to change the colour to your heart's content.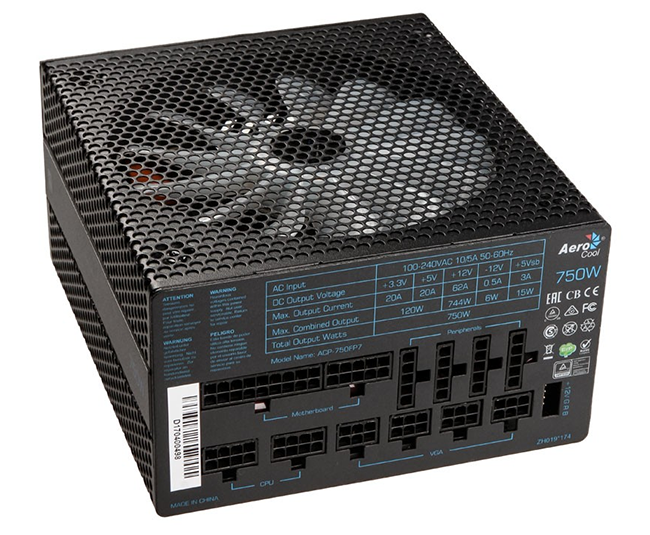 We like the way Aerocool organises the modular connectors, clearly marking the motherboard, CPU, peripherals and VGA. Oftentimes companies don't do this so adding in extra connectors whilst the PSU is in the chassis can be irksome.
Matching up with the ports on offer, Aerocool has 12 rungs of flat cables. The main 24-pin is 600mm long. It's handy that the supply has two sets of 700m-long CPU 12V EPS connectors. The first is 8-pin and we like the fact the second is 2x 4-pin. Boards such as the Asus X299-A Prime use 1x 8-pin and 1x 4-pin. Point is, the 750W can power super-premium builds from a 12V perspective.
On top of that, the supply can service six 6+2-pin PCIe connectors over two runs, making it suitable for powering three high-end cards (at a push). A total of 10 SATA, 6 PATA (Molex), and a PATA-to-floppy round out what you get. All cables are a decent length, too.
Notice the small connector on the bottom-right? There's another cable in the box whose job it is to connect the supply to either the Aerocool hub or a compatible RGB header on the motherboard that we spoke about above. If you don't, no light show for you.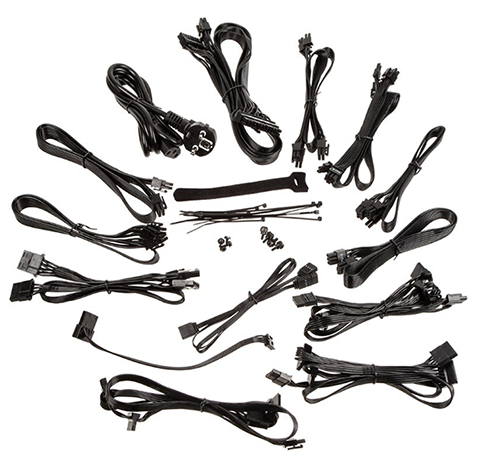 A few more things to note. Given the high efficiency, Aerocool's fluid-dynamic-bearing fan remains switched off at up to 60 per cent load, which corresponds to 450W for the review model. This percentage figure is the highest (read best) we have seen from a non-passive design, and this should hopefully translate to great performance. Aerocool goes on to say the fan spins at below 500rpm at up to 80 per cent load and only hits 1,000rpm at maximum pelt. Impressive.
We have often made mention of the 80 PLUS and ATX standards that deal with efficiency, regulation and ripple. In our estimation, they set the bar low, so much so that we haven't yet seen a supply that falls foul of the latest ATX spec. Aerocool wants to add in extra certification to the Project 7 PSUs by having the supplies verified via more stringent testing from Cybenetics. Interestingly, that company's chief engineer is Aris Mpitziopoulos - the guy behind PSU reviews from a different website.
Whatever the case, this supply is reckoned to have an A++ noise rating, translating to under 20dBA under load, as well as B-rated efficiency (91-94 per cent on a 230V source). We'll see just how this matches up with our own Chroma test equipment.
It is usually a case that a manufacturer such as Aerocool cooperates with an established OEM guy. This time around, that guy is Andyson, whose Titanium-rated N700 model is used as a platform base. We believe it is this Titanium-level quality that allows Aerocool to go so high on the passive percentage.
The design uses all-Japanese capacitors, improves upon the original Andyson by having a higher-quality fan, and replaces some of its capacitors with higher-rated models. Backing it up, the trio of Project 7 PSUs carry a 7-year warranty.
Amps/watts and voltage

3.3V

5V

12V1

-12V

-5VSB

Rail amps

20A

20A

62

0.5A

3A

Maximum rating

120W

744W

6W

15W

Maximum rating continuous

750W @ 50°C ambient
We're happy to see the supply rated to perform at its continuous power at an ambient 50°C - considered to be the benchmark level for a high-quality PSU.