Introduction
What's the best way to play computer games from the comfort of your couch? It's hard to argue against the virtues of a games console in that particular scenario, but if you happen to be a PC gaming enthusiast, you may struggle to adapt to life without a keyboard and mouse.
This predicament is likely to become more commonplace in the months ahead as PC gaming rigs make a fabled transition into our living rooms, so it's no surprise that peripheral manufacturers are cooking up new solutions to help simplify the move. We've already seen Corsair attempt to tackle the issue with a rather large Lapdog, and today we turn our attention to Razer, who's taking a more streamlined approach with a keyboard-and-mouse bundle dubbed Turret.

It's a smart-looking thing, and what could be simpler? Take a nice keyboard, attach a small mousepad, bundle a free Orochi-shaped mouse and hey presto, you have a wireless WASD-plus-pointer combination right there on your lap. But there's a reason traditional keyboards and mice work so well on a desk, and when you spend some time with the Turret, you quickly realise that it ticks some, but not all, of the applicable boxes.
The first potential deal-breaker is price. At launch, Turret will set you back £150, and at the time of writing only a US layout is available, meaning half-height enter and no pound key. Frustrating, yet there is some merit to the design in general. Build quality, at least in the main unit, is solid throughout, and the rubberised underside helps prevent any unwanted movement.

Dimensions of 510mm x 120mm x 12mm make for a reasonably slim unit, and Turret does sit comfortably on your lap, even after long periods of use. The keyboard's 700g weight helps keep it rooted, though do be aware it can feel a tad heavy if you're picking it up one-handed to type a few words. For such casual use cases, Logitech's popular K400 still seems a better bet.
Turret targets gamers first and foremost, and with that in mind Razer's decision not to go for mechanical key switches is going to raise a few eyebrows. Gamers who won't accept anything else need not apply, however in our experience the chiclet implementation actually works quite well. The keys have a nice action, aren't too loud, and feel good to the touch. The bigger question marks, we feel, are the awkwardly small up and down arrow keys, and the omission of a built-in backlight. We'd expected some of Razer's renowned Chroma illumination, so to have no backlight whatsoever is something of a surprise and a missed opportunity.
What we do have, instead, is the ability to fold the keyboard and stow it neatly on the bundled charging dock. Both the keyboard and mouse slot on using built-in magnets, and it's a) nice to have somewhere to store the kit and b) helpful being able to keep the battery topped-up with ease. Speaking of battery, the keyboard is said to last up to four months from a single charge, while the mouse will manage 40 hours of continuous use before needing to return to base.
The quality of the keyboard and dock goes some way toward justifying the £150 fee, however the mouse doesn't appear to have been constructed with the same amount of care. Turret's wireless pointer is a lightweight unit that feels plasticky to the touch, and it's likely to be deemed too small for anyone with larger-than-average hands. The 3,600dpi sensor tracks perfectly well and all seven buttons are sensibly positioned, but in Razer's arsenal of mice, this one won't go down as an all-time great.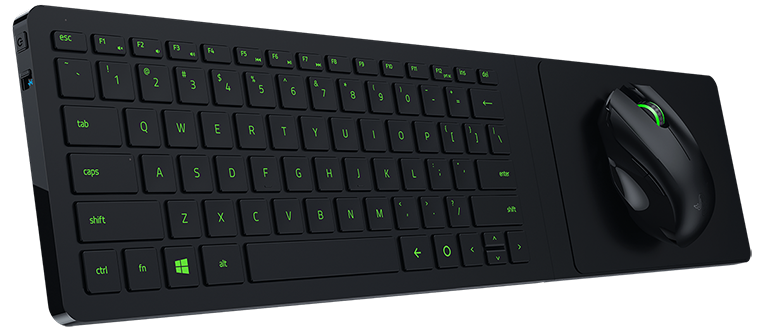 Ensuring a simple setup procedure, a small wireless receiver is attached to the host PC and the peripherals communicate via 2.4GHz wireless. Razer includes a USB extension cable should you need to reposition the dongle in a more suitable position, and with Bluetooth also built-in as standard you can easily use the keyboard or mouse with, say, a games console or tablet.
A left-sided power switch can be used to preserve battery life when the keyboard isn't in use, and from a hardware perspective there's little else of note. Razer has, for the most part, kept things simple. We like the clutter-free approach, however the addition of a few dedicated multimedia keys wouldn't go amiss.