This is ... Spatha!
Gaming peripherals have become big business for many high-profile brands, and there appears to be no limit to how high prices can rise. You could, if you so wanted, spend more on a keyboard and mouse bundle than you would on a high-end graphics card.
A scary thought, yet Asus reckons there's merit to ultra-high-end peripherals and is showcasing its manufacturing prowess with a new flagship MMO gaming mouse dubbed Spatha. Launched under the Republic of Gamers umbrella, Spatha claims to have been "designed and built to be the ultimate mouse" and will be arriving in stores carrying a lofty £139.99 price tag.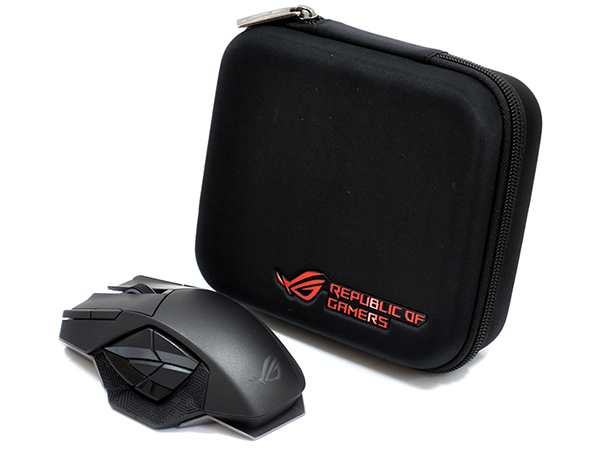 That's a serious amount of money, though we suspect eSports enthusiasts won't be deterred if the product's feature set and build quality is up to scratch. There's good news on both fronts as Asus presents a robust package that's well built, versatile and armed with a couple of neat tricks.
Premium Qualities
Presentation, as you'd expect at this price point, is very neat and tidy. The packaging has a premium feel about it, and Asus includes a carry case that's well padded and useful if you're going to be moving between venues. There's space inside to stow the mouse, various cables and the desktop stand - more on that later.
First, the device itself, which at 137mm x 89mm x 45mm in size, is one of the biggest gaming mice we've used. I'm a tall chap with large hands, and I actually like the larger profile, though I'm not overly fond of the 179g weight. It's a heavy thing and if you prefer your peripherals light, Spatha can take some getting used to.
Given the device's positioning as the ultimate mouse, you may be surprised to find that there's no option for size or weight adjustment, and neither is there a left-handed model. What you see is what you get, so if you aren't right-handed, and if you don't like your mouse big or heavy, then Spatha is unlikely to be a good fit.
The form factor naturally favours a palm-style grip and the ergonomics are for the most part well-thought-out. The thumb-rest on the left feels comfortable, as does the resting point for the third finger on the right, and Mayan-themed rubber sections on both sides provide good grip.
Not one to skimp on premium materials, Asus uses a magnesium alloy chassis to give Spatha a sturdy feel, and the grey, silver and black colour scheme works well. There's no shortage of buttons - 12, to be precise - including forward and backward buttons integrated into the left clicker's edge, a sensitivity toggle button behind the clickable scroll wheel and half-a-dozen buttons arranged in an eye-like pattern near the user's thumb.
Plenty of options, and all the buttons provide nice tactile feedback, yet some are tricky to find or reach. I've found the back button to be awkward to hit, and after a week's use, I'm still struggling to distinguish between some of the buttons that make up the lower half of the left-sided eye. On the plus side, the Alps scroll wheel is excellent, with a nice rubberised surface and a notched motion that provides just the right amount of resistance.