A Minimalist BlackWidow
Mechanical gaming keyboards have been all the rage in recent years, but following an initial surge of exciting new products, manufacturers are now finding that there's only so much you can do to make one device stand out from another.
In an effort to spice up its catalogue, Razer has recently introduced the BlackWidow X Chroma. Designed as a "budget friendly" addition to its range, the BlackWidow X Chroma is intended as a basic, minimalist version of the award-winning BlackWidow and attempts to bring mechanical keys and Chroma lighting effects to the masses.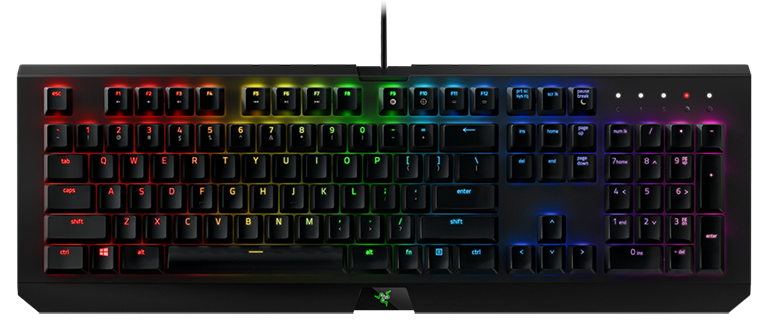 There is a bit of a catch, however, as Razer's definition of budget friendly may differ from that of the average gamer. BlackWidow X Chroma has arrived at retail carrying a lofty £140 price tag, and to further complicate matters, savvy consumers will find that the full-fat original is available for the same amount if you shop around.
We remember being left dumbfounded when we first saw gaming keyboards sail past the £100 mark, but premium peripherals have since become common place and from our conversations with some of the big names in the industry, high prices don't appear to have dampened enthusiasm. If the price isn't putting you off, BlackWidow X Chroma is a tasty looking bit of kit.
Essentially a pared-down variant of the original BlackWidow, Razer's X Chroma eschews the protective plastic cover, putting the metal top plate on show and exposing, slightly, the mechanical key switches for broader illumination. It's a classic case of less is more, and we're of the opinion the minimalist design is easier on the eye, making this one of Razer's most attractive keyboards to date.

Whereas the original has the look of a gaming device, the X Chroma is more professional in appearance and has an almost industrial feel about it - even the typeface of the key lettering has been toned-down to give it a more classic look. The one sticking point, if you're planning to use the keyboard for gaming purposes, is that the column of macro keys has also been jettisoned to keep things tidy.
Build quality feels robust throughout, with the metal top plate providing plenty of rigidity, and the plastic underside is fitted with a series of channels that allow for the braided cable to be routed to the left, right or back. The keyboard measures 46mm in length and just under 16mm deep, and should you feel the need for a little extra height, a pair of flip-out feet are integrated as standard. Both feet are lined with rubber to help prevent unwanted movement, but there's no palm rest attachment for those seeking extra comfort.
The end result is a crisp, clean-looking design, but one that's void of some of the extras you might want or expect. In addition to the lack of macro keys, there are no dedicated multimedia controls, there's no USB passthrough nor audio jacks, and if you're inclined to tinker, you might be disappointed to find no spare keys or even a keycap removal tool.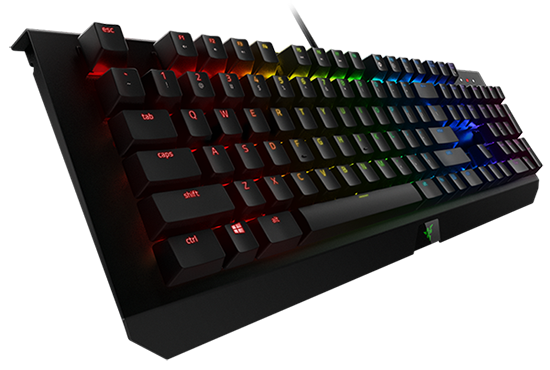 What you do have is a couple of signature BlackWidow features. The first is a Razer mechanical key switch claiming to be good for 80 million key strokes. That's 30 million more than equivalent Cherry MX switches, meaning excellent durability, and if you're looking for a like-for-like comparison, the default Razer switch on offer here (Green) is similar in feel to Cherry MX Blue.
The keys offer excellent tactile feedback and require a 50g force to actuate at 1.9mm. Enthusiasts may have their own personal preference when it comes to switch manufacturer, but most would be hard pushed to tell the difference between Razer's Green and Cherry's Blue. They feel very much alike, and both are quite loud during use. Gamers might not be deterred, but in an office environment the clickety-clack noise won't win you many friends.
It's interesting to note that Razer will at some point in the near future make BlackWidow X available with Cherry switches, but what's more important here, we feel, is the impressive per-key backlighting with millions (16.8 million, to be precise) of colour options. Customisation and lighting effects are a key selling point, and it's all controlled via the bundled Synapse software utility.