Introducing Ripjaws Peripherals
Are you a memory manufacturer in need of diversification? Then consider gaming peripherals as a next logical step. A number of big-name purveyors of PC memory have already made the transition - with good degrees of success, we might add - and G.Skill is now joining the ranks.
Having focussed almost exclusively on memory, the Taiwanese firm, now in its 26th year, is extending its reach with the launch of keyboards, mice and headsets under the enthusiast-oriented 'Ripjaws' brand. A welcome addition to an already burgeoning market? To find out, we've taken the Ripjaws MX780 laser gaming mouse for a spin.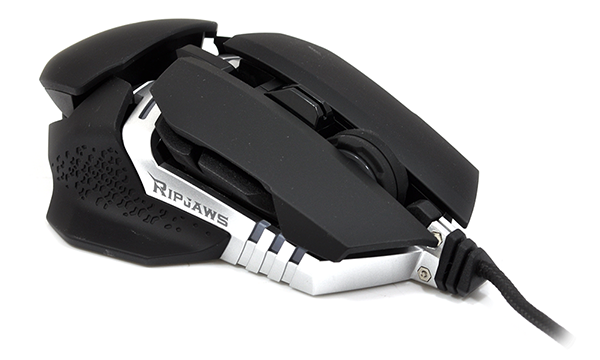 Priced competitively at $50 for an initial US launch, the MX780 should cost somewhere in the region of £40 inc. VAT when the mouse makes its way to the UK. That's fairly modest by today's standards - gaming mice can easily set you back closer to £100 if you get caught up in the marketing spin - yet G.Skill's entrant should be considered neither cheap nor restrained.
Build quality feels reassuring, as does the 111g default weight, though there are a lot of angles and gaps to contend with. The unusually wide void between the left and right mouse buttons is a particular concern, and we suspect this will be an area in which dirt will continue to gather. Grime in the gaps may prove to be a long-term problem, however G.Skill's soft-touch black coating looks smart and does a good job of repelling fingerprints - our review sample is still looking tidy after a week of abuse.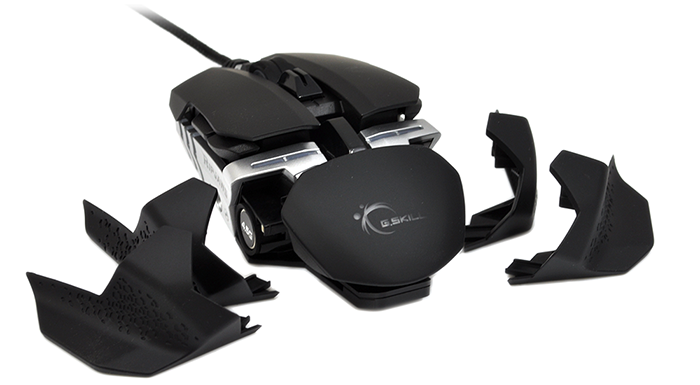 Mouse ergonomics are something of a personal preference, and the MX780 will prove to be a good fit for some and awkward for others. The size and shape feels reasonable in the palm of my large hand and though I tend to use a fingertip grip, I suspect a claw grip would work just as well. The only snag after prolonged use is the thin edge of the top buttons - the right clicker occasionally rubs my third finger and I'd rather the sides of these buttons were rounded. There are ultimately too many angles and edges for the mouse to be considered truly cosy.
What all users will appreciate is the level of flexibility. The core mouse itself is ambidextrous and G.Skill bundles four swappable side grips that allow for user customisation. The larger grips provide thumb support and the idea is that the mouse can easily be tailored for left- or right-handed users. It's a system that works surprisingly well. The magnetic mounting points are strong enough to ensure the grips stay in place and we actually like having the large attachments fitted on both sides simultaneously - doing so provides resting points for the thumb and the pinky.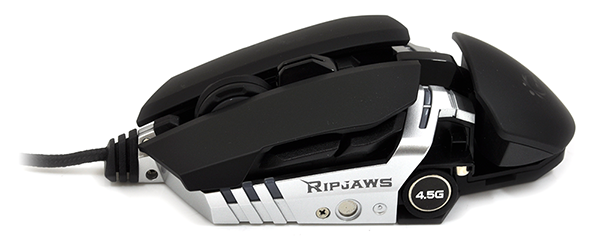 Removing the grips reveals another area for customisation. Each side has a mounting point for a small, circular 4.5G weight. If you like a peripheral with a bit more heft, adding the duo takes total weight up to 120g, though do be aware that incremental weight adjustments aren't ideal. Adding just a single 4.5G piece to one side causes the mouse to lose its balanced feel, so it's either an extra 9G or nothing.
The array of customisation options don't end there. The palm rest at the rear is height-adjustable using a small hex screw at the base of the mouse, and a four-zone RGB backlight system gives you a bit of extra flair if that's your thing. The bulk of the lights tend to be covered by your palm, so their usefulness is questionable, but if you like your lighting you'll appreciate the range of options - install the bundled software and you have millions of colour choices, with the default being red.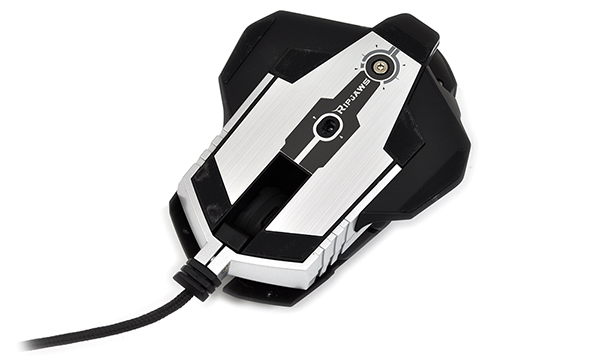 A mouse as outlandish as this should be well-stocked on the inside and G.Skill doesn't disappoint. The main buttons are backed by ubiquitous Omron switches that are said to be good for 20 million clicks, and the centrally positioned laser sensor you see is the popular Avago ADNS-9800. Sensitivity ranges from 100DPI to 8,200DPI (in 100DPI increments) and the up to 1,000Hz polling rate is par for the course in mice of this ilk.
Four PTFE pads aid motion and the mouse feels suitably precise and accurate during use. The maximum sensitivity settings are far too keen for our skills, but when lowered the mouse is not only great for gaming but also for navigating around ultra-high-resolution desktops. A dedicated DPI toggle button positioned below the scroll wheel makes it easy to cycle between settings on-the-go, however there isn't a dedicated DPI indicator to let you know which setting is currently in use.
Total button count rises to eight including the DPI toggle, but not all are easily usable. The two side buttons opposite your thumb are awkward to press and the jury's still out on the scroll wheel. There are notches to help with precision, but the wheel feels slippy in texture and is slightly stiff, requiring a little extra effort to engage.