Not Your Average Mouse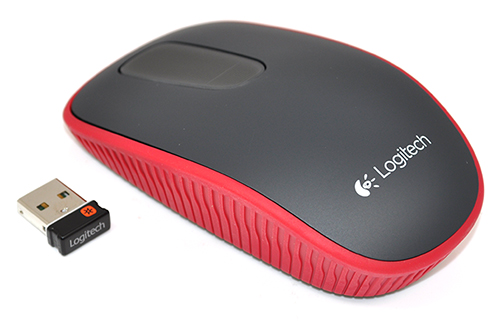 The Logitech Zone Touch Mouse T400 is one of many new devices designed to compliment Microsoft's Windows 8 operating system. Priced at £39.99 and available in a choice of black, red (pictured) and blue, it's an affordable accessory that should enhance productivity on a Windows 8 PC.
As HEXUS readers are no doubt aware, touch interaction lies at the heart of the latest Windows experience, and though the operating system is perfectly usable with a traditional mouse and keyboard, you need a touch-capable device to make the most of the software's revamped user interface.
That's where the Zone Touch Mouse T400 comes in. Logitech's device aims to offer the best of both worlds by taking the dedicated left and right mouse buttons that you're used to and supplementing them with a 'touch zone area.'
Design
We've seen touch-capable mice arrive in various shapes and sizes, but the Zone Touch Mouse T400 isn't attempting to rewrite the PC-mouse rule book and looks appreciatively simple in comparison.
Measuring 60mm x 105mm x 30mm in size and weighing just 107g (including batteries), the T400 feels compact and light during use. It's ideally suited to users with small hands, however we've found the mouse to be a tad too svelte for our liking - it doesn't offer the comfortable arch of larger desktop mice, yet it isn't quite small enough to pass as a highly-portable laptop accessory.
The T400's compact size takes some getting used to if you're coming from a larger device, but there are a few ergonomic additions that will help during the transition period. The surface of the mouse feels smooth and comfortable beneath the palm, the symmetrical design suits either hand, and the rubber trim surrounding the sides of the device provide excellent grip.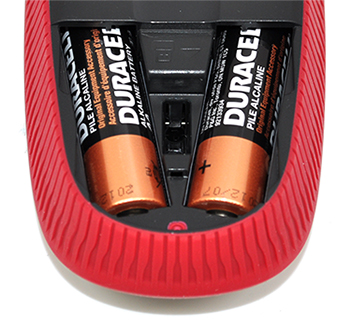 Wireless connectivity comes in the form of a tiny 2.4GHz Logitech Unifying Receiver, and if you do plan on travelling with the mouse you'll find a receiver storage slot built into the battery compartment. A pair of double-A batteries are said to provide "up to 18 months of battery life," but the T400 isn't rechargeable so you'll want to keep a set of spares just in case. A basic on/off switch is also located on the underside of the mouse, along with a 1,000 DPI optical sensor that provides accurate tracking.
What's important is that there's no learning curve. Plug in the Unifying Receiver, follow the prompts to download and install the accompanying SetPoint software utility, and you're good to go. Anyone who has used a basic mouse will feel right at home - the left and right buttons work exactly as you'd expect - and the intersecting touch panel feels intuitive right from the off.
Taking the place of the relegated scroll wheel, the glass touch zone provides familiar functionality along with a couple of useful extras. As expected, a swipe up or down will scroll in either direction (just as a scroll wheel would), but Logitech is able to expand on that by adding horizontal scrolling (swipe left or right) and a further two buttons (a small button at the back of the touch zone and a larger button at the front).