Cheaper, less feature-extensive version of the Roccat Kave
For those familiar with Roccat's current range of gaming headsets, the Roccat Kulo is essentially a cheaper, less feature-extensive version of the Roccat Kave, which boasted 5.1 surround sound and an adjustable vibration unit for the princely sum of approximately £70. The Kave enters the market costing approximately £46, but with that reduction in price comes a downgrading in quality as 5.1 gives way to stereo sound, features get stripped away, and a USB connection makes way for traditional twin 3.5mm connectors.

The Kave weighed in at a bulky 414g, but the Kulo weighs just 178g. By ditching 5.1 surround sound, Roccat has now built a lightweight headset designed particularly for comfort, casual gaming and to take on the move. Combine this light weight with the comfort of the faux-leather padding that runs across the interior of the headband and you've got a headset that can easily be lugged around to a friend's house or a LAN party, and can be worn for hours without discomfort. Furthermore, the metal-reinforced headband provides some sturdy support and can be adjusted with up to eight settings, while the exterior design of the cups offers a stylish angular look that makes the headset stand out from the crowd.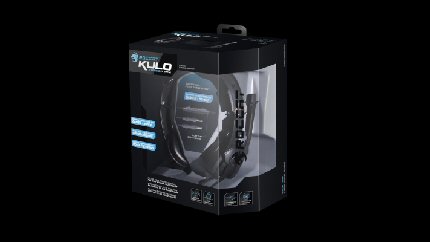 Click for larger image



Of all the features you'd expect from a gaming headset, an automatic mic-mute function isn't going to be top of your list. Nonetheless, its novelty is fairly impressive and its functionality sound. The mic can be tucked away neatly and flipped down from the left cup, automatically turning off when folded and switching on when pulled down. It's also very flexible so you can really manoeuvre into position without fear of breaking it. Though the mic-mute function initially didn't impress me, I found it particularly handy for Skype, where I usually mute within the software during conference calls. The actual volume controls of the headset sit on an inline remote that's positioned about half way down the 2.5m cable on a crude piece of plastic that runs from the earpiece to the PC. It works just as it should but I much prefer how some peripheral makers now place the volume controls on the actual headset, which seems like a much more attractive and intuitive solution.

Continued overleaf...