Introduction
Razer has expanded its burgeoning range of gaming peripherals with a wired mouse aimed exclusively at FPS gamers. Dubbed the Basilisk and priced at £65, this here pointer promises to "take your FPS skills to the next level" by focussing on the features that matter most in first-person shooters.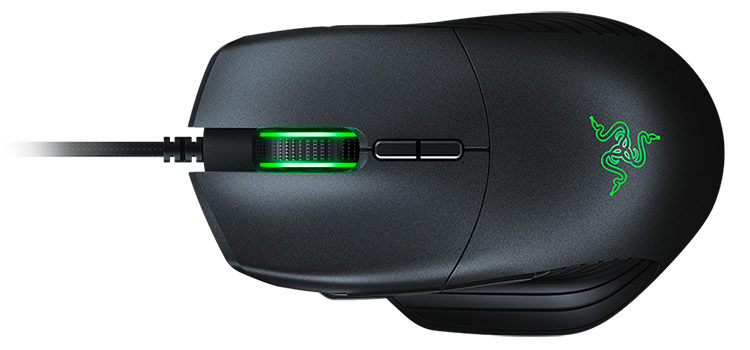 It is an important distinction to make, as today's gaming mice come in a wide choice of flavours, but are often best suited to certain titles. Basilisk, for example, doesn't attempt to incorporate a mini keyboard and features only eight buttons. That's a paltry number for anyone who plays in the MOBA arena, but for FPS users Razer reckons it has ticked all the right boxes.
I do enjoy a good shooter and first impressions are favourable. Basilisk's 124mm x 43mm x 75mm body is well suited to my long but slender digits, and though the 107g weight isn't adjustable, it feels perfectly agile during use. I would however prefer a little extra height around the middle to better support the arch of my hand, and if I'm nitpicking, the comfy rubber grips on both sides have a nasty habit of collecting dirt.

Lefties obviously won't be enamoured - Basilisk is only produced in right-handed flavour - but if the orientation suits, so too will the button layout. The left and right mechanical clickers have a nice action, as do the two thumb buttons on the left, and a pair of DPI adjustment buttons reside behind the clickable scroll wheel. Everything the doctor ordered? Perhaps, though we might have liked a dedicated LED to highlight the current DPI setting.
Two additional features make Basilisk particularly interesting for FPS gamers: an extra button dubbed the Clutch, and adjustable resistance on the scroll wheel. The former, located toward the front of the left side, can be held to quickly reduce DPI for precision aiming.

It's a function that works well and Razer includes interchangeable short and long buttons in the bundle, as well as a rubber stopper for anyone who deems Clutch surplus to requirements. The default, longer button is our preference, though we suspect users with small hands may lament the fact that an even longer attachment doesn't exist.
Basilisk's scroll wheel, meanwhile, is rubber coated and partnered by a resistance adjustment on the underside. At the lowest setting, the wheel is almost smooth with barely any resistance, while at the opposite end of the spectrum you get a highly pronounced notch, making it easy to identify weapon changes.

A useful setting to have, and despite Razer's penchant for RGB illumination, we're pleased to find that Basilisk is nice and sleek in appearance. Only the scroll wheel and Razer logo are illuminated, with plenty of customisation effects available through software.
A couple of well-thought-out features and a likeable form factor combine to make this a particularly good FPS solution, and as you might imagine there's plenty of oomph under the hood. Razer is using its tried-and-trusted 16,000 DPI optical sensor, a custom variant of the popular Pixart PMW3389 that offers more than enough range to cover everything from sedate office work to ultra-fast gameplay.