Performance
Testing the capability of a product built around Powerline technology isn't a simple task; the performance is directly linked to the building and the quality or condition of its mains electric cabling.
It's important to note, therefore, that the speeds achieved in this evaluation are merely a guideline and your own mileage may vary. For the purpose of our tests, we placed a desktop PC on the ground floor of a relatively new-build property and a laptop on the first floor. Both systems were separated by a distance of roughly 50ft, the desktop PC was connected directly to a Gigabit router, and the laptop was connected to the network using one of the following six methods:
Using the integrated Atheros AR9002WB-1NG 150Mbps Wireless N controller
Using a Netgear XEB1004 85Mbps HomePlug Adapter Kit
Using a Power Ethernet Socket 200Mbps Starter Kit
Using a Netgear XAVB5101 Powerline Nano 500 Set
Using a Netgear GS108 Gigabit Ethernet Switch
Using a TP-Link AV500 Gigabit Powerline Adapter Starter Kit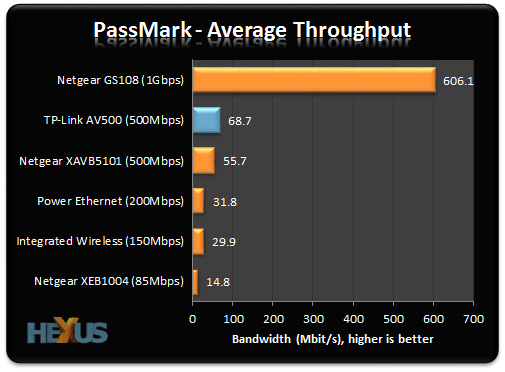 The TP-Link AV500 Kit is the cheapest 500Mbps Powerline kit on show, but you wouldn't know it when looking at PassMark's average throughput test. Performance is very decent for a Powerline solution, and we've included relevant alternatives in the chart; TP-Link's solution proved to be comfortably faster than Wireless N at the same range, but it's of course a whole lot slower than a Gigabit switch and long lengths of Cat 5 cable.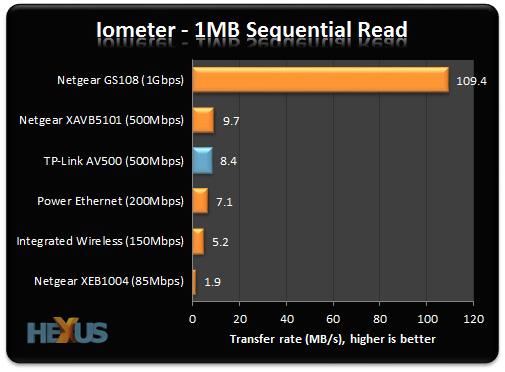 Our Iometer test is used to assess sequential read performance across our two networked computers, and again the TP-Link AV500 kit performs well; it's hard to tell the difference between it and the more expensive Netgear XAVB5101.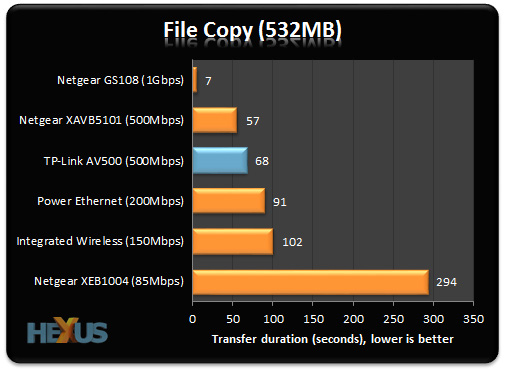 Our final benchmark examines the real-world implication of these varied networking solutions by copying three movie files from one location to another. The TP-Link AV500 kit takes just over a minute - slightly longer than the Netgear XAVB5101s - but performance is good and, again, a solid step up from Wireless N.
If you're umming and arring over whether to use a Powerline solution or run Cat 5 cables through walls, it's a juggling act. Powerline HomePlugs are much easier to install, but as shown by all of the above graphics, dedicated Cat 5 cable will deliver far greater performance.
On a related note, we did find that the TP-Link adapters became quite warm during regular use, though that never appeared to affect performance.