Introduction
They say the simplest products are often the best, and it's for that reason UK startup Power Ethernet has caught our eye. Founded by Andrew Delaware and based out of London, the company has developed a patent-pending all-in-one power socket that integrates Homeplug Powerline technology.
The idea, quite simply, is to offer "a secure data network running across the existing power cables in a building... without the need for expensive rewiring or unsightly adaptors."
It's a solution for users who experience mixed results with wireless networks, as well as those who don't see running lengths of Ethernet cable as an option, and one that aims to make networking equipment a whole lot easier on the eye. Powerline technology is the driving force behind the idea, but while existing solutions take the form of unsightly wall-plugged adaptors, Power Ethernet goes one better by incorporating the technology directly into the wall socket.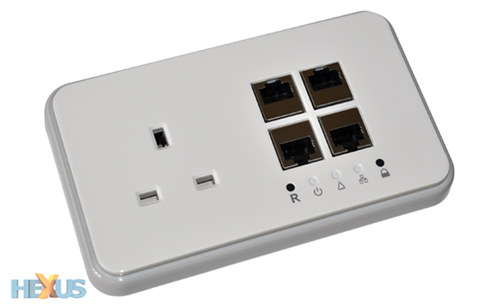 The end result is a lovely-looking product, and one that functions in a familiar manner. Like many of the Homeplugs already on the market, this neatly-integrated unit - dubbed the Power Ethernet Socket - uses a building's existing mains electric cabling to transmit data over a secure network.
Each Power Ethernet Socket offers speeds of up to 200Mbps (gross, powered by a Qualcom-Atheros 6400 Powerline chipset) and a four-port switch is thrown into the mix, giving each wall-mounted socket four high-speed Ethernet connections. This negates the need for an external switch and further reduces cable clutter, and it's ideal behind the TV - where you may want to connect multiple devices such as a set-top box, a games console and a Blu-ray player.
We're told that up to 64 Power Ethernet Sockets can be installed in any one network at a distance of up to 300 meters apart, and each socket is encrypted with 128-bit AES security.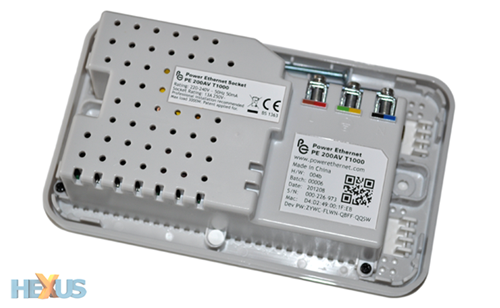 The end result is a product that purports to be both fast in operation and simple to use, but it does have a few obvious downsides. The Power Ethernet Socket is designed to replace an existing double-gang power socket, so you'll lose one mains outlet in favour of the four Ethernet ports, and installation could be a problem - if you aren't feeling up to the challenge of re-wiring sockets, you'll need to call on an electrician.
If you do decide to go the DIY route, note that the technology packed into the Power Ethernet Socket makes the unit considerably thicker than the dual-gang socket you'll be replacing, so you'll need to ensure your knockout box is at least 35mm deep in order to achieve a flush finish. Other than that, installation's straight forward; attach the live, earth and neutral cables, screw the unit into the wall with the supplied screws, and that's about it.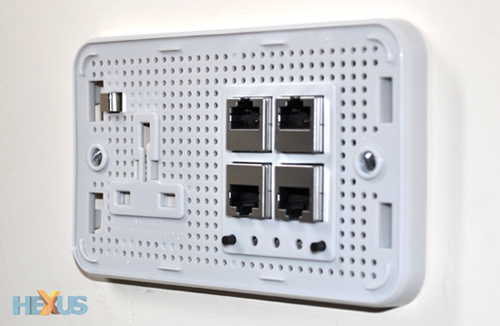 The clip-off faceplate helps simplify the installation process and it also provides a clue as to how the Power Ethernet Socket intends to cool the underlying Qualcom-Atheros 6400 Powerline chipset. The entire socket is vented with holes and there's a small gap behind the plastic faceplate to allow a clean supply of air.
Two small buttons provide the option to reset the unit or pair new sockets, and three LEDs are at hand to illustrate power status, network status and activity. It's all very easy on the eye and you can see where the Power Ethernet Socket's appeal really lies - if running patch cables throughout a property isn't an option, and wireless proves to be hit-or-miss, there's arguably no solution as elegant as this.
It's ideal for home users wanting to connect the cinema room at the far-end of the house, but Power Ethernet is setting its sights a little higher by targeting large-scale industrial installation. Should builders be installing a few Power Ethernet sockets in every new house? Should these sockets be in every classroom? Should hotels forego free wireless in favour of a high-speed connection in every room? Power Ethernet certainly thinks so, and it reckons this all-in-one approach is "a cost-effective way to deliver Ethernet access to hard to reach places."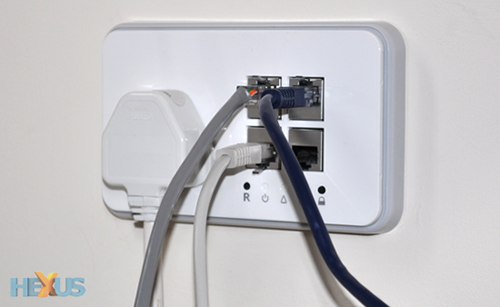 We love the idea - and we agree, all new homes should come equipped with at least some sort of integrated network - but the Power Ethernet Socket isn't perfect and there's certainly room for improvement.
To begin with, there's the small matter of cost. While large-scale implementations are likely to benefit from volume pricing, home users can currently expect to pay around £200 for a Starter Kit that includes two Power Ethernet Sockets (remember, you need at least two to create a network). The up-front cost is significant and it's a hefty premium to pay when you consider that a pair of wall-plugged 200Mbps Homeplug Adapters are readily available at a cost of roughly £30, and though the integrated four-port switch and overall elegance help sweeten the deal, more could be done to make the Power Ethernet Sockets stand out.
In future revisions, we'd like to see an on/off switch for the remaining power socket (an omission that's a major oversight), as well as a higher-speed 500Mbps chipset. And, while you're at it, why not throw in a USB port or two for direct-from-wall charging of various modern-day devices?
These upgrades could make a good product a great one, but it's the exorbitant price tag that's the major bone of contention. Still itching to cough up the cash for what looks to be a well-refined piece of kit? Then let's find out how the Power Ethernet Sockets perform.