DumaOS
Gamers are the most obvious target market, yet it's worth pointing out that the XR500 Pro doesn't omit the features you'd expect to find on a high-end Netgear router. The WiFi bands are fully configurable with Smart Connect allowing the router to automatically choose a preferred band when using a single SSID, guest networks are catered for, parental controls include scheduled content filtering based on keywords, traffic can be monitored, and USB storage sharing is bolstered by a built-in DLNA media server.
A healthy list of advanced features includes port forwarding, dynamic DNS, VPN service, IPv6 and remote management, as well as a nicely visualised real-time network map. Just about everything you'd expect to find is present and accounted for, but what makes DumaOS stand out from the crowd are the two tabs that promise to optimise your home network; Geo-Filter and QoS.
Optimal Gaming
Geo-Filter is, on paper, such a simple solution that you wonder why it isn't readily available on all routers. Netduma's premise is that "the main cause of lag in online gaming is the distance between you and the host of your game." That's a fair statement, and Geo-Filter applies a user-defined distance limit from your home location to ensure connection to a nearby server/host with a low ping.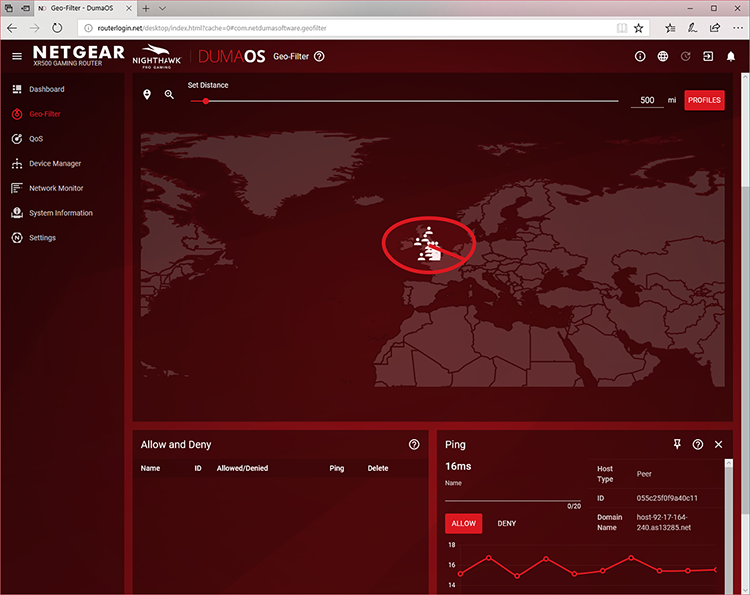 Disabled by default, Geo-Filter has to be configured by the end user but isn't overly complicated. We added an Xbox One games console to the list of filtered devices and, as pictured above, set a radius of 500 miles. Playing Call of Duty: WWII appeared to show Geo-Filter working a treat; with the filter enabled, the host was always within the radius, resulting in low pings and fast, smooth gameplay. The interface shows connected players in real time and also highlights potential servers that have been blocked outside of the defined radius, and there are options to fine-tune. If a nearby server/host is demonstrating a detrimental ping, it can manually be added to a block list, while friends from further afield can be individually allowed.
This is a feature that makes sense on console games, where the user typically has no control over host location, but isn't necessarily a must-have for PC gamers, who tend to be able to choose a suitable server from a list. The other caveat is that the software requires a fair bit of user intervention, with Netduma openly stating that "DumaOS demands regular interaction." In an ideal world we'd want DumaOS to activate and manage Geo-Filtering by itself, but as it stands the software won't automatically recognise and filter a games console on the network, and nor will it automatically block hosts with a particularly bad ping.
Quality Matters
Geo-Filter proves beneficial and is bolstered by a three-pronged approach to QoS (Quality of Service). Firstly, Anti-Bufferbloat is at hand to limit bandwidth to a percentage of the maximum at all times or when a game is detected. Setting this to 70 per cent, for example, will ensure that gaming traffic need not queue when the network becomes congested. Secondly, a visual aid makes it easy to allocate a higher percentage of bandwidth to certain devices, and last but not least, DumaOS employs enterprise-level deep-packet inspection to ensure that game traffic is automatically detected and prioritised.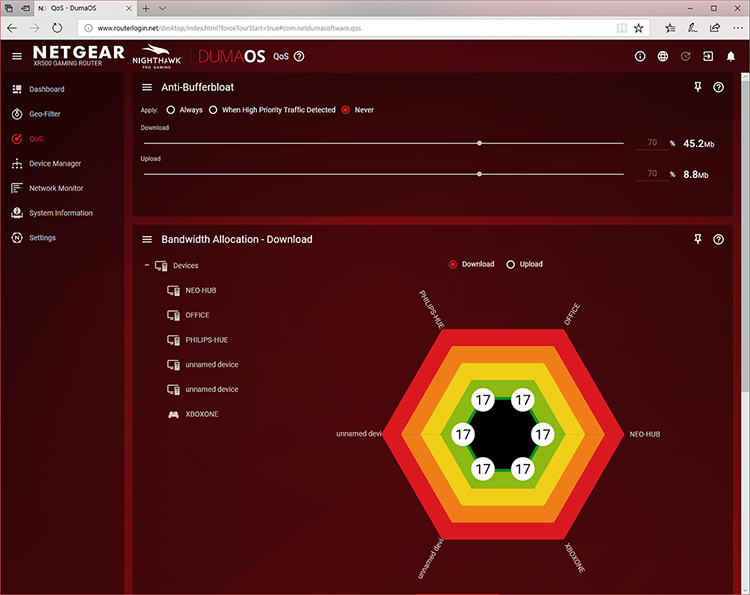 Performing simulated tests reveals that the tech does work - when hammering our network with downloads, gaming on the Xbox One would typically stutter and lag, but enabling the DumaOS optimisations kept everything running smoothly. QoS is nothing new, but modern interpretations from the likes of Killer and Netduma confirm that more can be done to ensure a quality networking experience, particularly when it comes to gaming.
DumaOS is already showing promise, yet room for improvement remains. The interface and features could be deemed too complex for casual gamers, the software lacks the polish on offer from more mature rivals, and the built-in tooltips don't do enough to properly demonstrate the available optimisations. Netgear has attempted to alleviate such concerns by publishing video overviews of Geo-Filter and QoS, but we'd like to see a comprehensive companion app that walks users through the key features and permits configuration changes. Right now, running into a laggy game means loading up a web browser, logging into the admin panel, clicking on the low-performance host and choosing block. Not something you want to do while you're bunkered down in a game, and it would make sense for an app to offer quick access to such functions.