Introduction
AOC has taken the opportunity this year of releasing a premium monitor gaming brand under the Agon brand. Right now, there are two monitors in the arsenal, the AG271QX and AG271QG, designed to take advantage of adaptive frame-rate technology from AMD and Nvidia respectively.
And premium is genuinely where AOC is pitching the pair. Priced at £400 for the FreeSync version and a whopping £600 for the G-Sync model. So what exactly has AOC done to warrant big-league status. Let's find out with a look at the AMD-optimised AG271QX.
Basic specifications bode well for gaming. The 27in screen has a QHD (2,560x1,440) resolution, a maximum 144Hz refresh rate, and wide FreeSync compatibility from 30Hz through to that maximum 144Hz. You can purchase a lower framerate monitor for far less, of course, but that's not where AOC is playing with this premium screen.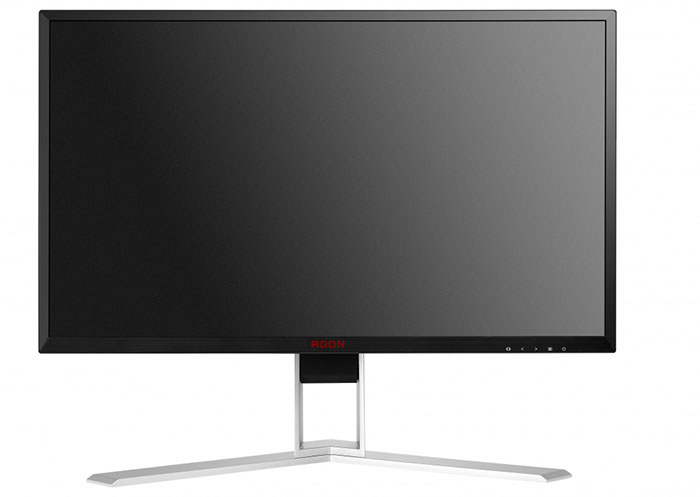 First impressions are favourable. AOC has historically been known as a provider of value screens and, without being too pejorative, a box-shifter. None of that is apparent when viewing the AG271QX. Whilst made out of plastic, the chassis is very well put together. A matte finish on the chassis and monitor does a good job at hiding fingerprints and minimising reflections.
The stand attaches easily and offers the adjustments one would expect. It's a two-piece affair that needs screwing into the back of the screen. There's 130mm of height adjustment,- enough for it to be placed into portrait mode, pivot, 25° of tilt and a total 40° of swivel, and all can be done with one hand. At 6.8kg it sits solidly enough on a desk yet adjustments are easy enough to make. What may surprise you is that AOC runs with a TN panel on this screen while the dearer G-Sync version gets an IPS. Confirming with stereotypes, the image quality is decent when viewed from head-on though it becomes more washed out when looking from the sides.
Four buttons control the on-screen menu that will be instantly familiar to AOC users. It uses a tab-based approach that whilst not as good as the best implementation of joysticks, is reasonably intuitive. One minor criticism is that it feels slow to navigate compared to some, but we suppose you won't be delving into it too often. Helping out in the OSD regard is a addition that has become popular of late. Attached via mini-USB and featuring eight buttons, the bundled QuickSwitch controller mimics the actions of the four buttons whilst also having three presets, though there is no way of programming your own presets.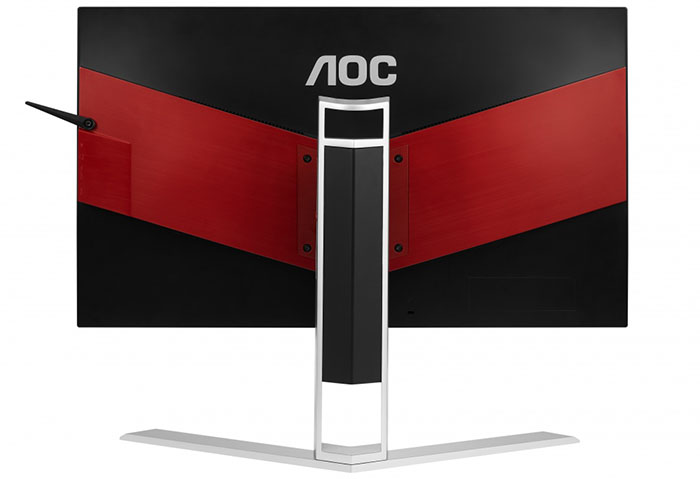 Round back, AOC gives the AG271QX a 'racing stripe', also made of plastic, which the aluminium base screws into. A carry handle makes it easy to transport the monitor around while a small pullout on the right side serves as a basic headphone holder, representing a small nod towards the gaming ambitions of the product.
The screen keeps a relatively svelte profile by moving power out to a large brick rather than house it in the display. This means a thinner wire runs away from the monitor rather than the usual kettle lead. There's room for 3W speakers that, like most, sound tinny and are no substitute for a discrete pair.
Two USB 3.0 (one fast charging) line the right-hand side along with microphone in and headphone jacks. Underneath, there's D-Sub, dual-link DVI, HDMI 2.0, HDMI 1.4 (compatible with MHL for smartphones) and DisplayPort inputs. Note that ultra-wide FreeSync support is offered over both HDMI 2.0 and DisplayPort. A further two USB 3.0, downstream USB 3.0 to PC, and microphone out, audio in and the mini-USB Quick Switch plug complete the line-up.
Note the slider on the right-hand picture? It's there to provide precise information on the height of the screen should, we imagine, more than one person use it. There are similar markings for the tilt, but we didn't use either after getting it to our preferred height.