Introduction
Asus has been attempting to create the ultimate gaming monitor for a while now. The ingredients are simple enough: gamers need a decent-sized screen equipped with a relatively high resolution. Add to this a high refresh rate, some form of framerate-matching technology such as G-Sync or FreeSync and, rounding off the package, a panel using IPS-type technology for superior visuals and viewing angles. Not much to ask, is it?
Championed under the Republic of Gamers banner, Asus now reckons it has all these requisites ticked off with the PG279Q. Does an IPS-based, 2,560x,1,440-resolution display imbued with a 165Hz refresh rate and G-Sync/ULMB technology grab your attention? Then read on.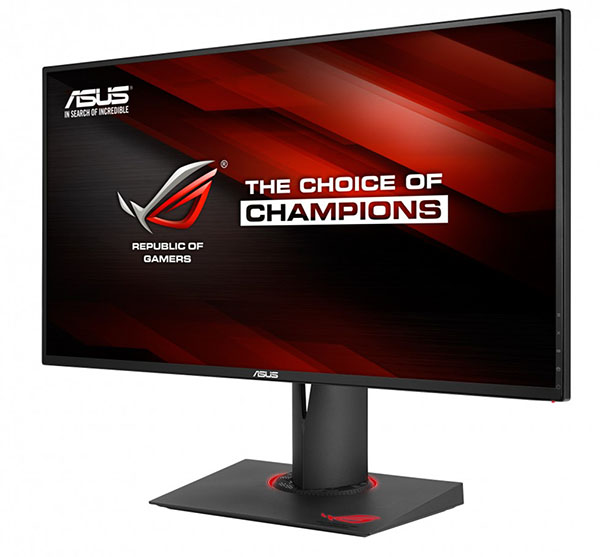 Before we get to the finer details of what makes this, on paper, an excellent gaming monitor, a word or two about the design and overall aesthetics. The PG279Q shares the same body as last year's PG278Q, which used a TN panel instead of IPS here. It also shares that monitor's launch pricing of £699. Yup, ticking all the boxes doesn't come cheap.
Pre-assembled out of the box, this is one good-looking screen. Simply lift out and place on your desk. Keeping in with modern ROG styling, the monitor is predominately black though there's an LED-backlit, red-ringed section where the stand meets the base, and another illuminated graphic on the bottom-right. A thin, 6mm bezel frames the 27in monitor whose native 2,560x1,440 resolution is a good fit for the screen size.
There's plenty of adjustments on offer, as well, so that you can get it exactly in the right place, with up to 0-120mm height, +/- 60° swivel, +20°/-5° tilt and a full pivot to orient it in portrait mode instead of traditional landscape.
The narrow bezel is a boon for anyone considering two of these monitors on a side-by-side basis. Not only does it give the screen a semi-frameless appearance that looks good compared to the chunkier bezels in evidence elsewhere, the 12mm gap between side-by-side screens isn't overly off-putting.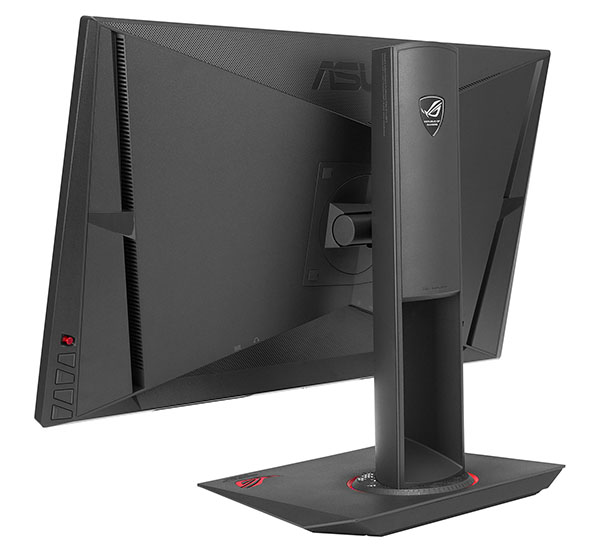 Around the back are five easy-reach buttons that control the on-screen display, located directly behind the functions shown on the bottom-right of the bezel. A handy five-way joystick makes it easy to jump through menus and rattle off options. Asus uses one of the buttons as a dedicated 'turbo key' that, at a press, flicks between the 120Hz and 165Hz maximum refresh rates supported by the panel.
ROG-influenced styling extends to the back, with large vents on either side and up and below, presumably to expel heat, along with easy cable management through the base. This model houses a couple of tinny speakers whose sound escapes through the vents. Anyone with a serious mind to audio will have a discrete speaker solution in place.
DisplayPort is the obvious candidate for running a high resolution in concert with a super-high refresh rate. Unlike last year's model, Asus adds HDMI v1.4 to this screen, but users wanting refresh rates in excess of 60fps need to use DisplayPort. Two USB 3.0 inputs sit just above the downstream connection to the PC, as well.