Results II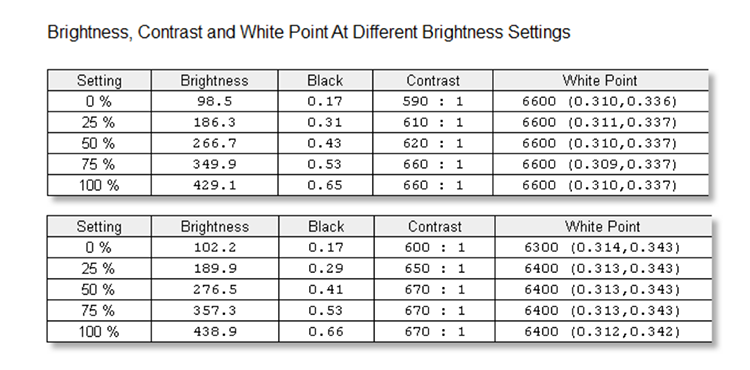 Calibrated performance, top, uncalibrated, bottom
The panel remains quite bright even when set to 0 per cent brightness, due to its super-bright backlight. Contrast is solid at all settings and the white point, which is set to 6500K by default, is very good.

Calibrated performance, left, uncalibrated, right
We've historically seen brightness uniformity in the region of 10-15 per cent for IPS panels such as the one used in the ViewSonic. Our measurements indicate that it is higher on our sample, particularly in the bottom-right corner, with or without calibration, though the effects are hard to see when the screen is set to display a black background.
Input latency and power consumption
We measured latency at just 12.2ms suggesting that it's a good fit for anyone indulging in a spot of gaming; the result is in the top quarter of all screens tested.
Calibrated to produce 160 nits of brightness, the VP2780-4K draws 23W when displaying a black screen and 29W for a full white screen. Just like the input latency, the figures put the ViewSonic in the top half of all monitors to pass through our labs.
General usage
The empirical evidence backs up our eyes-on evaluation that the VP2780-4K is a monitor that excels at producing accurate colours. Though user settings are mainly limited to contrast and brightness, the crisp, clear image and excellent colour uniformity across the entire panel provides a picture that, out of the box, is better than most regular screens.