Introduction
AMD's FreeSync technology has been available since mid-March giving the technology much needed time to mature with new driver releases and providing display manufacturers an opportunity to release a plethora of gaming monitors that can take advantage of FreeSync. Asus has been at the front of the FreeSync push with its stunning 144Hz, IPS-based MG279Q model as well as its most recent addition, the 144Hz and TN-based MG278Q, which is the focus of this review.
The MG278Q deploys a TN-based 1440p panel of 27 inches in size so it is able to offer a lightning-fast 1ms response times, down from 4ms on the MG279Q IPS equivalent, as well as a more aggressive price point. Asus implements the same 40-144Hz FreeSync supported range as other gaming monitors from rival brands like Acer and BenQ which is wide enough to capture the framerates that would be produced by high-end AMD GPUs in most current-generation gaming titles.
Asus implements some unique gaming features through the OSD to set the MG278Q apart from its general consumer line of monitors, GamePlus and GameVisual, for example. GamePlus provides users with three different overlay options which can either display an FPS counter, display the monitor's current refresh rate, a timer of a specified length, or an adjustable crosshair. The overlays can be positioned anywhere on the screen using the navigational joystick control. GameVisual is a more familiar inclusion in that it provides six different picture mode presets tweaked for different game genres.
Key specifications of the MG278Q include a QHD 2,560x1,440 resolution using an anti-glare TN panel. Asus rates the colour coverage of the panel as 100 per cent of sRGB on an 8-bit panel with a 1000:1 typical contrast ratio. A 1ms grey-to-grey response time is possible with the use of Overdrive control, dubbed Trace Free Technology. Finishing things off, the viewing angles delivered by the MG278Q, 170-degrees horizontal and 160-degrees vertical, are typical of a TN-type panel while the 350 nits of maximum brightness is plenty bright enough for most home users.
Design and Connectivity
The MG278Q shares a similar stand to the ROG Swift PG278Q, rather than the MG279Q, though it lacks the LED illumination options for the red ring which the Swift has. The bezel, on the other hand, is closer to the MG279Q in that it is fairly thick and uniform all the way around unlike the Swift PG278Q which has a slim bezel design.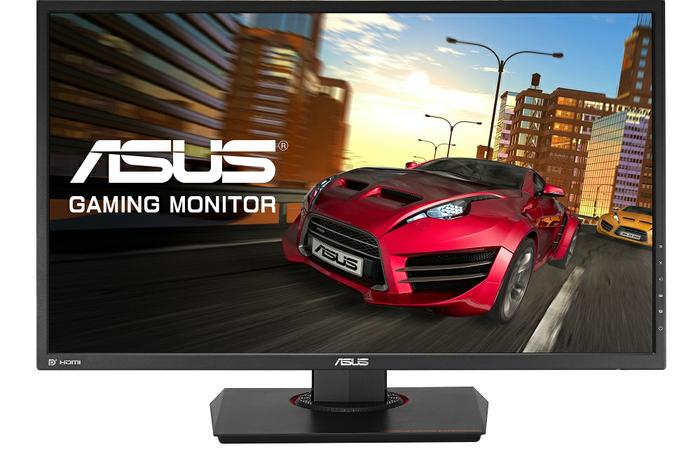 Asus delivers once again on functionality with a robust and flexible stand that has a full suite of adjustments - height, tilt, pivot and swivel. To top things off, Asus also allows users to detach the provided stand and install a VESA 100mm-compatible mount of their choice.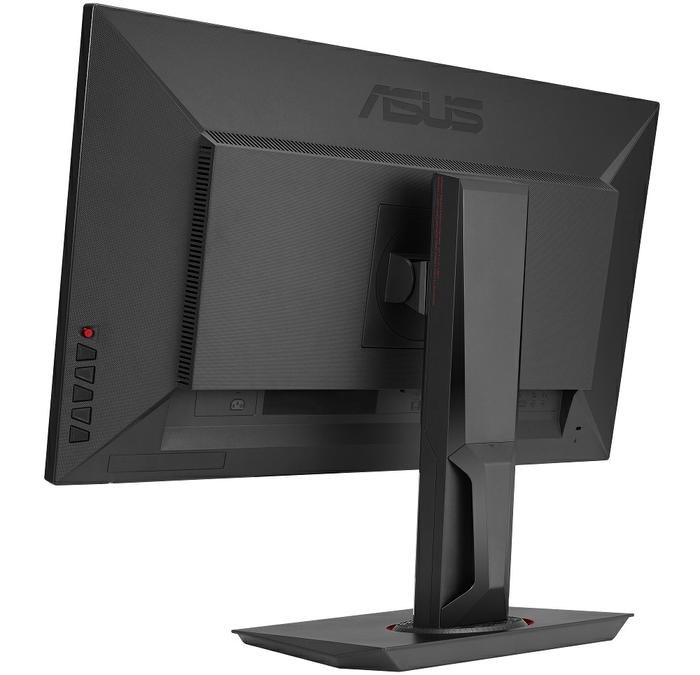 I/O connectivity covers all the major display inputs including DisplayPort (necessary for FreeSync), HDMI 1.4, HDMI 2.0 and dual-link DVI. A USB 3.0 hub and pass-through cable is provided as well as audio-in and out jacks.