Image quality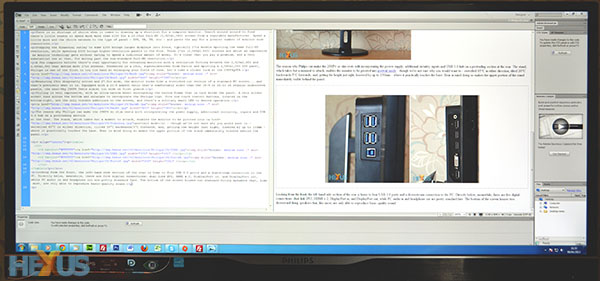 Good aesthetics and inputs aside, it's image quality and usability that really counts. Philips uses an AH-IPS (Advanced High Performance In-Plane Switching) panel and white-LED (W-LED) backlighting that, by default, at a 6,500K temperature, produce clean, crisp and accurate image quality (the camera-taken picture does it no justice, mind) with excellent viewing angles. The 2,560x1,080-pixel native resolution and 29in panel combine to produce 0.2651 dot pitch, or practically identical to having a 1,920x1,080 resolution on a 23in panel (0.2652dp). Default font sizes feel right and, for all intents and purposes, the size/pitch means the 298P4 presents as if it's simply 33 per cent wider than most full-HD monitors.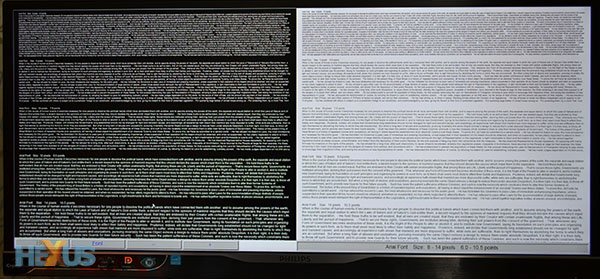 Philips says the monitor covers more than 99 per cent of the sRGB colour space. Though based on subjective analysis, the industry-standard DisplayMate Multimedia Edition provides a number of stern tests. After poring through the test images/benchmarks, our consensus is that the 298P4 offers above-average uniformity, font readability (above), and grayscale performance, though there's a very slight hint of backlight bleed on the bottom-right-hand corner of our review sample. The monitor, however, does particularly well in resolving minute changes in the graduated colour-scale test, we noted.
Usability - 2D
An extra-wide aspect ratio is a real boon for productivity applications that simply span across the extra screen real estate. The 33 per cent pixel premium plays nicely with Adobe's Dreamweaver and Photoshop, for example, and, while wide, the viewing ratio becomes second nature in moments. Indeed, going back to a regular widescreen monitor makes it feel like a 4:3-aspect screen of yore.

Problems can arise when viewing web pages, as most websites aren't optimised in spanning to ever-wider displays. HEXUS runs a standard 1,920x1,080-resolution width, and you can see the extra unused space on either side of the Radeon site skin.

Wikipedia, on the other hand, scales across whatever resolution is provided, though the surfeit of blank white space is harder to ignore. Windows enables users to snap two windows on a side-by-side basis, which, on this display, provides an effective per-page resolution of 1,280x1,080, as shown below.

While it's significantly cheaper and possible to obtain a wider resolution by pairing a couple of full-HD monitors side by side, the lack of an intervening bezel makes side-by-side viewing a pleasurable experience, rather than a distraction.
Usability - movies and TV
Philips has championed the use of 21:9-aspect displays for both PC monitors and TVs. It makes sense as the aspect ratio closely resembles that used in cinemas. However, the huge popularity of 16:9-aspect TVs and monitors means that, while sounding good on paper, 21:9 is a difficult ratio for consumer content. Most widescreen HD content is produced in a 16:9 format such that, on this display, there are thick black bars running down each side.
The way in which 2:35:1 content is displayed depends on how it has been presented. The most common occurrence is one where the content has designed for a 1,920x1,080-resolution screen and therefore includes black borders on the top and bottom. These superwidescreen monitors work by effectively pruning said black bars by increasing the resolution to fit the display, thus showing content in a non-native resolution.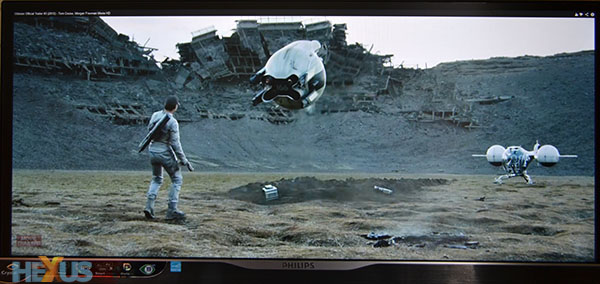 When it works well, usually when upscaling movie trailers, the results are impressive. This is a full-superwidescreen grab of an Oblivion trailer. You can see how it looks on your monitor by clicking on this link - chances are that it will have black bars on the top and bottom, unlike the Philips-produced, aspect-correct picture that fills the entire screen.
Usability - gaming
But perhaps the best use of this type of display is in getting extra peripheral detail when gaming. Most games engines scale to the requested resolution, with wider generally considered better.
Here are two FRAPS screengrabs of Crysis 3 being played at 2,560x1,080 (left) and 1,920x1,080 resolutions (right). Note the extra peripheral vision in the left-hand picture? Aside from the wider viewing angle, the 298P4 produces smooth gaming that doesn't suffer from input lag associated with el-cheapo monitors. Just like the 2D, colour accuracy is excellent and response time good.
A larger screen dictates an increase over the 20-30W power consumption we've come to associate with 24in, full-HD monitors. Playing back the Oblivion movie trailer resulted in power consumption of 49W, which is reasonable for a screen of this size.