Usage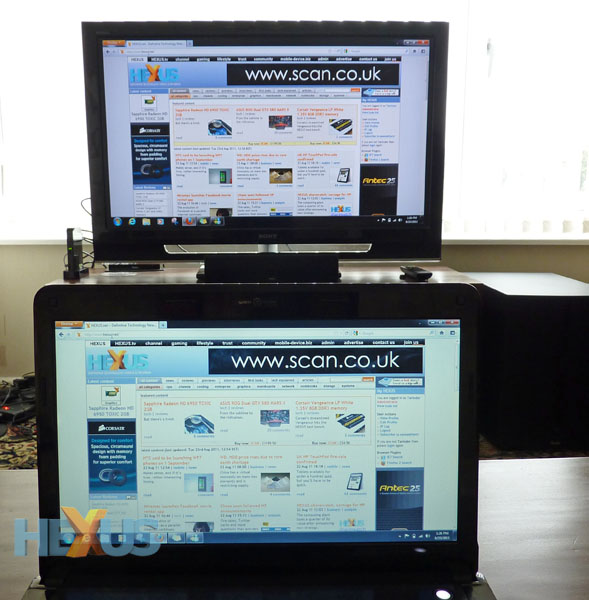 The wonders of perspective show a laptop's 13.3in screen to appear bigger than a 46in Sony LCD TV's. KFA2's receiver can be spied on the left-hand side, and the transmitter rests to one side of the laptop.
Flick around Windows and the movements are represented lag-free; it's impossible to determine whether the laptop's hard-wired to the larger LCD screen or not.
Seamless wireless transfers
Fire up a game and, still, the transfer is seamless in a line-of-sight evaluation. Audio, too, is carried perfectly and is, to our ears at least, exactly the same as if run through a 3m-long HDMI cable.
Latency, the bug-bear of wireless kits, is invisible when gaming: KFA2 quotes a sub-millisecond latency and we have no reason to disagree. Switching off the laptop's screen and leaving the TV to run the Call of Duty: Black Ops alone proved perfectly playable by using just the mobile machine's keys.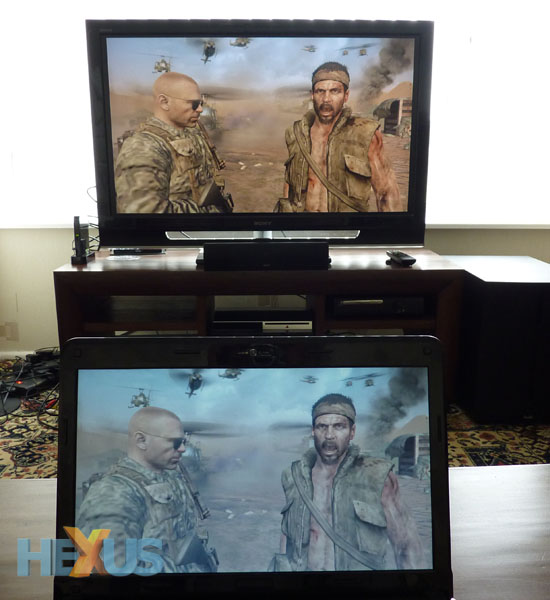 And no problems to report when playing back Inception through the laptop's Blu-ray drive. Getting up close and personal with the 46in TV's display showed a clean, clear picture that was, as far as we could tell, identical to one running when hard-wired via HDMI.
We then positioned the laptop 15 feet away with two intervening walls liable to cause signal interference. Here, the Stream HD exhibited the same performance as observed from six feet away, that is, a seamless transfer from laptop to screen. You wouldn't use it for gaming in this view-obstructed state, we imagine, but videos and Blu-rays played just fine. Be aware, however, that running the transmitting dongle from the USB port can eat into your battery. We noted that our Llano laptop's power-draw increased from 21W to 24W - not much, but it will impinge on battery life.
KFA2's Stream HD works well and wasn't tripped up by anything we could throw at it. The WHDI connection isn't limited to laptops, either, it works with HDMI-equipped devices such as the PlayStation 3 and Xbox 360.