Introduction
It takes more than just a powerful graphics card to make the most of PC gaming. Those wanting to maximise the experience need to consider a high-end monitor, and as we approach the tail end of 2019, there's no shortage of choice from a number of players vying for a slice of this lucrative market.
MSI entered the arena with its Optix line of gaming displays just a few years ago, and has since gone on to launch over a dozen different models under its G-Series (entry level), MAG Series (mid-range) and MPG Series (high-end) umbrellas. The latest addition is the £870 Optix MPG341CQR, which on paper has the potential to be MSI's best monitor to date.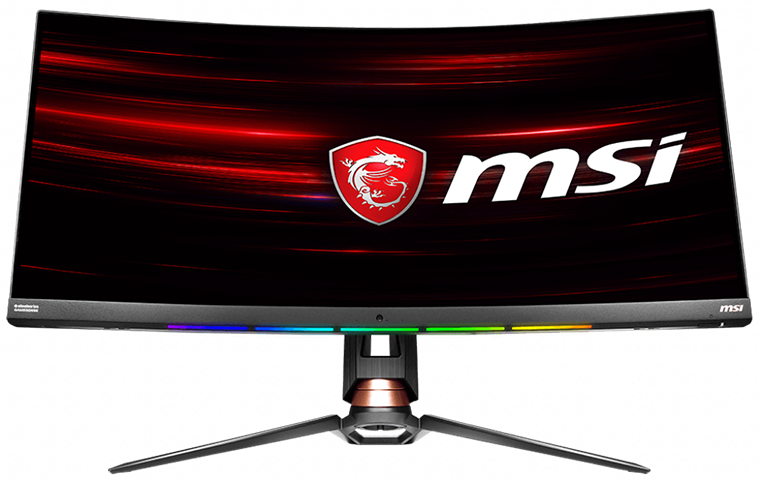 The price tag certainly isn't small, yet neither is the screen, with MSI employing a 34in ultra-wide VA panel with a 3,440x1,440 resolution. A subtle 1800R curve works well on this particular format, heightening the feeling of immersion, and make no mistake, with the right titles gaming at an UWQHD resolution is a real feast for the eyes. We mention the right titles as while ultra-wide panels are increasing in popularity, game support isn't yet perfect. Cut scenes rarely occupy the full screen, and some games inevitably do a better job of utilising the space than others. Forza Horizon 4, in our estimation, is one of the best examples of how a 21:9 aspect ratio can dramatically enhance the gaming experience.
UWQHD and 144Hz Adaptive Sync
What else can you expect for the best part of £900? MSI touts a 3,000:1 contrast ratio, a 1ms response time, 84 per cent DCI-P3 colour coverage and an attractive 144Hz refresh rate. The high refresh helps the MPG341CQR stand out among various competitors offering speeds of up to 100Hz, and though there's inevitably a premium to pay, the 34in Optix could be deemed relatively affordable if you're seeking something less cutting-edge than, say, the £2,700 Asus ROG Swift PG35VQ.
Indeed, the MPG341CQR achieves only the most basic DisplayHDR 400 certification, so while it can technically display HDR content, don't expect it to do so particularly well; there's no localised dimming, and we're of the opinion DisplayHDR 600 or 1,000 ought to be the minimum entry point for users who want to appreciate what HDR has to offer. DisplayHDR 400 is to HDR what 720p was to HD; half-baked.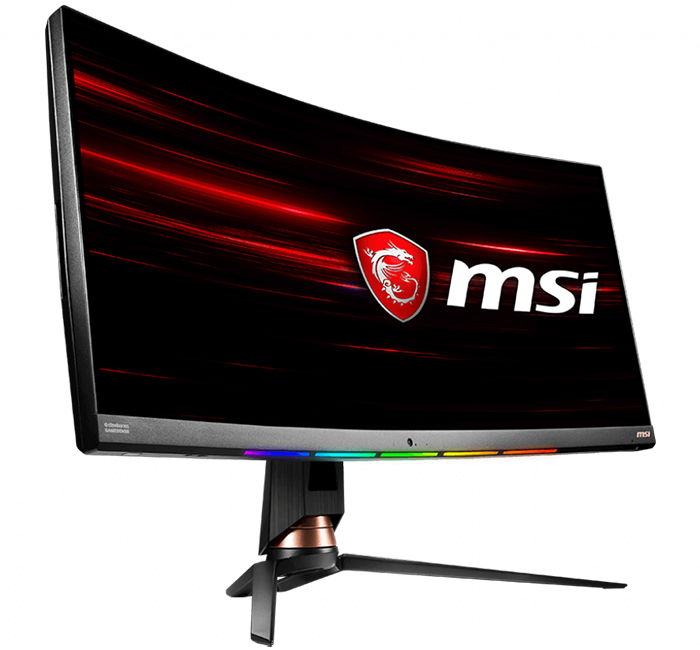 The MPG341CQR's primary goal is to deliver silky smooth in-game action and it succeeds in that regard. VA panels have matured in recent years, and this latest crop doesn't exhibit the obvious ghosting of earlier predecessors. This undesirable blur effect is still present, but we've found ourselves having to go look for it in specific tests; it is barely noticeable during actual gameplay, though some users are more susceptible to it than others.
What every user can appreciate is adaptive framerate synchronisation. MSI officially supports FreeSync 2 in the 48Hz to 144Hz range, with low-framerate compensation, and though the monitor doesn't yet show up on the official list of G-Sync Compatible displays, we can confirm it works just fine when paired with our GeForce RTX test platform. Tearing is all but eliminated, and once you get used to such smooth on-screen action, you'll wonder how you ever lived without variable-refresh-rate technology. The caveat, of course, is that you'll need a serious amount of graphics horsepower in order to drive five million pixels anywhere close to 144Hz.
Gaming Tools
Outside the panel itself, MSI, like many other gaming manufacturers, is attempting to spruce-up its offering... with mixed results. The chassis design is reasonably sleek, with thin bezels on the top and sides, however the RGB lights lining the bottom-front edge are nothing more than an unwanted distraction. You can choose from various effects, or have the lighting change based on local weather (we kid you not), but if you really don't see the point, the lights are easily disabled via the on-screen GUI.
Another somewhat unusual addition is the 720p webcam beneath the display that uses ArcSoft facial recognition to apply a user's preset settings and image profile. We've found the facial recognition to be lethargic, and it only scans the user when the companion Gaming OSD software is launched at boot; if somebody else sits down, you'll either need to restart or re-load the app for the next person to be identified. The camera leaves room for improvement, and if MSI is serious about such additions, we'd encourage the firm to explore a higher-quality sensor with support for Windows Hello.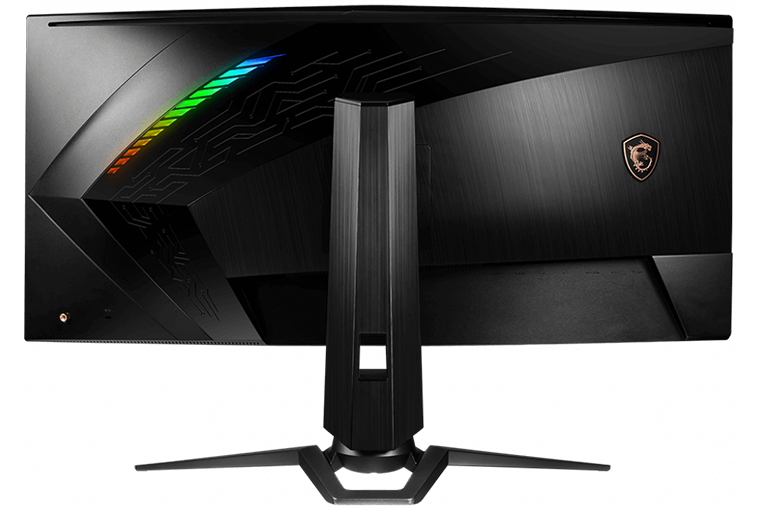 In keeping with what we've seen on recent Aorus monitors, MSI also includes 'Night Vision' and 'Anti Motion Blur' modes. The former lightens dark areas of the screen to potentially help see in-game opponents before they see you, but ends up giving the entire image a washed-out effect that doesn't look right. Anti Motion Blur, meanwhile, does what it says on the tin, but using it will turn off adaptive sync while reducing brightness dramatically. Given the trade-offs, we're of the opinion both features should be left disabled at all times.
Versatility and Connectivity
Look past the niche extras - including the camera cradle for attached a webcam to the top of the panel - and you'll still find some useful value-adds. MSI's on-screen GUI, for example, is nicely laid out and intuitive to navigate via a joystick located behind the monitor in the bottom-right corner. Should you prefer more granular control from within Windows, there's also the Gaming OSD app (pictured below), which lets you customise image quality using your keyboard and mouse, as well as providing screen assistance in the form of crosshairs, alarm clocks or an overlay displaying the current refresh rate.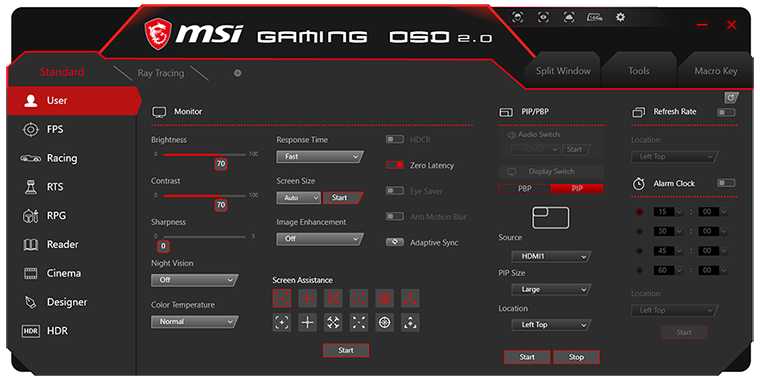 Last but not least, the MPG341CQR also scores well in the versatility department. MSI's VESA-compatible stand offers 100mm of height adjustment, -5° ~ +15° of tilt, and the ability to swivel left or right up to 30°. There's very little wobble, which is nice to see on a panel of this size, and connectivity is well stocked, too.
Available ports include two HDMI 2.0b, DisplayPort 1.4, USB 3.2 Gen 1 upstream, three USB 3.2 Gen 1 Type-A, a combination audio jack and one USB Type-C with support for DisplayPort. A couple of notes. The HDMI ports will only support the native 3,440x1,440 at 100Hz - you'll need to use DisplayPort to achieve the full 144Hz - and the combination audio jack is used to pass sound from the headphone and microphone jacks conveniently located on the monitor's left, alongside two of the three USB Type-A ports.
An integrated power supply means no external brick, and the inclusion of DisplayPort over Type-C is most welcome. The modern port also supports charging, allowing some laptops to refuel while attached to the big screen, and though this may be a gaming display first and foremost, I've quite enjoyed using the large canvas for productivity. Viewing angles are excellent for a VA panel - colour shift is imperceptible when sat front and centre - and being able to attach a laptop via Type-C is an added bonus.