Introduction
The list of sought-after features for a monitor upgrade has grown rather quickly in recent years. Advancements such as high-dynamic-range imaging and adaptive framerate synchronisation have been hogging most of the limelight, but for the worker bees out there, the implementation of a USB-C docking station could be the one feature that truly stands out.
We've seen the tech featured in a couple of recent monitor reviews, and the premise is simple enough; connect your peripherals and Ethernet cable directly to the monitor, then when you're back home from work, attach your laptop via a single USB-C lead for one-stop access to charging, dedicated peripherals, wired Internet and an external display.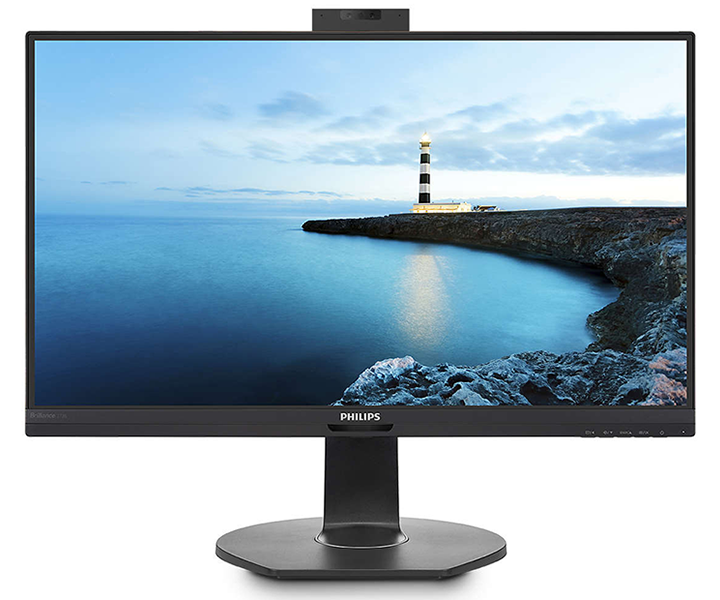 It is a useful solution that we'd like to see incorporated into a wider range of monitors, and Philips is leading the charge with a new range of workplace displays spearheaded by the 27in Brilliance 272B7QUBHEB. Armed with a 2,560x1,440 QHD resolution and a maximum refresh rate of 75Hz, this IPS panel touts wide 178º viewing angles, brightness of up to 350 nits, a 5ms grey-to-grey response time and 132 per cent sRGB colour coverage.
Such characteristics are par for the course for a 27in QHD display in 2019, but the 272B's enjoyable image is bolstered by a well-rounded feature-set that proves there is more to monitors than the underlying panel alone. From a design perspective, Philips' matte-black aesthetic bodes well for an office environment, the top and side bezels are reasonably thin, and the easy-to-assemble stand offers ample versatility, with up to 150mm height adjustment, 175º swivel, -5º/+30º tilt, as well as the ability to rotate 90º into portrait mode.
Completing the user-friendly design is an integrated power supply (meaning no external brick), a cable-management hook built into the rear of the stand, and labelled tactile buttons as opposed to cumbersome touch-sensitive controls. A pair of stereo speakers provide audio output that is more than adequate for office work and the odd YouTube video, and as with many Philips monitors, a set of IR sensors at the front are tasked with detecting the presence of a user. The tech, dubbed PowerSensor, claims to save up to 80 per cent in energy costs by automatically reducing brightness when the user steps away, but is easily disabled if you prefer your panel to be on at all times.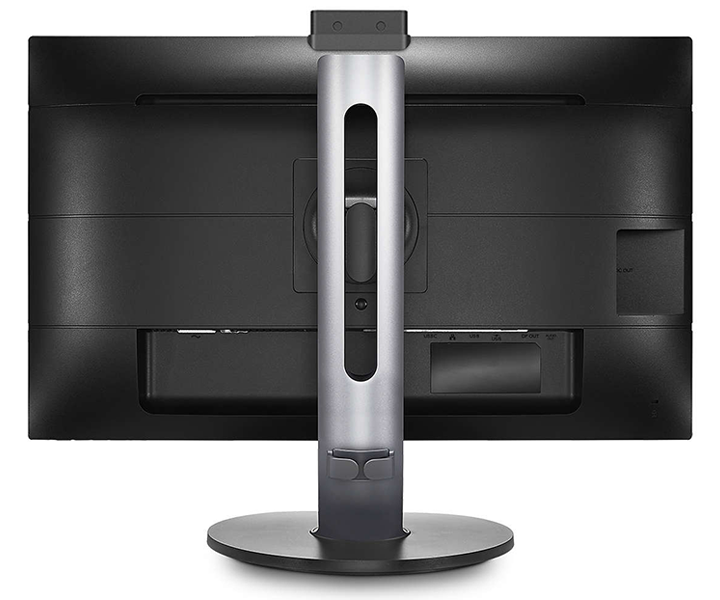 Owners of any Philips monitor over the past few years will be thinking this all sounds familiar, but it is around back in the connectivity department that the Brilliance 272B begins to set itself apart. The arrangement of ports includes a power jack, HDMI 1.4, DisplayPort 1.2, USB-C Gen 2, Gigabit Ethernet, four USB Type-A (with one supporting fast charging), DisplayPort out, and a headphone jack.
Connecting to a regular desktop via DisplayPort or HDMI works as intended, yet the monitor comes into its own when a laptop is attached via USB-C. Serving as a docking station, the four-port USB hub provides instant access to your peripherals, and in addition to wired Internet access, the one Type-C cable will also provide up to 65W power delivery, allowing most Ultrabooks to charge while docked. Such flexibility is a real boon for those who work on their laptop by day, and Philips also includes a DisplayPort out, through which a second monitor can be daisy-chained with ease.
It is amazing what can now be achieved via a single cable, and for laptop users wanting to declutter their workspace, the Brilliance 272B ticks a lot of the right boxes. An integrated SD card reader might have sweetened the deal further - particularly now that so many laptops don't include such functionality as standard - however Philips does offer something different in the form of a 19V DC Out port on the monitor's right side. Designed ostensibly to power an Intel NUC PC, the port offers a maximum of 65W using the supplied cable, but do note that simultaneous power delivery over both DC Out and USB-C isn't supported; it is a case of one or the other.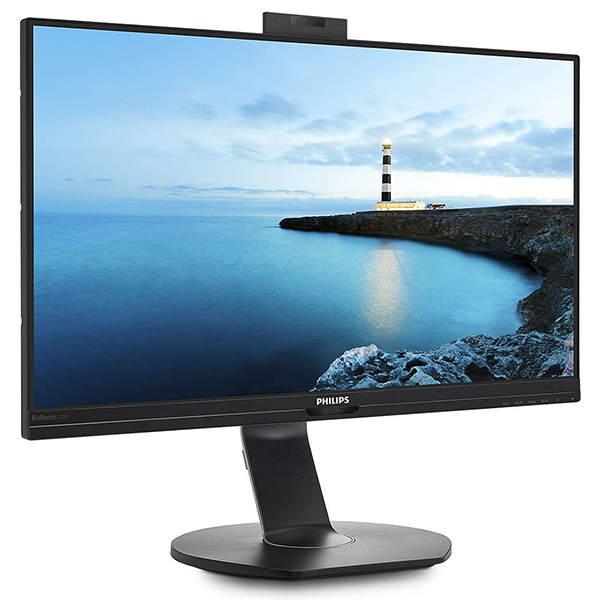 As a 27in docking monitor, the Brilliance 272B has a lot going for it. The resolution, display type, connectivity and Windows Hello webcam make it a solid all-rounder, but there is a snag in that the monitor currently retails at £426 inc. VAT. A significant amount for a QHD IPS solution, and there appears to be a hefty markup for Windows Hello functionality. If you're willing to forego the webcam, the similar Philips Brilliance 272B7QUPBEB offers essentially the same panel and docking functionality for a more palatable £361.
It is worth noting that Philips' pricing is more competitive than, say, an HP EliteDisplay, and of course business customers purchasing dozens of units won't be paying the advertised fee. Enough of the preamble, let's run some tests and see if the 272B panel lives up to the standards set by the rest of the display.