Introduction
Remember the Asus ROG Swift PG35VQ? First announced way back at Computex 2017, the cutting-edge, curved display promised to deliver ultra-wide QHD gaming at a buttery-smooth 200Hz and with HDR credentials in tow. Such assurances had enthusiasts waiting with wallets in hand, but producing such a panel hasn't proven easy, and it has taken over two years for Asus to finally bring the display to market.
Such a lengthy period of production, coupled with presumably low yields on the panel itself, has resulted in a jaw-dropping price tag of £2,700. As we approach the tail end of 2019, does the PG35VQ still have what it takes to justify such a premium? There's plenty to ponder, so let's get stuck in.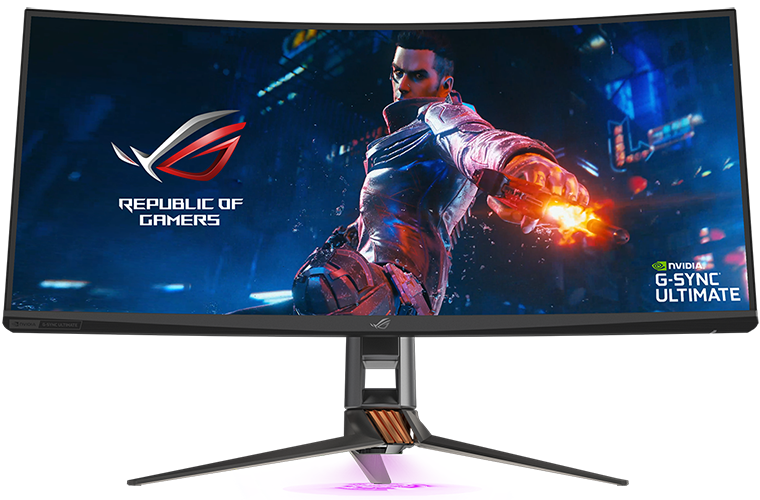 What better place to start than with the panel itself? Here are headline specs. Size? 35in. Resolution? 3,440x1,440. Colour coverage? 90 per cent DCI-P3. Brightness? 500 nits typical, 1,000 nits peak. Response time? 2ms grey-to-grey. On paper, it is easy to see why gamers have been so eager to get a taste of the PG35VQ for themselves - even after a two-year wait, this is one of the first panels to offer the UWQHD resolution at up to 200Hz - and with 512-zone full-array local dimming (FALD), the display meets the HDR requirements for Nvidia's top-of-the-range G-Sync Ultimate certification.
Breathtaking Gaming, Yet Not Without Limits
Despite such impressive credentials, though, there's no escaping the inherent limitations of the VA panel, and now that we've had our taste of OLED PCs, the drawbacks of VA technology are all the more apparent. Viewing angles, for example, aren't perfect, with noticeable colour shift as you move side to side, and the use of FALD backlighting results in an undesirable glow when bright objects are placed on a dark background. Even the mouse pointer can take on a noticeable halo, and though it doesn't tend to bother some users, I personally find it quite off-putting.
These characteristics position the PG35VQ as primarily a gaming solution, as while the aforementioned niggles could frustrate during everyday work or content creation, they tend to fade into insignificance when gameplay is being beamed into your retinas at ultra-fast refresh rates.
It is worth pointing out that the panel is officially rated at 180Hz, but is easily overclocked to 200Hz using the GUI. The caveat is that Asus is pushing the display to such limits that gamers can't simply enable HDR and expect to savour a full 200Hz. Due to bandwidth constraints with DisplayPort 1.4, the 200Hz refresh rate is best suited to SDR content; if you do switch to HDR at 200Hz, the monitor automatically drops down to 8-bit colour. 10-bit HDR is supported at a maximum of 144Hz, which we consider to be a sweet spot.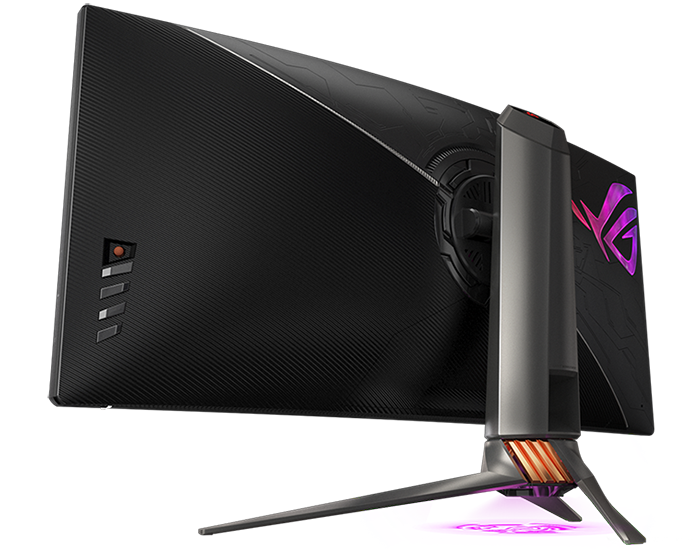 How important are the ultra-fast refresh rates in practise? 200Hz can work wonders in the right game, but most of the time the advantage of 200Hz over 144Hz isn't as significant as going from, say, 60Hz to 120Hz. Getting a graphics card to render the requisite framerates is also easier said than done (even an RTX 2080 Ti struggles to take advantage in most modern titles), and while the overclocked refresh rate can feel amazingly smooth, the panel will, at times, fail to keep up, resulting in a bit of extra blur that eagle-eyed gamers may notice.
As critics, or indeed consumers contemplating a £2,700 purchase, we'd prefer not to have any imperfections at all. It would be nice to be able to run 10-bit HDR at 200Hz, without any backlight glow and with limitless viewing angles, but the technology just isn't there yet, and despite these constraints, there's no denying the fact that the Asus panel is an incredible place to game. PG35VQ delivers the most convincing implementation of HDR we've seen to date on a desktop monitor, and it has to be said, we feel utterly spoilt having played Forza Horizon 4 on this screen. At the native resolution, with HDR and all the eye candy enabled, the game has never looked so good and plays so smooth it is nothing short of a joy to behold.
Presentation, Connectivity and Cooling
On the outside, the PG35VQ keeps things consistent with other Asus gaming displays. The back is adorned with Republic of Gamers graphics, including RGB elements that are designed to reflect above, below and behind the panel (don't worry, this can all be turned off), while the easy-to-assemble stand offers decent versatility. Height adjustment is supported at up to 100mm, there's up to 35º of swivel in either direction, plus the ability to tilt between -5º and +20º.
Those who enjoy the illumination will find it easy to customise or synchronise effects via the Asus Aura app, while those who prefer a less ostentatious environment will be grateful the front of the display is comparatively sleek. Bezels on the top and sides are suitably thin, the subtle 1800R curve does a fine job of enhancing the panoramic feel, and the joystick for navigating the on-screen display is both conveniently located and intuitive to use.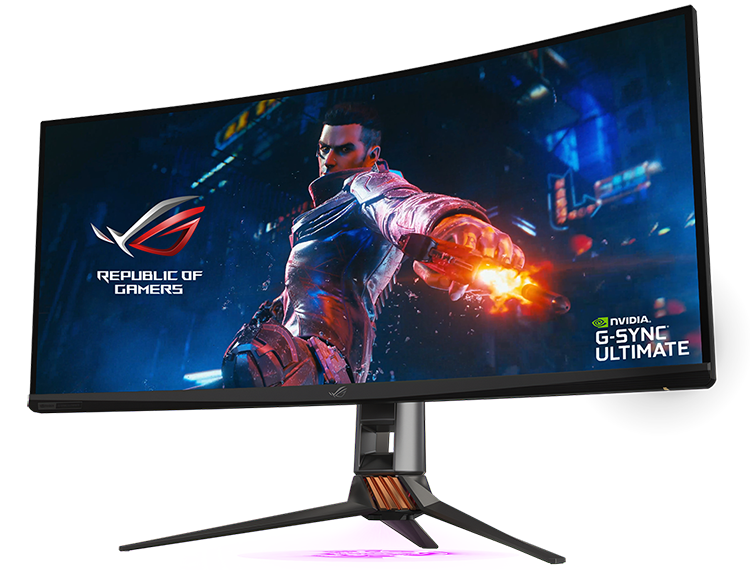 What's surprising for a £2,700 solution is that connectivity is somewhat sparse. Display inputs are limited to just one HDMI 2.0 and one DisplayPort 1.4, alongside a headphone jack, USB 3.0 upstream and two USB 3.0 downstream. All the ports are neatly hidden behind a removable plastic cover, however the USB jacks aren't easy to reach, and we'd have liked at least one port lining the side of the panel.
Connectivity could be improved, but our biggest gripe has to be the fan that is mounted in the back of the panel. Much like Acer's Predator X27, the Asus display requires active cooling, and though the fan is often described as reasonably quiet, I'm of the opinion monitors ought to be silent, and I'm hoping fan-cooled displays don't become a trend. Sat right in front of the screen, I can hear it at all times, and to make matters worse, the fan keeps spinning for a further 15 minutes after the PC is turned off.
Fan noise is going to be a divisive issue - some claim not to hear it, while I find it unmistakable - but the bigger hurdle is that Asus isn't the only manufacturer bringing a 35in UWQHD 200Hz display to market. Acer's Predator X35 is also starting to filter through to retail and offers the same underlying panel for £2,200, making the Asus premium all the more difficult to justify.