Introduction
Remember how awkward it used to be connecting a laptop to an external display? Each device would typically need a power brick, you'd have to fasten a DVI cable on both ends, a 3.5mm audio cable was necessary if you wanted sound, you may as well add an Ethernet cable while you're at it, and if you really wanted to get things done you would set aside a couple of USB ports for peripherals. I can remember creating that sort of setup myself, and the mess of cables was so severe I recall having to physically shave one side of the DVI connector in order not to obstruct the adjacent USB port.
Fun times, but technology has moved forward and with today's laptops offering immense power in ultra-thin form factors, we're at a stage where docking monitors make a whole lot of sense for a wider range of customers. That's where the HP EliteDisplay E243d comes into play.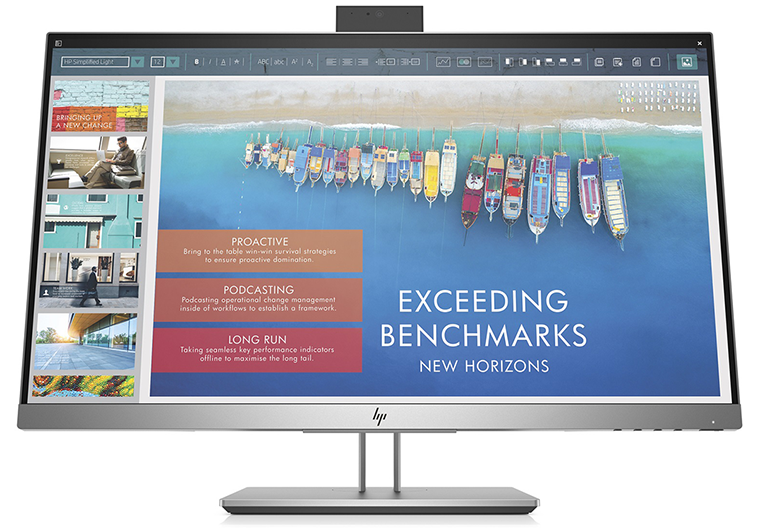 This 23.8in display looks like a conventional display, but its party trick is a built-in docking station that can empower a laptop via a single USB-C cable. The premise is simple; connect your keyboard and mouse directly to the monitor, plus an Ethernet cable, then when you get home from work, hook-up your laptop via USB-C to instantly gain wired web access, full-size peripherals and a larger display.
The ability to quickly transform a laptop into what's essentially a desktop is a genuine attraction, and there's more good news than first meets the eye. HP's display supports up to 65W power delivery over the Type-C connection, meaning enough juice to charge most Ultrabooks while docked, and there's even a pop-up 720p webcam with dual microphones to prevent the need to lift the laptop's lid. Heck, if you really want to be productive, the monitor's DisplayPort output can be used to daisy-chain a second monitor; it's amazing what can be achieved from that tiny Type-C source.
Simplicity and ease of use are key selling points - attaching a laptop is very much plug-and-play - however the HP EliteDisplay E243d also scores well in the aesthetic department. The display's matte-silver frame is elegant and a perfect match for the company's EliteBook laptops, while the top and side 'micro-edge' bezels are wonderfully slim. It is a rather sexy piece of kit and the trendy finish is backed by a functional stand supporting height, swivel (+/-45º) or tilt (-5 / +23º) adjustment. There's even an option to pivot to portrait mode, and if you prefer, the supplied stand can be removed to reveal a 100mm VESA mount.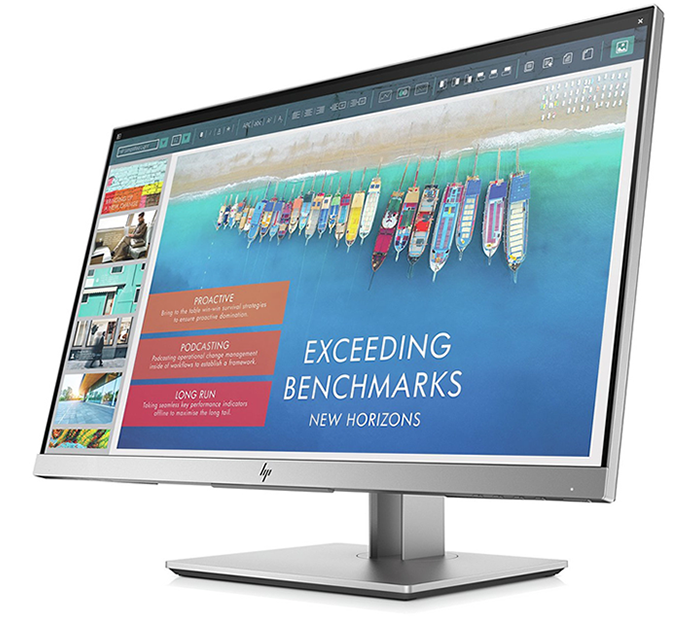 A docking monitor is a fine idea, but while we've enjoyed pairing the E243d with an EliteBook x360 1030 G3, our real-world experience has identified room for improvement. First and foremost, HP is using a 23.8in full-HD 60Hz IPS panel that can be described as decent but not great. Viewing angles are excellent and the matte finish helps prevent unwanted reflections, however colour coverage and accuracy is average, a 7ms response time isn't particularly quick, and peak brightness of up to 250 nits is basic by today's standards. We'd also argue that a 1080p resolution doesn't live up to the display's 'Elite' branding. 1,920x1,200 would have at least made things interesting.
There are other little niggles, too. The chunky 180W external power supply is at odds with the otherwise clean design, the pop-up webcam, while handy, is a basic 720p solution lacking the IR sensors required for Windows Hello face recognition, and to our surprise, the monitor doesn't come equipped with integrated speakers. There is a headphone jack allowing for audio to pass through, but the absence of basic stereo speakers feels like a major omission on a docking monitor designed to expand your workspace with minimal fuss. An excuse for HP to sell its optional S100 Speaker Bar, perhaps?
Neither of the aforementioned niggles should be considered deal-breakers, but the shortcomings are placed into sharper focus by the EliteDisplay E243d's price tag, which at the time of writing is £380. A disagreeable sum for a 23.8in, 1080p display, and though the convenience of the docking capabilities add value while minimising clutter, it's a tough sell in a market where 4K panels are readily available for less. The appeal for the average consumer is hampered significantly, but we do wonder what the wholesale cost might be for a business wanting to purchase, say, 50 panels and 100 laptops. That's typically the market HP's Elite product line is aiming for.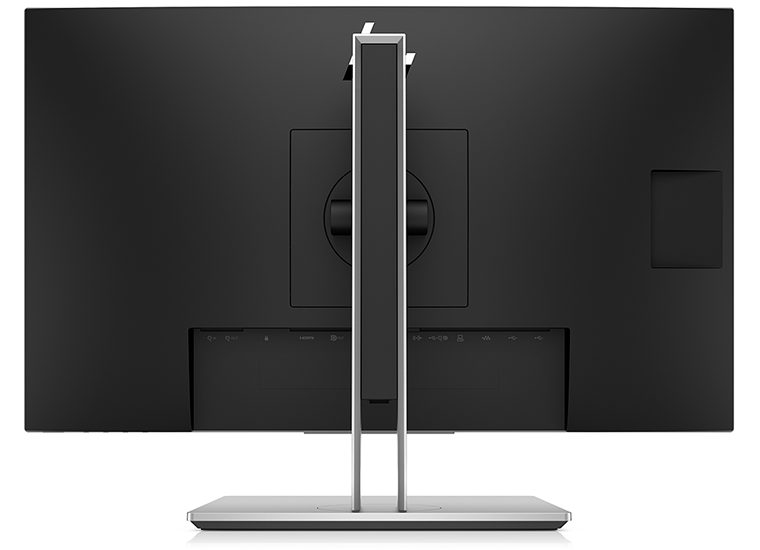 Around back, there are enough ports to cater for various other usage scenarios if you've yet to make the transition to Type-C. Arranged neatly is DC Power In, DC Power Out (dongles are included for providing up to 90W of charge to older HP laptops with 7.4mm or 4.5mm jacks), HDMI 1.4, DisplayPort Out, VGA, Audio In, USB-C and USB-B Upstream, plus two USB 3.1 Gen 1 Type-A. Two further USB Type-A ports can be located on the monitor's left side, alongside a headphone jack, but do note that the E243d doesn't feature DisplayPort In. Those inclined to daisy-chain a second panel should consider adding the regular EliteDisplay E243, which omits docking capabilities but looks practically identical, has the requisite DisplayPort connector and is available for under £150.
We're so fond of the idea of a docking monitor that we wish HP had chosen a more impressive panel to serve as the foundation. A larger, higher-res EliteDisplay with Type-C docking capabilities would be something, but for now let's run the numbers before coming to a verdict on the E243d.