Introduction
Mega-wide PC monitors have officially arrived. All the big names are looking to get in on some 32:9 action, and the Philips Brilliance 499P9H has already proven that going wide can be a real boon for productivity. Such an aspect ratio is immense when editing video or working on a mammoth spreadsheet, but how well does it translate to gaming?
Asus has wasted little time in finding out and is bringing to market a 32:9 panel designed specifically for gaming thrills and spills. It's called the ROG Strix XG49VQ and is on the way to retail stores priced at £990.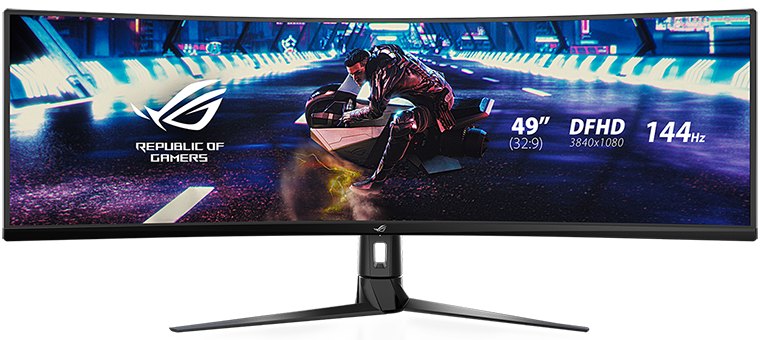 Wide gaming monitors aren't exactly new - we've seen plenty of attractive 21:9 solutions in our time - but there's wide, and then there's really, really wide. The first time you see this 32:9 panel in the flesh is be eye-opening, as the thing is just huge, measuring almost 4ft from left to right.
Design and Specification
You'll need a fair amount of desktop real estate to house the 1,193mm x 529mm x 345mm frame, and though the stand is reasonably simple to assemble, the hefty 13kg weight is such that it's best to call on an extra set of hands when putting it together. Once in place, it is an imperious piece of kit, and for such a large item, surprisingly sleek. This is helped by reasonably thin bezels on the top and sides, a subtle 1,800R curve that adds to the feeling of immersion, and a central stand that does a decent enough job of minimising wobble while offering good flexibility.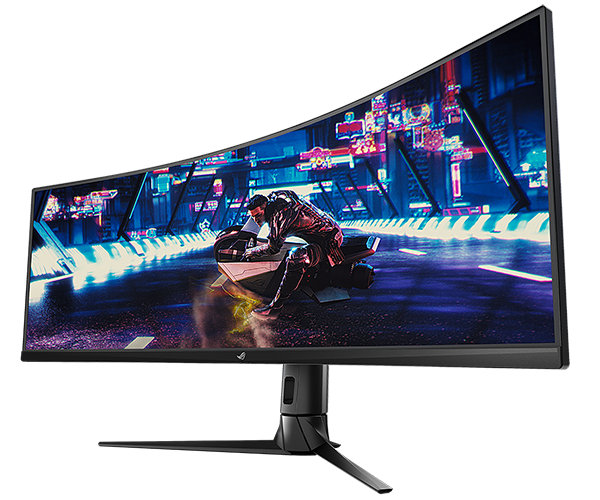 There's up to 120mm of height adjustment, -16/+16º of swivel as well as the ability to tilt to -5/+20º, and if you happen to have a bracket of your own, the supplied stand can be removed to reveal a 100mm VESA mount. We've no major qualms with the overall look and feel of the Asus panel, but my personal OCD can't get over the fact that the base of the stand isn't symmetrical - it catches my eye all the time and just doesn't look right.
What's interesting to see is how different manufacturers interpret the 32:9 form factor. While Philips favoured productivity by implementing a KVM and dual-QHD 5,120x1,440 resolution, Asus goes the other way with a heavy emphasis on gaming credentials. As such, neither panel excels in all areas. The aforementioned Brilliance 499P9H isn't ideal for gaming, and though Asus does support features such as picture-by-picture on the ROG Strix XG49VQ, the lower dual-FHD resolution isn't a creator's paradise in the same way as the Philips.

Delving into Asus's specifications reveals a VA panel with a 3,840x1,080 resolution, 4ms response time, wide 178º viewing angles, and a fast 144Hz refresh rate. Exactly what you'd expect from a 32:9 monitor with gaming credentials, and Asus keeps connectivity relatively simple by including two HDMI 2.0, DisplayPort 1.2, a headphone jack, two USB 3.0 downstream and one USB 3.0 upstream. A pair of stereo speakers lining the display's bottom edge also provides basic sound output, though we reckon Asus has missed a trick by not spacing the speakers further apart to maximise the stereo effect.
Still, gamers aren't likely to rely on the built-in speakers, and if you're more interested in smooth gameplay, there's support for FreeSync in the 48Hz-144Hz range, with low framerate compensation, while entry-level DisplayHDR 400 certification means the panel achieves FreeSync 2 HDR status. In truth, we reckon DisplayHDR 600 certification should be the minimum for an enjoyable HDR experience, as while the Asus meets the baseline, it remains an 8-bit panel and lacks niceties such as local dimming and an increase in colour gamut. ROG Strix XG49VQ can do HDR, but don't expect it to do HDR really well.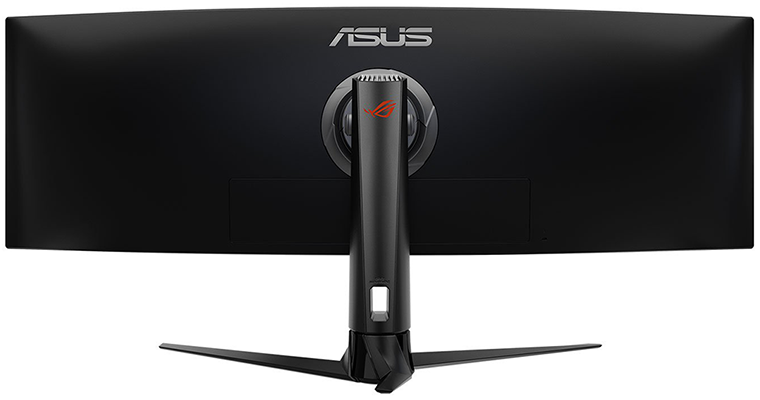 What we have, then, is effectively two full-HD displays in one package. On-screen text isn't as sharp as the Philips, as is to be expected given the lower pixel density, however the Asus needs less graphics firepower in order to keep games running smooth. The 4.1 million pixels on offer here isn't too dissimilar to a QHD solution, and is half as taxing as a 4K UHD panel.
Gaming at 32:9
But how well do games play at this unusual aspect ratio? Those who enjoy a multi-monitor setup will no doubt see the appeal in a one-stop solution sans central bezel, but in practise our experience has been mixed. Not all games render perfectly at this niche resolution - cutscenes, in particular, can be quite jarring as they tend not to be full screen - and suitability tends to vary from one genre to the next. You might think that strategy games such as Civilization VI would really benefit from the extra real estate, but it turns out micro-managing on such a wide scale is highly likely to result in neck ache. You literally do have to turn your head to see the various in-game elements.




Are FPS games what the ROG Strix XG49VQ is all about? Well, that's debatable, too. Some are going to love the panoramic view, but it is very much a case of personal preference. I find the almost-fisheye effect in titles like Shadow of the Tomb Raider to be quite off-putting, though Far Cry 5 seems to do a better job of making the most of the super-wide field of view. Racing games, on the other hand, are without a doubt the best use case we've seen for the 32:9 aspect ratio. Forza Horizon 4 is absolutely stunning, and out of all the pictured games, it is the one title in which the extra rendering requirements feel truly worthwhile.
Gaming on the ROG Strix XG49VQ is in some ways similar to virtual reality, in that it can elicit a Marmite-like reaction. There will be those who love the immersion, and there will be others who just end up with a headache. What is for certain is that the 144Hz panel can deliver a silky-smooth experience with either a Radeon or GeForce GPU, and it's up to developers to make the most of the super-wide view.