Introduction
Wouldn't it be nice to have the entire office kitted out with 5K monitors? That's the dream, but if budget limitations are forcing you to lower the bar, fear not as there are plenty of high-quality displays available at a fraction of the cost. We've recently been impressed by the AOC X24P1, a 24in IPS panel offering a 16:10 WUXGA resolution for £215, and today we're continuing the productivity theme by taking a closer look at the new Dell P2419H.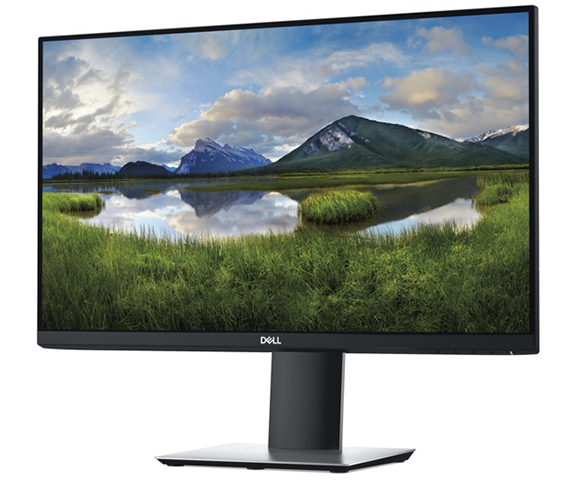 Priced at around £180, the P2419H is Dell's take on a modern workplace display that isn't going to break the bank. Don't expect panel quality to be on a par with the firm's pricier UltraSharp range, yet if you're in the market for a low-cost upgrade, the 24in (23.8in, to be precise) IPS offers wide viewing angles, a tried-and-trusted 1,920x1080 resolution and slim Infinity Edge bezels.
Design
Styled to be "clean and clutter-free," the display bezels measure just 6mm on the top and sides, giving a trendy and almost-borderless appearance, while the use of a black and grey colour scheme provides a simple-yet-sleek finish. Attaching the stand to the panel is a tool-free process that takes seconds, and if you're hoping to save on desk space, Dell reckons this is the smallest monitor base in its class.
Overall dimensions of 54cm (D) x 17cm (D) x 36cm (H) are indeed petite for a 24in solution, and the space saving isn't to the detriment of flexibility. Dell's stand offers -5°/+25° of tilt, the ability to rotate up to 180°, and 130mm of height adjustment, as well as the option to flip into portrait mode. Finding a sweet spot is easy, and there's a good-sized hole in the vertical arm for routing cables, however if you need greater versatility, the stand is easily removed to reveal a standard 100mm VESA mount, ideal for wall mounting or attaching to a desk clamp.
Ease of use is of paramount importance on a workplace monitor, and Dell does the right thing by shunning touch-sensitive controls in favour of five physical buttons along the bottom-right edge that provide a nice tactile feel. Navigating the on-screen menus is straightforward, as is creating shortcuts to your favourite presets, but the overall array of options is somewhat simple. Rivals in this category offer break reminders or auto-off; neither is present here.
What's handy is that there are alternative sizes in Dell's updated P-Series portfolio. If the reviewed 23.8in model isn't ideal, there's a 21.5in P2219H (£161), a 23in P2319H (£175) and a 27in P2719H (£246). All four offer the same 1080p resolution and practically identical specifications, though the largest panel does promise improved peak brightness of up to 300cd/m².
Specification and Ports
Build quality is good for a mid-range monitor, and the 23.8in model covers most of the essential. The use of in-plane switching technology enables ultra-wide 178° viewing angles in both directions, a matte coating and brightness of 250cd/m² ought to be bode well for visibility in a brightly-lit office, and the common 1,920x1,080 resolution at 60Hz is a decent fit for a screen of this size. There are no bold colour coverage claims, and the standard 8ms response time (5ms with overdrive) is nothing to write home about, but we get the impression the P2419H will be a competent all-rounder without excelling in any one area.

We've no real qualms in terms of form factor and specification, and with businesses in mind, Dell has played it safe with regards to connectivity. The power supply is integrated, meaning no external box, and the trio of downward-facing display outputs - HDMI 1.4, DisplayPort 1.2 and VGA - ensure compatibility with just about any recent PC. Rounding out the selection is USB 3.0 upstream, used to power a pair of USB 2.0 ports on the back, as well as two USB 3.0 ports located on the monitor's left side for easy access.
What's missing is audio, as the P2419H offers neither integrated speakers nor a headphone jack. Whether or not that can be considered a deal-breaker depends on the intended usage scenario, but we'd prefer to have basic speakers included as standard; at the very least they further help guard against desktop clutter.