Introduction
A 4K monitor can be a real boon for productivity, but there is an obvious hurdle in terms of pricing. 4K panels tend not to come cheap, and if you're going to make the most of computing with over eight-million pixels, you're probably going to want a screen larger than 30 inches, forcing price to creep up further.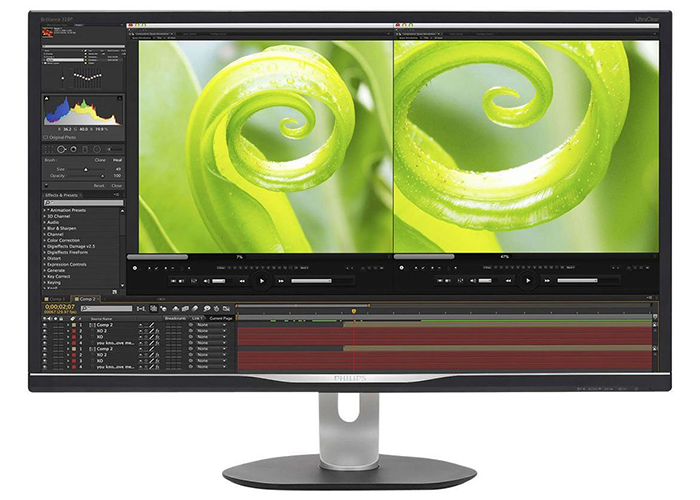 But prices have settled, and at £535, the 31.5in Philips Brilliance 328P6VJEB looks a solid bet for a UHD panel that doesn't skimp on size. Geared primarily for productivity, the 328P6VJEB combines the sought-after 3,840x2,160 resolution with an "Ultra Wide-Colour" gamut, generous viewing angles and a versatile stand. Just what the doctor ordered for demanding office or creative work, but gaming not so much as Philips has opted against any adaptive framerate technology this time around.
Design
With one eye on keeping price competitive, the 328P6VJEB takes a modest approach to look and feel. The display has a similar appearance to most other Philips panels from recent years, combining black and silver elements in a largely plastic chassis. It is far from the sexiest 4K display on the market, and the bezels are somewhat thick by today's standards, yet the overall profile is pleasant enough.
Build quality is decent if not spectacular, while the inoffensive colour scheme will fit most office environments, but if you're upgrading from a smaller panel, do be mindful of the dimensions. At 742mm (W) x 657mm (H) x 270mm (D) in size when fully assembled, this 31.5in display will eat up a good chunk of on-desk real estate.
Attaching the stand couldn't be much easier; the arm attaches to the base with a single thumb screw and fastens to the rear of the display using a standard VESA mount. A similar stand has featured on many other Philips models, yet while it offers plenty of versatility, it does struggle to support a panel of this size without any movement. If you happen to be a furious typist, you may notice that the display is prone to wobble and not quite as rigid as we'd like.
On the plus side, there's 180mm of height adjustment, 170° swivel, -5°/+20° tilt and, if need be, the ability to pivot into portrait orientation. Finding an optimal viewpoint ought to be a cinch, though it's a shame the OSD controls aren't as user friendly. The touch-sensitive strip, located near the bottom-right corner, is tricky to navigate due to the lack of tactile feedback, and the use of grey text on a black background doesn't help. With competing panels employing joysticks or easy-to-find buttons, the touch controls on the 328P6VJEB feel cumbersome in comparison; it is far too easy to inadvertently turn the display off when you only want to press okay.
Specification
Productivity is the key focus for this 31.5in Philips panel, and the screen size is a good fit for the 3,840x2,160 4K UHD resolution. You can just about get away with 100 per cent scaling in Windows 10, though I personally find 125 per cent to be less taxing, and having such a vast desktop can be hugely beneficial. Browsing websites side by side is a peace of cake, huge spreadsheets can be handled without massive amounts of scrolling, and once you become accustomed to this amount of space, you'll wonder how you ever managed without.
MultiView makes good use of the panel size, offering a choice of picture-in-picture or picture-by-picture from two attached devices, brightness is rated to an adequate 300 nits and plays well with an above-average 3000:1 contrast ratio, a matte finish helps minimise reflections, and Philips reckons the panel can cover 95 per cent of the NTSC colour gamut.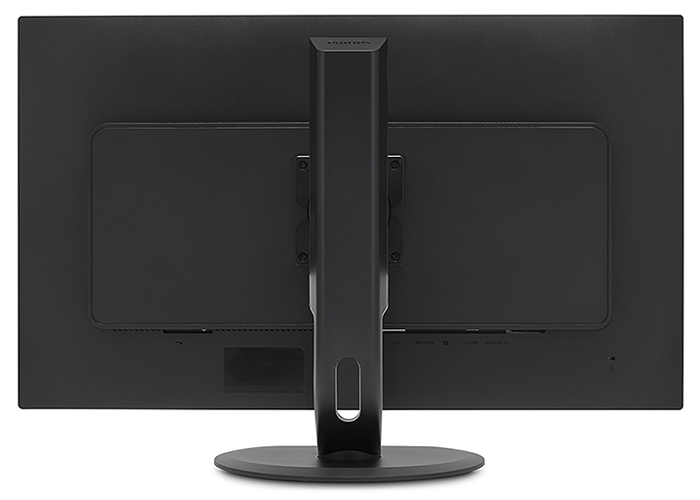 No one element of the specification sheet stands out as cutting edge - a 60Hz refresh rate and no adaptive sync may even be deemed primitive - yet the essentials that matter to the target audience are mostly addressed. The VA panel offers generous viewing angles that are almost on par with IPS, integrated stereo speakers handle basic audio duties with no fuss, and a built-in USB hub offers four 3.0 ports with one supporting fast charging.
Rounding out the no-nonsense approach, HDMI 2.0, DisplayPort 1.4, DVI and VGA are at hand to cover all bases, as are audio-in and headphone-out, and an integrated PSU means no unsightly power brick. There's not a lot of wow factor and the touch-sensitive controls are a pain, but if image quality lives up to expectations, the 328P6VJEB could be a safe choice for professionals looking to take their first steps into a 4K world. Let's see what the benchmarks reveal.