Introduction
Are we living in a golden era of PC displays? Some of the current crop are truly gorgeous to behold, both in terms of design and technology, but there can be a significant price hurdle if you aim too high. Few of us would say no to a 5K Philips, but many of us would baulk at the £1,200 price tag.
Fortunately for all the savvy shoppers out there, there are bargains to be had and, on paper, the AOC Q3279VWF appears to be a stand-out contender.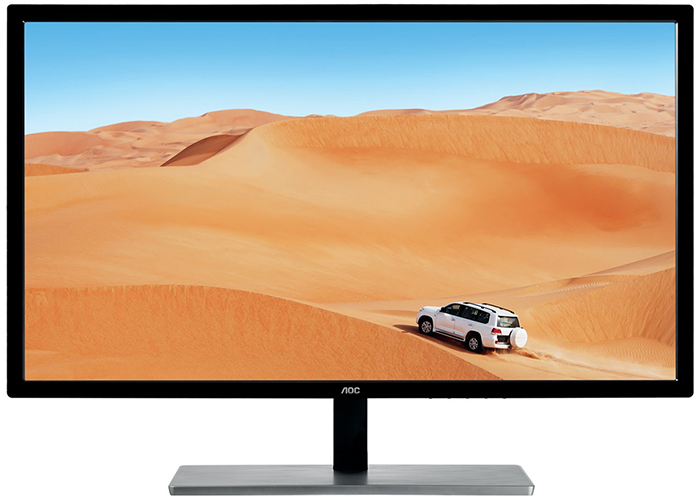 Currently available for a mere £200, this prudent 31.5in panel offers generous size, a useful 2,560x1,440 resolution and support for AMD FreeSync in one tidy package. It all sounds a little too good to be true, so we've spent the past week using the display as a daily driver to see how well it stacks up during real-world use.
Design
You might expect build quality and presentation to suffer at this price point, but thankfully that isn't the case. AOC's brush-effect silver base looks tidy, as does the glossy black display bezel, and though plastic is the primary material, the Q3279VWF doesn't look cheap.
Dimensions of 659mm (H) x 468mm (W) 153mm (D) make a large desk a prerequisite - the display feels huge if you're migrating from, say, a 24in panel - but a reasonably shallow depth helps ease the burden. Presentation is good, however there are concessions to be made and many of these revolve around flexibility.
In order to keep costs down, the AOC stand is somewhat basic. Users can tilt the display to an angle of -2º or +21.5º, however there's no height nor swivel adjustment. And if you're thinking "no bother, I'll use my own stand," you're out of luck as the Q3279VWF doesn't include a VESA mounting point on the back.
We don't mind the lack of versatility - the display sits at just about the right height for our liking - however we would prefer a little more rigidity as the panel has a tendency to wobble on the single supporting arm. There's also no cable management, so you'll need to tidy your wiring as best as you can, but on the plus side we like that AOC includes proper tactile buttons on the bottom edge for navigating the modern-looking OSD. None of that touch-sensitive malarkey here.
Specification
The Q3279VWF isn't the prettiest display on the market, but what you do get is a fair amount of bang for your buck. The 31.5in MVA display offers a 2,560x1,440 resolution that works well with Windows 10 scaling at 100 per cent, and the choice of panel technology comes with likeable characteristics. Viewing angles are superior to TN but not quite as good as IPS, and we expect solid contrast and deep blacks that are synonymous with VA panels.
A 5ms response time isn't anything to write home about, however gamers with AMD graphics hardware do have the benefit of FreeSync compatibility. AOC's implementation is modest, with the display supporting adaptive framerate synchronisation in a narrow 48-75Hz range, plus there's no support for low framerate compensation, but hey, at this price point who's complaining?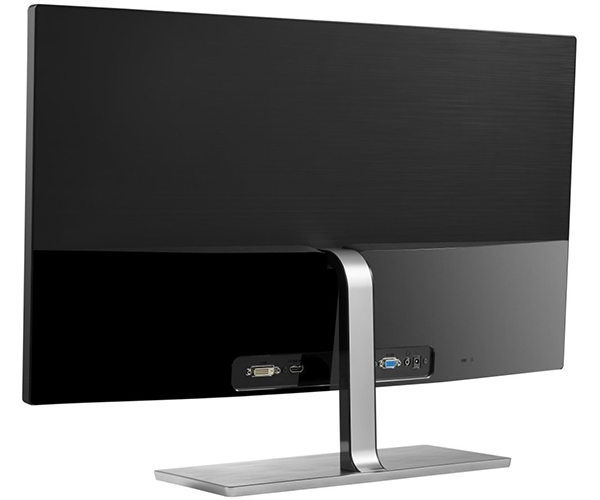 Some of the unwanted attributes of VA panel technology are visible - there's a hint of colour shift toward the edges if you sit up close, and ghosting can be noticed during dark scenes - but some users are more susceptible than others and we didn't consider either of these traits to be a deal breaker.
In terms of inputs and outputs, AOC covers all the expected bases with HDMI 1.4, DisplayPort 1.2, VGA and DVI. A built-in power supply takes away any external clutter, there's an audio jack for connecting headphones, however there aren't any integrated speakers (the on-screen volume controls are strictly for the audio output) and you don't get a USB hub. AOC has trimmed the extras but still offers an attractive feature set at a tempting price and the display is backed by a three-year warranty. Let's run the benchmarks and see if panel quality is up to scratch.