Introduction
The importance of a good monitor in the workplace is often overlooked. The right panel can improve both comfort and productivity, so it's well worth nagging the boss to get the office outfitted with a new suite of displays. AOC has recently refreshed its professional range with five new models, including the Q2790PQU, in for review today.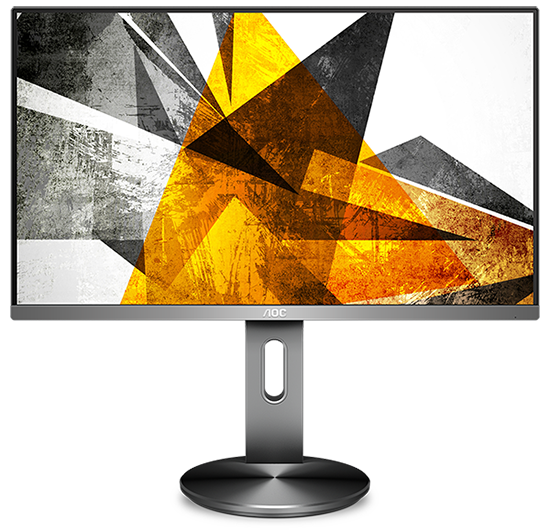 Priced at £339, the Q2790PQU resides nearer the premium end of AOC's professional portfolio but packs plenty of goodness to make it a worthwhile investment. For your money you get a 27in IPS panel, a QHD resolution, elegant presentation, integrated speakers, a versatile stand and accurate out-the-box image quality. After spending a week or so getting acquainted, we've found very little to dislike in what is ultimately a well-rounded display for everyday work.
Design
You could argue that a workplace monitor needn't be pretty, but good looks certainly can't do any harm, and if you're spending, say, a thousand pounds for a trio of new panels in the office, why not choose displays that are likely to catch the eye of clients?
The AOC Q2790PQU will certainly do that, courtesy of a three-sided frameless design that helps convey a sleek and modern profile. Maximum dimensions of 620mm x 420mm x 203mm make the monitor reasonably petite for a 27in solution, and the thin bezels lend themselves to a multi-monitor configuration, where two or more panels can be aligned in near-borderless fashion. We say near-borderless because there is an 8mm black gap surrounding the display, so as is often the case, take the 'frameless' branding with a grain of salt.
A black and grey colour scheme can't really go wrong and AOC's fit and finish is good throughout. We particularly like the fact that the concentric circles on the stand are a matte effect and don't seem to attract any dirt, though it's a shame the same can't be said for the display surround - the thin black edge across the top and sides is a glossy plastic that will inevitably collect dust over time.
Fixing the stand in place couldn't be any easier - the vertical column fixes to the Vesa mount without the need for any tools and the base attaches via a single thumb screw. When fully assembled, there's up to 130mm of height adjustment, -5°/25° tilt, -165°/165° swivel and the ability to pivot by 90°. Finding the optimal seating position shouldn't be difficult and a wide 178° viewing angle makes it easy to collaborate with friends or colleagues.
Specification
We've no qualms with AOC's exterior design, and in truth, we're smitten by the panel's specification, too. The IPS touts a 2,560x1,440 QHD resolution that works well at the 27in size (Windows 10 can be left at 100 per cent scaling) and WLED backlighting is used to generate brightness of 350 cd/m² and a 1,000:1 contrast ratio.
The numbers are hardly spellbinding, and the 60Hz refresh rate and 4ms response time are below average by high-end gaming standards, yet AOC ticks the right boxes for its intended audience at this price point. We're told to expect 100 per cent coverage of the sRGB colour gamut, as well as 90 per cent of the NTSC, and those of you who spend many hours sat at the desk can look forward to flicker-free technology and a low blue light mode that's designed to be easier on the eye.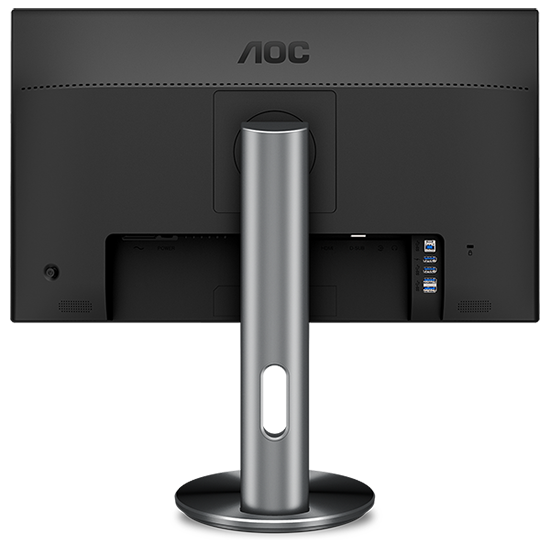 Integrated stereo speakers on the back of the display offer basic sound output and a USB 3.0 hub offers a quartet of Type-A ports, with one supporting fast charging. The rest of the connectivity options line the top edge of the cutout in the back panel and include audio in/out, VGA, DisplayPort and a pair of HDMI inputs, plus a mains connector for the internal power supply.
AOC handily includes cables for each type of display input, and our preferred method of navigating the on-screen display - a small joystick tucked neatly around back - is present and accounted for. All the usual image customisation options are available, and as a nod toward the office user, AOC offers options for low blue light, break reminder, and an auto-off timer. A standard three-year warranty helps round out what is shaping up to be an enjoyable package. Let's now see how the Q2790PQU fares in our battery of tests.