Introduction
Choosing a quality monitor can be hard work if you haven't done your research. There are numerous acronyms and buzzwords to get to grips with, including 4K, 5K, UHD, FreeSync and G-Sync, to name but a few, and you can now add HDR to the list.
What is HDR? It stands for High Dynamic Range, and in a nutshell it signals a greater range of luminance, improved colour depth and a wider gamut. Said advantages aren't as easy to absorb as, say, a higher resolution or faster response time, so think of it this way: an HDR image is intended to provide brighter whites, deeper blacks and more detail at both ends of the spectrum, with colours that are more life-like than ever before.
HDR is, in our estimation, one of the most significant advancements in display technology in recent years, but the rollout hasn't been entirely smooth. Competing standards have served to muddy the HDR waters, and though the technology is beginning to prove its worth in the latest high-end TVs and projectors, PC monitor manufacturers have been slow to react.
Dell is one of the first big-name vendors to put its weight behind HDR and does so with two new models for 2017; the UP2718Q, priced at £1,900; and the U2718Q (pictured), priced at £725. Both are 27in displays armed with a 4K resolution, but the HDR implementation varies wildly. Whereas the UP2718Q touts a peak brightness of 1,000 cd/m², a 20,000:1 contrast ratio and an impressive 97.7 per cent coverage of DCI-P3 colour space, the more affordable U2718Q drops brightness, contrast and DCI-P3 coverage to 350, 1,300:1 and 80.7 per cent, respectively.
Can the more modest U2718Q deliver a convincing HDR experience, and does HDR make sense on a Windows 10 desktop? We've had the screen in our labs for the past couple of weeks and, having spent plenty of time getting acquainted, the answers are mixed.
Design and Specification
A key expectation of a Dell monitor is solid build quality and presentation, and the UltraSharp U2718Q doesn't disappoint. Dimensions measure 61.13cm x 20.03cm x 41.02cm including stand, whose two parts fasten securely to the VESA mount without the need for any tools. The entire unit weighs a reasonable 6.23kg, and Dell's blend of greys and black give it a professional look befitting the £725 price tag.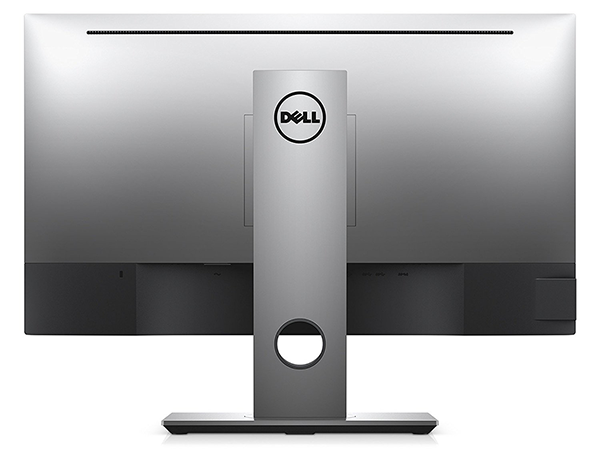 The design features we look for are height adjustment, swivel, tilt and pivot, and Dell supports them all, making placement as easy as could be. Ultra-thin InfinityEdge bezels provide that extra sense of luxury - the display almost blends into the edges - and the profile is well suited to an almost-borderless multi-monitor configuration. There aren't any integrated speakers, but Dell keeps connectivity reasonably well-stocked with HDMI 2.0, DisplayPort 1.2, Mini DisplayPort 1.2 and audio out, as well as an integrated USB 3.0 Type-A hub with two of its four ports handily located along the left edge.
An integrated power supply means there's no need for an external brick, and Dell also takes good care of controls, with the bottom-right edge lined with four tactile buttons and a dedicated power switch. Navigating the menus is a cinch - we much prefer tactile controls to touch-sensitive - and the only criticism here is that the on-screen display contains jagged text; we'd expect crystal-sharp lettering on a panel of this ilk.

Dell's LED-backlit IPS screen provides a 4K UHD resolution of 3,840x2,160 with an 8ms response time, or 5ms with overdrive enabled. Some prefer a minimum screen size of 30 inches or more at this resolution, but 27 is fine by me, with Windows 10 scaling well at 150 per cent, and the amount of desktop real estate is a real boon for multitasking. 178º viewing angles provide excellent visibility from any direction, an anti-glare hard coating keeps reflections to a minimum, and each and every U2718Q is factory calibrated at 99.9 per cent sRGB coverage to an accuracy of Delta-E less than two, meaning out-the-box colours should be reasonably true to life.
HDR Impressions
The catch is that 27in 4K IPS monitors are readily available for less than half the asking price of the UltraSharp U2718Q, and without niceties such as adaptive framerate technology, the Dell is relying on HDR to justify the premium, and here's where the monitor starts to come unstuck. Firstly, an HDR10 signal is only supported via HDMI, as both of the DisplayPorts are of the older 1.2 variety, limiting connectivity to only one source. Bizarrely, only a Mini DisplayPort to DisplayPort cable is included in the box, so you'll need to source your own HDMI lead to take advantage of the monitor's HDR capabilities.
Secondly, and more importantly, Windows 10's HDR implementation doesn't work as expected. On a modern TV or projector, HDR is automatically activated when an HDR signal is recognised; this makes implicit sense, as SDR content viewed in HDR mode results in a dim, washed-out image with terrible colour accuracy.
With Windows 10, the user has the option of turning HDR on or off completely, but it can't yet be automated depending on what's on screen. Activate HDR and the majority of Windows 10 content, which happens to be SDR, looks nothing short of frightful. The desktop loses its sharpness, colour accuracy goes out the window, and even familiar websites appear all wrong. This is likely to be resolved in future updates, but as it stands it's a case of leaving HDR off and manually turning it on as and when needed.
That extra layer of inconvenience is a shame, as playing a HDR video or HDR game does have merit. Sure, the U2718Q's limited contrast ratio and colour gamut is such that the effect is somewhat muted, yet while we imagine the far pricier UP2718Q to be a better showcase of what HDR can do, the more affordable UltraSharp still gives relevant content that extra bit of wow factor. Colours appear richer, darker scenes carry more detail, while bright elements are noticeably vivid.
Thirdly, there's also a matter of where to find HDR content. A range of games on my Xbox One S now offer support for HDR, but their PC ports do not. Hitman is the only game in our usual benchmark suite to include HDR functionality, and there are similar limitations in video. The Netflix app on Xbox One S supports HDR, the PC app doesn't, and though availability is certain to improve over time, finding meaningful HDR content currently feels like a chore.