Introduction
The 4K screen revolution is firmly underway. Spying any electronic retailer's TV catalogue shows a variety of screen sizes that are commonly bound by that 4K resolution. Arguably the massive pixel count is more useful when you are up close and personal to the screen, making such monitors ideal for PC-centric productivity.
What's more, the rise in popularity has brought prices down to a level where one can purchase a wide range of 4K PC screens for under £500. Yet 4K isn't the limit on PC monitor resolution; Apple has popularised 5K screens and the likes of Dell, HP, and LG have built models soon after. Heck, even 8K panels are beginning to surface.
These presently available 5K monitors all have a common 27in screen size and share the native 5,120x2,880 resolution that adds up to 14.745MP in total, or 78 per cent more pixels than a 4K model. Put in that context, the pixels-per-inch metric is significantly higher than what is usual.
Joining the 5K party is Philips with its 275P4VYKEB panel. Not only is the resolution immense, this 'PerfectKolor' screen uses a 10-bit PLS LED panel and, as a nod towards the content creation professional, has a purported 100 per cent of sRGB coverage (this is normal) and 99 per cent of the wider Adobe RGB.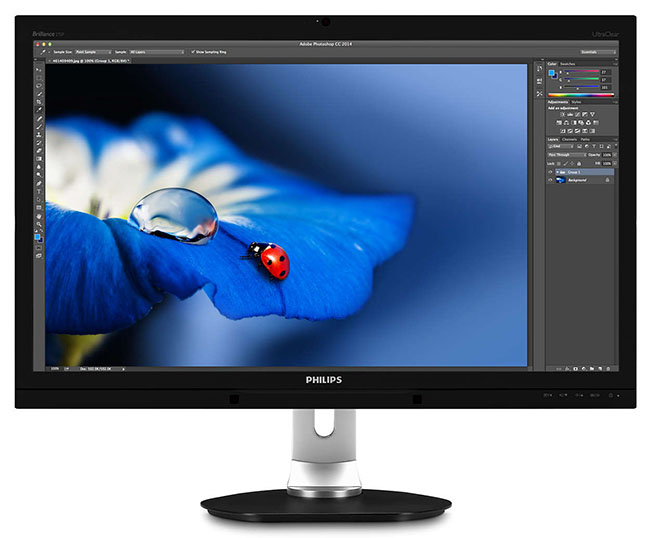 Though you wouldn't know the Philips' credentials by looking at it. The monitor is presented in the regular dark-grey colour scheme favoured by the manufacturer, and the stand attaches in the same simple way as others we have reviewed previously. This means the solid oval base can be attached in under a minute, whilst clipping into the back of the Vesa mount couldn't be simpler.
As usual, there is plenty of adjustment on offer, from 150mm of vertical travel, full pivoting ability for placing it in portrait mode, to +/- 65° of swivel and the standard amount of tilt. It is also easy to micro-adjust each parameter to get it just perfect, and at 8.1kg it doesn't move once in place.
What's immediately obvious, even when switched off, is just how glossy and reflective the screen coating is, which is a direct contrast to, say, our long-term 4K testing monitor, the 288P6LJEB. The surrounding bezels, too, are larger, but they're not so big as to be overly distracting.
Philips uses the extra casing space to mount a 2MP webcam right into the middle of the upper section, while the back of the chassis houses a couple of 2W speakers that produce perfunctory sound.
Hopping over to one side, three USB 3.0 ports are standard fare, and Philips takes an interesting tack as far as connections are concerned: the monitor is outfitted with two DisplayPorts only. Though newer graphics cards support DisplayPort 1.2 and are ready for v1.3 and v1.4 of the standard, running the full 5K60 experience on the Philips requires two DP cables, bundled in the package, to snake from the PC to the screen. Attaching just one limits screen resolution to 4K60, but we had no problem in getting the optimum resolution from an EVGA GeForce GTX 1080 Ti GPU that has three of the DP connections on the backplate.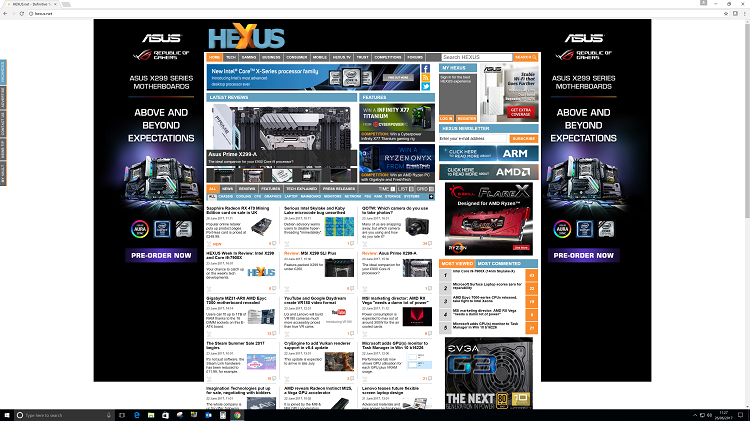 There is something wonderful about running 5,120x2,880 on a desktop; click to enlarge
Philips adds in an external power brick in order to keep the monitor reasonably svelte. Appreciating the higher energy consumption of running this specific panel, the company quotes power consumption figures of 45W in eco mode and 85W maximum.
The on-screen display settings haven't changed from other Philips monitors, meaning that all functions are controlled by touch-sensitive parts of the casing on the bottom-right of the chassis. They take a bit of getting used to, and we prefer the joystick method of control, or just plain old buttons, but you shouldn't have to delve into them too often.
Switched on, the glossy screen and 5K resolution combine to offer super-punchy colours and excellent viewing angles. Subjectively, the image looks fantastic out of the box, and comparing side-by-side against our 28in Philips 4K monitor on various photos and videos shows the newer screen to be, well, just better in almost every way, helped no doubt by the 10-bit panel being able to produce more colours without the usual dithering techniques.
We say almost better in every way because, even to the naked eye, we spotted a touch of backlight bleed in one corner when displaying a block-colour screen, and formal testing using a Spyder 4 Elite showed that uniformity was very good in all areas other than bottom-left.
An inevitable downside of opting for a monitor with an esoteric resolution is cost, as the Philips 27in screen now retails for around £1,200, or at least twice as much as a 4K panel boasting broadly similar specifications. Let's now run it through the testing gauntlet and see if it can continue to serve up impressive results.