Introduction
Can a PC monitor ever be too big? That's a question we hadn't really considered until we got to spend some quality time with Philips' latest 40in behemoth, the BDM4037UW.
We've played with our fair share of 34in screens over the years, but 40in is a big step up and the increase in size presents a few unexpected challenges. A display of this magnitude will dwarf most desks, and if you tend to sit close to the screen, you'll need to get used to looking up, down and side to side in order to see the full picture.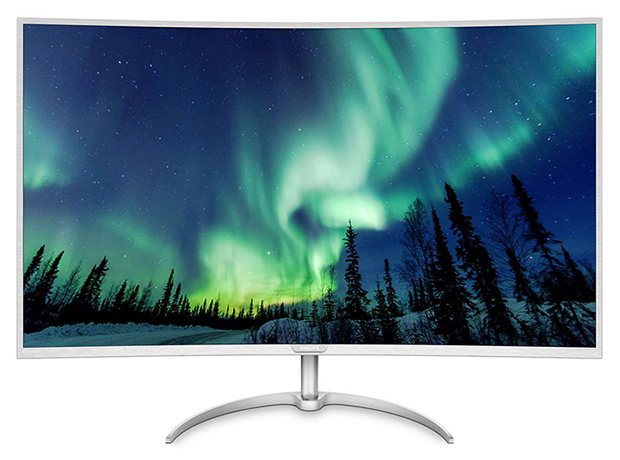 On the other hand, if on-screen real estate is the feature you crave most, you should have no major trouble adapting to such a voluminous panel. Measuring a whopping 909mm x 643mm x 247mm in size and tipping the scales at a hefty 11.6kg, this productivity powerhouse touts a 4K UHD (3,840x2,160) resolution and a subtle 3200R curve for greater immersion. A £585 price tag means you get plenty of monitor for your money, so how does it fare with regards to both work and play?
Design
One of the first things you notice when you remove the monitor from its substantial and well-padded box is that creating a sexy 40in display is easier said than done. Philips has some of the best-looking monitors on the market amid its arsenal, but the BDM4037UW isn't one of them. The slim grey bezel is largely plastic and has the unwanted ability to look and feel economical.
Philips' supporting trim isn't quite seamless - our review sample is already showing a gap near the top-left corner - and you could argue that the glossy white panels on the rear are more elegant than the front. The monitor's sheer size ensures a certain level of grandness, but build quality could be improved and the chassis ultimately comes across as sufficient but not outstanding.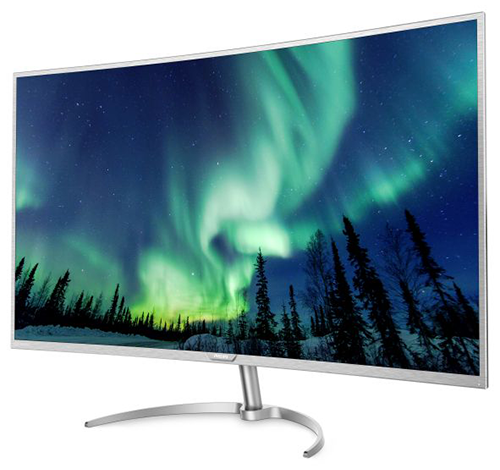 The same description can be applied to the stand. The crescent-shaped base attaches nice and easily with only a single screw, but offers only -5/10-degree tilt - there's neither height adjustment nor swivel. Rubber feet on the underside help keep the stand planted, however with a central mount there is a fair amount of wobble - bump into the desk and you will notice the display start to sway. Should you require more freedom, a Vesa mount is available for use with third-party stands.
Specification and Ports
You may be wondering what level of 40in hardware Philips is able to offer at the £585 price point. It's a case of ticking some boxes while missing others. The monitor employs a VA panel, as opposed to IPS, with a lush 3,840x2,160, 4K resolution at up to 60Hz, a typical contrast ratio of 4,000:1 and a 4ms grey-to-grey response time.
Viewing angles are decent, if not as impressive as IPS, but the 4K resolution is ideally suited to a display of this size. Some users may feel the need to increase desktop scaling to, say, 125 or 150 per cent, but I feel comfortable working at the native resolution and there is a massive amount of space to play with. Browsing multiple web pages is a whole lot of fun, and we imagine video editors will be beside themselves when they see a timeline that appears to go on forever.
Plenty of positives, however there are some caveats to be aware of. Philips is using a glossy finish, and while there's an anti-glare coating the display is still a tad reflective. The real proviso - and it's a big one - is that pixel response time is below average, resulting in unwanted ghosting with moving images. This undesirable effect is most evident when gaming, yet can also be seen with something as simple as moving a desktop window. It can be off-putting, though some users will be more susceptible to ghosting than others.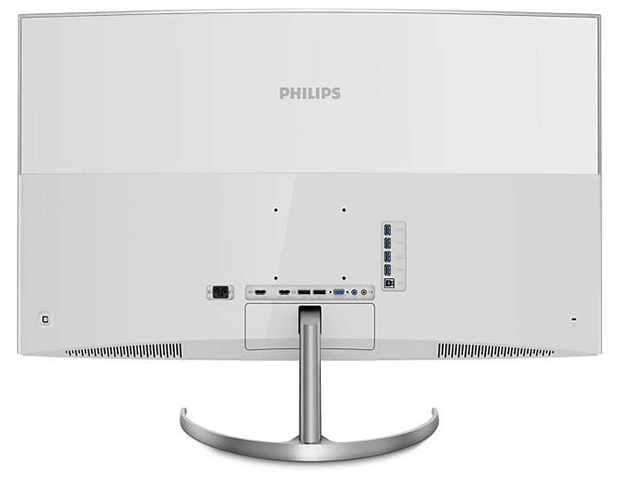 Keeping all the ports and controls around back, the Philips OSD is controlled via a joystick in the bottom-right corner, and basic sound output is provided by a pair of downward-firing stereo speakers. There's room for an integrated PSU and connectivity options are well stocked with HDMI 1.4 and HDMI 2.0 (both of which are MHL-compatible), dual DisplayPort, VGA and a couple of audio jacks.
Making the most of the screen size, four display inputs can be used at any one time, with Philips MultiView allowing for four full-HD screens to be shown simultaneously. There's also a built-in USB hub offering four USB 3.0 ports (one of which supports fast charging), but the hub's positioning near the centre of the back panel stifles its potential by making it awkward to reach.