Introduction
Eager to splash some cash on a PC upgrade? There are plenty of reasons to consider a new monitor, as today's panels offer something for everyone. It is easy to pick up a good-sized screen for a modest outlay, there are ultra-high-resolution displays for prosumers, and gamers have a wide choice of monitors touting super-fast refresh rates.
2017 is a great time to be in the market for a superior display, and the panels that have caught our eye in recent years are those that adopt a curved, ultra-wide form factor. A surprise, considering that curved TVs are somewhat off-putting, but a gentle curve on a wide monitor positioned directly in front of you makes a whole lot of sense. So when Philips volunteered to send in its new Curved UltraWide LCD display, the Brilliance 349X7FJEW, we jumped at the chance.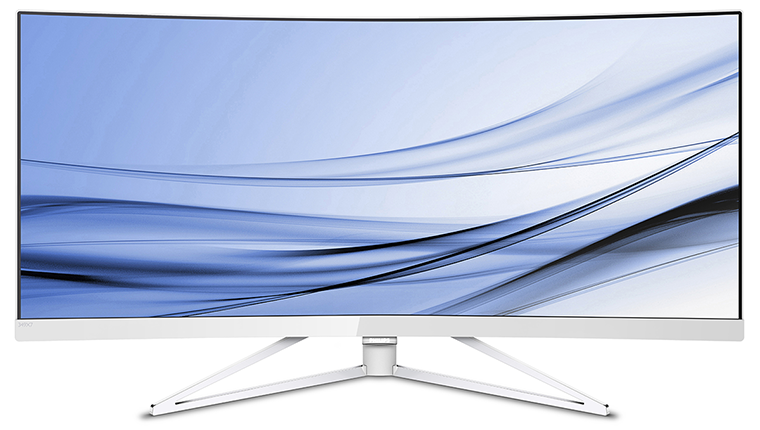 Priced at £759 and promising a "pleasant yet subtle immersion effect," this 34in screen touts an 1800R curvature and a 21:9 aspect ratio that bodes well for multiple usage scenarios. The 3,440x1,440 resolution has become synonymous with the form factor and is a real boon for productivity, while games and multimedia look tremendous. The only caveat is that the ultra-wide resolution remains a niche solution, and as such developer support isn't guaranteed - while most games will render perfectly well at the native resolution, you will occasionally come across a title that doesn't support the 21:9 ratio.
Design
As a user who has previously used multiple side-by-side panels, a single ultra-wide solution serves as an elegant upgrade. Before we get to specifications it's worth taking a moment to reflect on Philips' design, as the 349X7FJEW is a very stylish piece of kit. The white frame and silver stand make the display appear sleek and light, and for a large product that measures 810mm x 444mm x 292mm and weighs 8.21kg, it doesn't seem at all bulky. Sure, it's a tad bulbous at the back, but you tend not to notice due to the curve.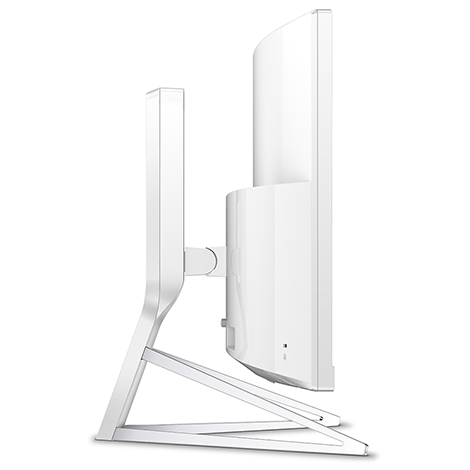 Glossy plastics give the frame and rear covering a modern look, while edge-to-edge glass and an ultra-narrow bezel on the top and sides combine to create a more seamless finish. A stylish addition to any desk, but we are critics by nature and there is an aesthetic element that hasn't escaped our attention: Philips has decided to adorn the front-bottom edge with a backlit logo that protrudes from the display and, in our estimation, serves only to detract from an otherwise sleek profile. You can thankfully turn the backlight off, but the Philips logo could have been added neatly to the bottom bezel without spoiling the overall look.
The stand is a plus point. Offering a sturdy base, it attaches to the VESA mount on the rear of the display without the need for any additional screws and is released at the press of the button. Smooth height adjustment offers 150mm of vertical travel and, though there's no option to swivel, the display does support a -5/20-degree tilt.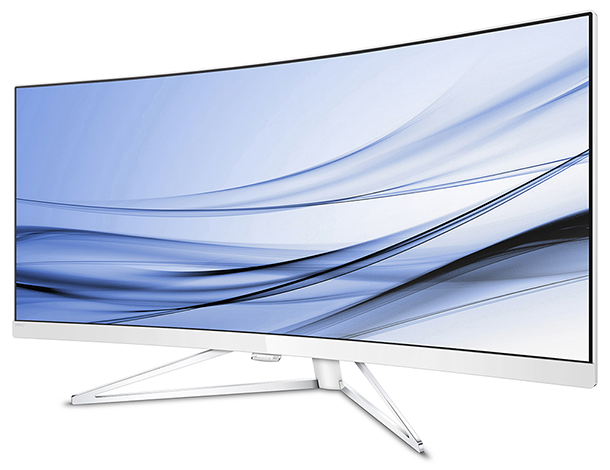 We like the fact that Philips includes a white 120W external power supply to help maintain the theme, and as you'd expect from a modern panel stereo speakers are integrated as standard. The 5W units don't offer a great deal of punch but are fine for everyday computing and YouTube duties.
Specification and Ports
In order to justify the £759 price tag the 349X7FJEW needs to find the right balance between style and substance. The good news is it manages to do just that. The 34in LCD panel employs VA technology to offer wide 178-degree viewing angles, Philips promises 99.5 per cent coverage of the sRGB gamut, there's a 4ms response time and FreeSync adaptive framerate at 40-100Hz with support for low-framerate compensation.
Combine all the aforementioned with an ultra-wide 3,440x1,440 resolution and you have a panel that's well suited to various usage scenarios. It's ideal for multi-tasking, has the real estate to benefit content creation, and games are rendered in silky-smooth fashion. The obvious proviso is that AMD FreeSync and Nvidia G-Sync remain mutually exclusive, so while both work perfectly well, they restrict the user's choice of hardware. Anyone contemplating purchasing this Philips screen will need a Radeon GPU to maximise the display's potential.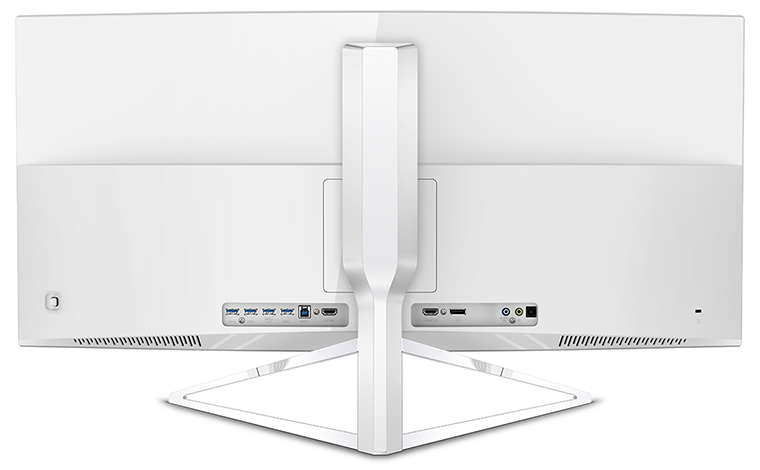 The OSD is controlled by a intuitive joystick positioned in the bottom corner on the rear of the screen, and all of the connectivity options are neatly arranged. These include a port for the external PSU, audio in, headphone out, DisplayPort 1.2, HDMI 2.0, HDMI 1.4 and a USB 3.0 hub offering four ports, one of which supports fast charging. Note that DisplayPort 1.2 or HDMI 2.0 must be used to utilise FreeSync at 100Hz, and should you choose to connect two sources, the Philips display supports side-by-side viewing or picture-in-picture (PiP).
What's clever on Philips' part, we feel, is that the 349X7FJEW is designed to impress on multiple fronts rather than excel in any one regard. This isn't the most colour-accurate display on the market, the resolution isn't the highest, and the refresh rate isn't the quickest. Instead, the 34in screen is described as "the perfect monitor to mix business and pleasure," so let's see if the benchmarks live up to the multipurpose billing.