X99 Redux
You can pinch yourselves all you want, but no, you're not dreaming: Intel has launched a new top-of-the-range consumer processor without forcing a change in socket.
That means the new 10-core, 20-thread champ, Core i7-6950X, will happily slot into existing X99 motherboards following a BIOS update. Welcome news, yet it's a case of you win some, you lose some, as continuity with the LGA2011 v3 form factor is offset by an eye-watering processor price tag of $1,569.
Only the hardened enthusiast need apply, and if you're a newcomer to the X99 scene, motherboard manufacturers are hoping to catch your eye with a refreshed range of boards touting new features and lavish designs. Up first is Asus, with the ROG Strix X99 Gaming.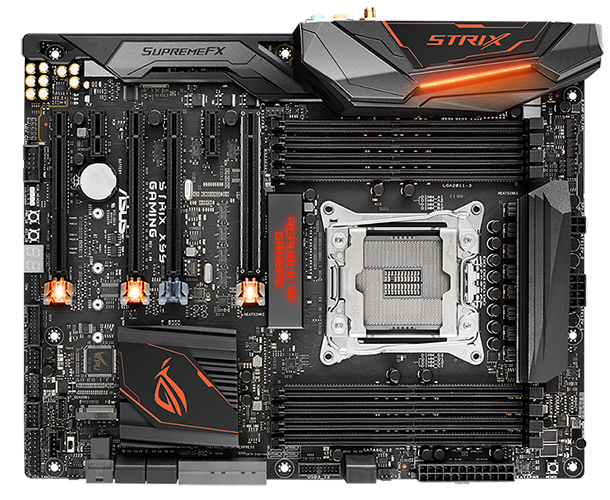 Priced at around £270 and hitting stores imminently, this feature-packed board targets the top-end of the ATX market and is one of four new additions to Asus's X99 stable.
So what's changed since the last round of X99 reviews? Well, Asus has modernised the feature set by adding new storage options and updated WiFi, but the first thing you're likely to notice is the inclusion of Aura RGB lighting. Colourful illumination appears to be all the rage among gaming components, and like it or not, it's almost certain to feature in the majority of high-end gaming hardware in the months ahead.
Asus's implementation is centred around three onboard zones, the rear I/O, the northbridge and the transparent tips of the PCIe slots. Just enough to provide a bit of jazz without going overboard, though if you prefer to dive right in, there's also an RGB header that can support a 12V 5050 LED strip measuring up to two metres in length. Note that even at this price point, an LED strip isn't included as part of the bundle.
Customisation is the name of the game for premium PC hardware, and Asus has itself a good-looking board that can be made to fit any colour scheme. The neutral black PCB is a good starting point, the RGB LEDs provide just about any choice of colour combination, and if the light-orange stickers on the southbridge and I/O plate aren't to your liking, there are alternatives in the box. These include a plain option and, unusually, lime green and bright pink.
Looking past aesthetics, and the unusual mix of brand names, the ROG Strix X99 Gaming packs a feature set that's about as comprehensive as they come. Starting from the top and working our way down, the large LGA2011 v3 socket is full-pin enabled through Asus's OC Socket implementation and driven by an eight-phase power design. The manufacturer now supplies a CPU Installation Tool (CIT) designed to make it easier to lower your chip without bending any pins, and there's plenty of room around the socket for oversized heatsinks. Our mammoth Noctua NH-D15 fits, though the cooler does get quite close to a graphics card installed in the top slot.
Flanking the CPU socket are a total of eight DDR4 DIMM slots, supporting up to 128GB of memory in a quad-channel configuration. The board officially supports speeds of up to 3,333MHz, though overclockers should have no trouble going higher with the ultra-high-speed kits now widely available at retail.
Support for three-way CrossFire or SLI is supported, with a 40-lane CPU facilitating an x8, x16, x8 configuration. Note that the second PCIe x16 slot is fed from the chipset, ruling out any prospect of a quad-GPU arrangement, and should you have any other expansion cards, Asus has squeezed in a pair of PCIe x1 for good measure.
On the subject of PCIe slots, anyone with a monster graphics card will appreciate the fact that Asus has implemented SafeSlot technology that promises greater bonding strength between the slot and the motherboard, as well as metal reinforcements to the slot itself. The bad news? Only the first PCIe x16 slot is designated a SafeSlot, and you'll need to cough-up the extra for the X99-Deluxe II if you want all the x16 slots strengthened.

Most of the features you'd expect on a high-end X99 board are present and accounted for, yet it's on the storage and connectivity fronts that the ROG Strix sets itself apart from older models. Starting with the rear I/O, we have a quartet of USB 2.0, four USB 3.0, as well as USB 3.1 Type-A and USB 3.1 Type-C. Gigabit Ethernet is provided by an Intel I218-V controller, and the board's audio, branded as SupremeFX, touts a Realtek ALC 1150 codec, dual amplifier chips, premium capacitors and various isolation technologies designed to minimise interference.
A dual-band MU-MIMO wireless module could be viewed as either useful or unnecessary on a gaming-specific board, and in a similar vein Asus doesn't cut any corners with regards to storage. Lining the right edge of the board is a single U.2 interface, half-a-dozen SATA 6Gbps ports and dual SATA Express. We're starting to wonder if we'll see any mainstream devices use the latter, yet it's good to see U.2 featured in addition to the M.2 slot available between the lower PCIe x16 slots. Do bear in mind the U.2 and M.2 share bandwidth via PCIe x4.
There's a lot to take in, yet it's the little things we appreciate the most. Onboard power and reset buttons always come in handy, as does the debug LED, and we like the fact that Asus has designated fan headers for various components. These include two for chassis fans, three near the CPU (CPU Fan, CPU Opt and Water Pump), as well as a high-speed, three-amp fan port and a connector for an optional fan extension card. All are of the four-pin variety with speed auto detection.